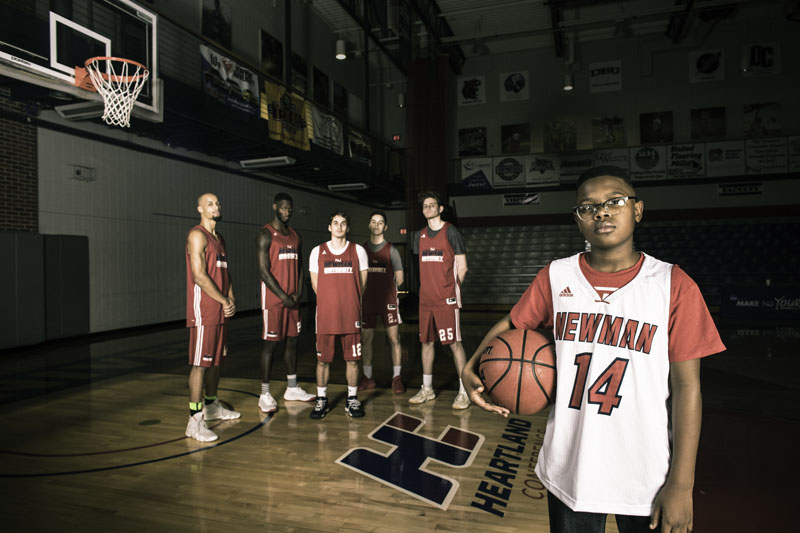 Julian (front) poses with teammates (l to r) Kevin Bryant, Tyjil Hereford, Damien Akao, Ben Ayre and Cameron Goldfinch
Newman men's basketball team signs its youngest recruit in history
History was made on Oct. 19, when the Newman men's basketball team signed its youngest recruit ever — 11-year-old Julian Randle. Cameras flashed as he signed his name on the dotted line. His smile never faded.
Julian was paired with the Jets through a program called Team IMPACT. The program matches children battling life-threatening or chronic illnesses to a university sports team to help improve their quality of life. The child comes to practices, attends games, takes part in the locker room pep talks and generally becomes as much of a teammate as possible.
Julian's father, Melvin, said they heard about the program through a nurse at the hospital while Julian was receiving one of his monthly chemotherapy treatments.
Julian was severely ill before finally being diagnosed in September 2012 with juvenile dermatomyositis, a rare autoimmune disease that attacks his muscles and organs. At times, Julian was wheelchair-bound due to weak muscles, and he often experienced pain so bad it would hinder simple tasks like sitting on the floor at school.
Now, in addition to his prescribed medications, he undergoes eight- to nine-hour chemotherapy treatments and injections once a month for his condition. The treatment helps Julian but along with other things, he is still very easily exhausted and unable to play basketball.
He's been through hardships dealing with this disease but always keeps his head up. He's always loved basketball and was excited to get involved in the sport again through this opportunity. Team IMPACT takes into consideration what sport the child is comfortable with when finding them a team to belong to. 
Julian's love for the game stems from his parents, who both have a deep connection with basketball and played at the collegiate level. As for his basketball obsession, his father laughed and said, "He had no choice, it runs too deep in his blood."
Newman Men's Basketball Head Coach R.J. Allen knew the Randle family before Team IMPACT came into play and was ecstatic to be a mentor for Julian. The Randles were excited as well. 
Melvin said, "It was amazing. I knew that R.J. had taken a new job but I thought, 'that's just perfect.'"
Julian had an official signing day, complete with the Jets backdrop, microphones, press and an excited crowd. 
"That was a big moment," said Julian "I watch a lot of NBA conferences and that felt real."
Multiple local news stations were in attendance to record the event and conduct interviews after. 
Julian wasn't sure what to expect from the Jets but he started the season hoping to hang out with the team, go on some trips and just get to know his teammates. 
On Julian's signing day, Allen said, "Our main goal is to make him feel a part of our team. We just want him to feel like he's one of the guys in hopes that his experience and time with us will alleviate any stress or tension that he's going through as he goes through his medical treatments." 
If you ask Julian, that goal has been met.
Melvin said, "They have treated him like he's a real college athlete. He went on a tour of the campus, he went to classrooms, the dorms, the lunch room; it was a real college tour."
A real college athlete is held to high standards and Julian is no exception.
Julian has brought a pure sense of joy to our basketball family. -R.J. Allen
"He goes to practices," said Melvin. "If he's not at practice, R.J. will call him and ask him where he's been."
Julian enjoys the personal aspect of practices, getting to hang out with the guys and play on the court. He said that being a part of this team has helped him with concentration and added more joy to his life. He's also welcomed the friendly competition on the court.
Allen appreciates the positive impact Julian has had on the players and himself this season. He said, "Julian's upbeat personality and witty sense of humor has definitely helped all of us keep things in perspective this season."
The student-athletes look forward to seeing Julian at practices and games.  
Anthony Harvey Jr. plays point guard for the Jets and loves having Julian on the team. The team has adopted his nickname, "Boogie," Harvey said. 
"I love having Boogie around," he said. "He brings a lot of energy to our team and he's a great person to have in the program. He is treated like one of the guys and when he is with the team he is just as involved as the players are and I love it."
Julian has been an inspiration to the team as well. "He's changing my life every day that we spend together," said Harvey. "His smile is contagious and he's definitely the biggest motivation we have on this team to win and go far into the playoffs. We want a ring for Boogie."
Julian has sat with the team during multiple games, enjoyed a couple of road trips and has been a part of two major pep rallies for the Jets. 
Melvin said, "He came to the pep assembly for the Wichita State University game and rode the bus over with them and he was really excited about that." 
Julian said that night was "awesome." He loved watching the team play on a bigger court. 
Melvin sees that this experience has helped Julian immensely with his confidence. 
"He never thought he could have his own team," said Melvin. "When he plays, he gets so tired but R.J. and the coaching staff involve him in everything, even down to the locker room, so it's helped him out a lot."
Julian has been an asset to the team in many ways throughout the season. Allen said, "Julian is always so positive, and he has a smile that will brighten any room. You would never know he's battling an illness. His perseverance has rubbed off on our entire team. It has encouraged our players to push and fight harder, on and off the floor. 
"We see what Julian is going through and how he maintains a positive upbeat outlook on everything, and it encourages all of us to work harder and stay positive." 
Melvin added, "The whole campus has embraced us, so it's been a real blessing for Newman to accept us." He feels that this experience has exceeded all of his expectations. 
"Julian has brought a pure sense of joy to our basketball family," Allen said. "We look forward to having him be a member of our basketball family for a long time."
As for next season, Julian looks forward to being just as involved. Melvin said, "We'll be here as long as they have us."