2015 Alumni Awards will be presented at Cardinal Newman Banquet, Feb. 21
2015 Alumni Awards will be presented at Cardinal Newman Banquet, Feb. 21
From director of Alumni Relations Sarah (Kriwiel) Cundiff '86, '90:
Four outstanding Newman University alumni will be honored with the 2015 Distinguished Alumni Awards at the Cardinal Newman Banquet and Awards Ceremony. The event will take place Feb. 21, 2015 in the Dugan-Gorges Conference Center.
The award recipients, selected by the National Alumni Board of Directors, represent the best of Newman University and its predecessor institutions. Here's a brief look at this year's honorees.
Spirit of Acuto Award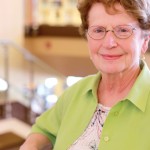 Margaret Weilert '61, '65
Honoring alumni and friends who have been a driving force, using their talent and training at critical junctures to move a vision to reality.
Margaret Weilert, Ph.D. has devoted her life to helping others. Weilert, a graduate of Sacred Heart Academy and Sacred Heart College, has worked with hospitalized military personnel during the Vietnam War; counseled abusive adults and their abused children; was a substance abuse counselor at the Winfield Correctional Facility; created programs for abused women at the Lansing Correctional Facility; worked with the mentally ill and criminals in Kansas City, Mo.; ran a private practice, and was an adjunct psychology instructor in Alaska, and at Cowley County Community College and Newman. She retired in 2010, but continued to provide counseling to military personnel and their families. She is currently a counselor at McConnell AFB.
St. Maria De Mattias Award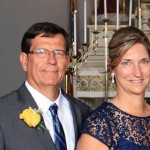 Mark '78 and Ann (Roder) '81, '01 Fox
Honoring alumni who have given meritorious and continuous support and stewardship to Newman University and Catholic life.
Mark and Ann (Roder) Fox are deeply loyal to Newman University as shown through their ongoing service to and involvement with the university. Ann was Director of Alumni Relations from 2006 to 2011. During those years she increased athletic alumni involvement in reunions and other activities. Most recently, Mark served on the Health Sciences Committee for the 2013-2014 academic year and helped implement committee activities. Two of their children, Allison and Adrienne, graduated from Newman. Currently, Mark is retired from teaching science at Maize High School and Ann is the Executive Director of Habitat for Humanity in Wichita.
Beata Netemeyer Service Award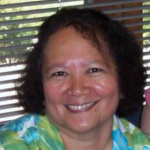 Sister Teresita Elna S. Oporta, FSpif, '07
Honoring alumni who continue the spirit of service of Beata Netemeyer, ASC, as they minister with others bringing about the mission of Christ.
For more than 25 years, Sister Elna Oporto has been a member of the Society of Apostolic Life, the Franciscan Sisters Pro Infant et Familia (FSpif) in Naval, Biliran, the Philippines. The mission of the FSpif is service to children, youth and families in need.  Sister Elna was already doing the work of a dedicated social worker when she agreed, reluctantly, to pursue a Master of Social Work at the Newman MSW site in Colorado Springs. She proved to be an outstanding student, earning praise for her compassion and commitment providing services to high-risk, inner-city middle school girls, and low-income and homeless individuals. She has returned to the Philippines to help the very poorest in her community, particularly orphaned street children.
Leon A. McNeill Distinguished Alumni Award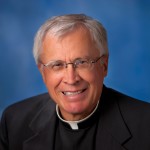 Reverend Thomas A. Welk, CPPS (Honorary Alum '09)
Honoring graduates who have achieved outstanding success in their personal lives and careers.
Father Tom Welk is a former chaplain and scripture and liturgy teacher at Newman, where he also coached skiing, swimming, men's tennis and women's club softball. He is currently chaplain to the Adorers of the Blood of Christ in Wichita, and is Director of Professional Education at Harry Hynes Memorial Hospice, which he helped found in 1983. Father Welk has published many articles and made many presentations nationwide on hospice care. He was inducted into the Newman Athletics Hall of Fame in 2009, and has been a member of the Newman Board of Trustees since 2011.