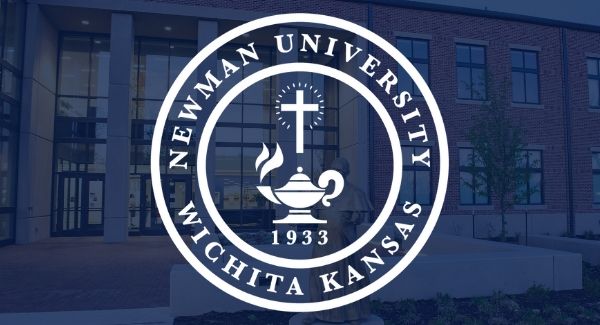 ---
by Scarlett Cannata
The Newman University annual Academic Awards Banquet recognizes students for their hard work and accomplishments throughout the year.
Students were honored online this year for their accomplishments rather than at a banquet due to COVID-19.
"Our students are great in so many different ways and it is inspiring to hear of the great things they are accomplishing," said Associate Vice President for Academic Affairs Rosemary Neidens, who, like others in the Newman community, was disappointed the students couldn't be honored in person. "I look forward each year to seeing our students honored for their commitment and impact — they are truly transforming society."
The awards recognize not only academic accomplishments; the Student Life office also presents awards to clubs, organizations and individuals who have done an outstanding job in their role throughout the year.
"I hope the students realize that we do honor them and take pride in their achievements regardless of whether we are at a banquet or not," said Niedens.
The 2019-2020 academic awardees are as follows:
Creative Achievement Award — Courtney Klaus
Fine Arts Achievement Award — Emily Larkin
Fine Arts Achievement Award — Murphy Obershaw
Humanities Achievement Award — Dakota Heard
Humanities Achievement Award — Marie O'Neal
Outstanding Accounting Student Award — Gabriella Dick
Outstanding Nontraditional Student — Danette Caire
Outstanding Bachelor of Business Administration Student — Andreas Agrell
Outstanding Information Technology/Management Informatons Systems Student — Kristin Lau
Outstanding Intern Award — Jacquelin Castillo
Outstanding Intern Award — Shannon Millar
Sister Susan Reeves Award – Julieta Sandoval
Sister Vivian Miller Elementary Award — Kaitlyn Stallard
Outstanding Master of Science in Education Award — Shelby Loganbill
Freshman History Prize — Presley Williams
Joyce Sullentrop Prize for Distinguished Scholarship in History — Michael VanDeest
Radiology Technology Janie Ward Clinical Excellence Award, Ascension Via Christi St. Joseph — Genesis Campos
Radiology Technology Janie Ward Clinical Excellence Award, Wesley Medical Center — Emily Harper
Radiology Technology Janie Ward Clinical Excellence Award, Ascension Via Christi St. Francis — Thomas Martin
Robbi and Larry Heck Outstanding Social Science Student — Abigail Riley
Excellence in Mastery of Social Work — Samantha Andrea Lott
Sister Margaret Knoeber Lower Division Chemistry Award — Madison Shay
Surendra P. Singh Outstanding Freshman in Biology Award — Presley Williams
Steve Palubicki Oustanding Sophomore or Junior in Biology Award — Dania Jumpa
Sister Claudine Axman Award in Biology — Claudius Ciecko
Outstanding Calculus Student Award — Elijah Klein
Outstanding Senior Chemistry Student — Koki Takemoto
Burbage Award — Lucas D. Farney
Distinguished Bachelor of Science of Nursing — Keelah Warden
Student Life Awards:
Student Employee of the Year — Karen Do
Student Organization Advisor of the Year — Sonja Bontrager
Student Leader of the Year — Stephania Lopez
Registered Student Organization of the Year — Newman University Medical Professions Club
University-Affiliated Student Organization of the Year — Campus Ministry Peer Ministers