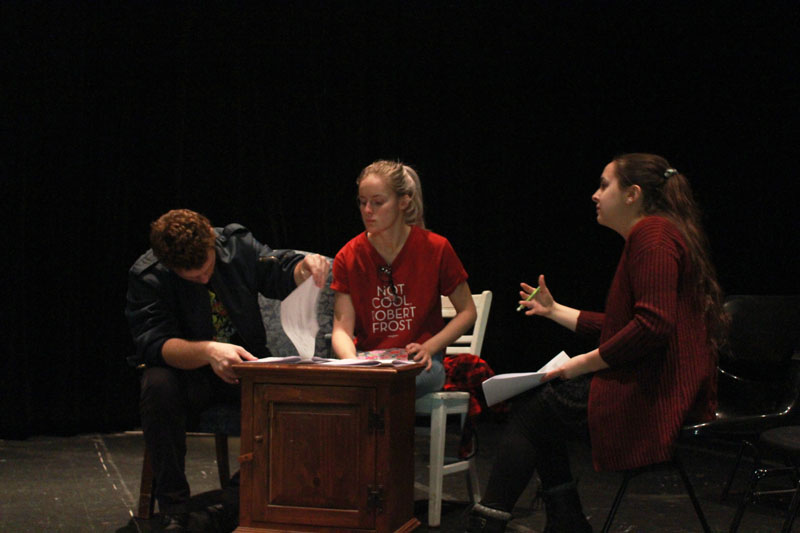 Photo by: Dana Beitey
An idea was put into play in 2011 for the Newman University theatre department; for all of the Newman community — students, prospective students, faculty, staff and alumni — to join together annually for an impromptu event like no other.
According to Mannette, "The 24-Hour Theatre Project is a high-adrenaline theatrical experience with all the creativity and problem-solving skills of a normal six-week process packed into 24 hours."
Participants of the project race against time to create a theatrical masterpiece.
Beginning at 6 p.m. on a Friday night, teams of playwrights, directors and actors come together and begin the process.
The official clocks start at 8 p.m., at which time, playwrights on each team begin their writing and are given 12 hours to finish their scripts. The next morning, at 8 a.m., the actors and directors of each team begin rehearsing the written scripts.
All the teams perform their works exactly 24 hours after they first began.
When asked why he wanted to have the 24-Hour Theatre Project be a part of Newman University theatre, Mannette replied, "I want for them to have the experience of doing something that seems like it would be impossible, but then being able to overcome that and do it.
"If you overcome something that you think is quite challenging, then something else (that seems too difficult) is a little bit easier because you've stretched yourself, and proved to yourself, that you can do it."