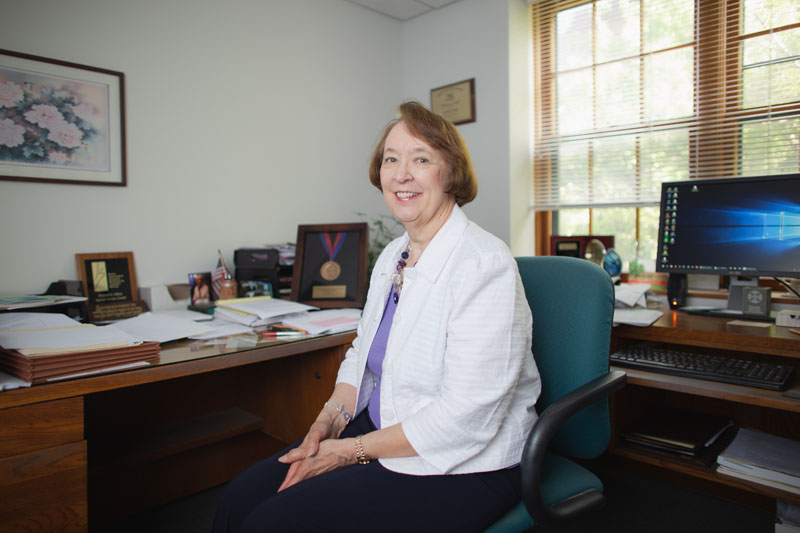 Registrar Shirley Rueb reflects on the past five decades at Newman University.
Shirley Rueb has been an outstanding part of the Newman community for more than 50 years — as a student and then an employee — and has received many accolades for her hard work and dedication including the De Mattias Alumni Award in 1993 and the Cardinal Newman Medal in 2004.
She became a Sacred Heart College student in 1966, a graduate in 1970 and a Sacred Heart College full-time employee in 1971. After 47 years of employment, Rueb retired in August 2018 from Newman University.
Her Jet journey began in 1966 when she studied for her math degree at Sacred Heart College.
Rueb, who was not sure where her degree would take her, said, "I feel very strongly that the Lord leads us where to go."
While in school, she was a student worker under Sister Anastasia Jilg in the Registrar Office. Following graduation, she was recruited by Jilg as an admissions secretary in that same office.
Five years later, Rueb filled the newly created assistant registrar position. After three years as the assistant, Rueb moved into her position as registrar.
Rueb believes her math degree has served her well in her position. "The ability to organize and think things through logically has helped in this job," she said.
The registrar department holds a vast amount of responsibility and she enjoyed the variety found in her work. "All these years I've never been bored," she said, then joked, "some days you pray for a little boredom."
It's safe to say that Rueb's department and the university as a whole have gone through many changes since 1966.
Rueb said, "The footprint of the university has changed so incredibly much as far as buildings and landscape, it's much more beautiful."
New buildings have been built, old buildings have been torn down and even an entire street was moved to create a more cohesive campus. This is not to mention the constant change of people, new offices and technology.
Before technology, Rueb's staff did everything by hand. Her office was in charge of mailing grade reports to students, sending out tangible class lists to faculty and entering faculty's grade sheets into the computer.
Her office has had to adapt to changes in course lengths, the expansion of campus to outreach locations and online and, of course, the booming student population.
Possibly the most profound change for Rueb has been her ability to know all of the students.
"At graduation, I used to be able to open the diplomas and see the name and know from memory if it matched the student coming to receive it," she said.
The people at Newman are what she will miss most, she said. "Our office touches every office on campus — and not every office can say that," she said.
"The sisters and the impact they have had in my life and career has been tremendous. They've been a blessing to me."
Rueb is thankful for her time at Newman as it shaped so much of who she is today. She said, "It's very strange to be leaving."