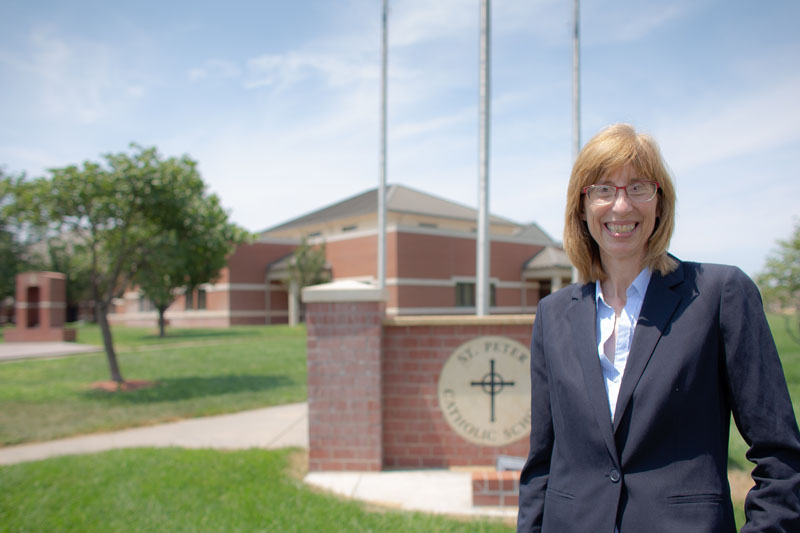 Newman University alumna Janet Eaton, who has spent more than 30 years in Catholic education, is the new superintendent of Catholic schools in the Diocese of Wichita. She started her new role on July 6 and said she is already enjoying being part of such a wonderful diocese.
Eaton said, "I am loving each day on the job. Everyone has been so gracious to help me get on board."
The entirety of Eaton's professional life has been in Catholic education. She holds her faith in high regard and trusts God that this new position is the role she is meant to have, she said.
"The path that I have taken throughout my professional life is one by which I have always relied on the guidance of the Holy Spirit. The position of superintendent of Catholic schools for the Wichita Diocese is a position that I feel I was being called to assume. Returning to the diocese where I began my career is a wonderful honor," she said.
Eaton began her journey toward an educational career at Newman University. She studied elementary education at Newman from 1982 to 1986. She received a middle school endorsement for math along with her degree.
After graduation, she worked as a middle school teacher at St. Elizabeth Ann Seton Catholic School where she eventually became principal. During her time there, she received her master's degree in school administration at Wichita State University.
She eventually landed in St. Louis where she was the principal at Immaculate Conception Parish School. When she arrived, the school was home to 250 students but the booming community caused enrollment to more than triple during Eaton's 12 years.
Most recently, Eaton was principal at St. Dominic High School in O'Fallon, Missouri. During her seven years at the school, she finished her education specialist degree with an emphasis on superintendent leadership at the University of Missouri-Kansas City.
She feels that coming home to Wichita is a gift, as both her and her husband's families still reside in the greater Wichita community.
When she first came back to Wichita, she re-familiarized herself with the area by attending Mass each morning at different parishes. Eaton said her faith is the most important part of who she is and she can't imagine a life any different.
Her wholehearted belief in the mission of Catholic education — forming and educating the youth of the church — is what continues to draw Eaton to Catholic education.
She said, "Being able to serve our church in a diocese that is so very well respected for stewardship is a blessing. I know already that I will enjoy working with the pastors, principals and teachers. I am a teacher at heart."
Eaton added, "While I am looking forward to the administrative desk work that the position requires, I believe the most rewarding time will be that which is spent in our schools. As part of the Catholic Education Office staff, we are here to support 38 schools, and that is energizing and exciting.
"I have every intent to assist with the plans that have been put in place for the coming school year," Eaton said, "and to work collaboratively with all to continue providing a strong and exemplary faith-based Catholic education for the youth of the Diocese of Wichita."