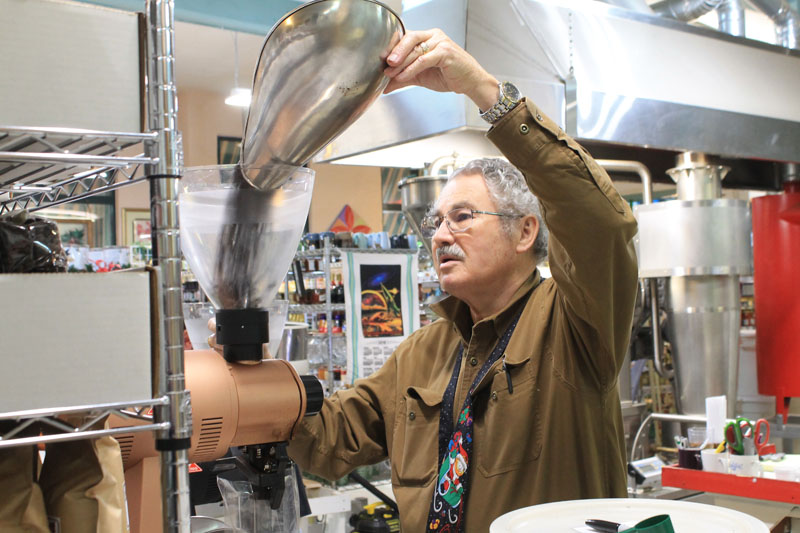 Bob Boewe working at his business, The Spice Merchant.
Many Wichitans know and love The Spice Merchant for its flavorful selections of coffee, tea, spices and gifts, but the local treasure is also dear to the heart of Newman University. 
The Spice Merchant, which has the tagline of Wichita's Original Gourmet Coffee Roaster, is owned by Newman alumnus Robert "Bob" Boewe '69. Boewe graduated with a degree in sociology and a minor in business. 
After serving in the U.S. Navy and attending Newman, Boewe took a job with the Kansas Department of Children and Families. He continued working in social services with the Kansas Juvenile Courts, then decided it was time to do some traveling.
"I took every dime I had and backpacked through Europe for two and a half months," Boewe said. "I came back to my wife-to-be, and our ideas for The Spice Merchant came from living in St. Louis while attending graduate school. We spent weekends exploring the city's assorted ethnic groceries and the great Soulard Farmers Market."
Boewe and his wife opened The Spice Merchant in 1980, in a building across the street from Wichita East High School. The original location was only 400 square feet, but it is now located in a historic 13,000-square-foot building. The building, which has a distinctive look, was once home to The Mentholatum Co.
"In any business, you hope you made the right choices, have the right product to sell and that it's always what the customer wants, and we've been very lucky with that," Boewe said. 
The Spice Merchant has been roasting coffee since 1985, and roasted over 100,000 pounds of coffee in 2017. Today, they receive coffee imports from almost every producing country.
"We have a huge selection of 220 teas in our shop that we flavor and blend, as well as lots of spices," he added. "We also have an assortment of kitchen, coffee and tea accessories plus gift items like tea cups, coffee mugs, different pretty serving pieces, aprons, dish towels and T-shirts."
Several one-of-a-kind furniture pieces, such as carved wood cabinets from India, display the items for sale throughout the store. 
One perk of the job, Boewe said, is visiting different markets and international houseware shows.
"We also have a big tea expo every year in Las Vegas, so we get to work with a lot of really cool importers. We try to keep it fun and interesting, and to make it work, we try to sell items that you can't buy at Walmart and other places."
For years, The Spice Merchant has supported Weekend Edition on KMUW, the local National Public Radio station. It has also provided tea and other items for the community Christmas program at the Wichita Art Museum, CityArts and Botanica.
Boewe has also kept ties with Newman by supplying ingredients for the annual High Tea event as well as Multicultural Leadership Organization (MCLO) events on campus.
"We have a deep gratitude for The Spice Merchant," said Jose Rojas-Montero, MCLO president. "Not only are they kind enough to help us with our events, but Bob really goes the extra mile by talking to our members in our visits and taking the time to explain things.
"These interactions make the relationship between MCLO and The Spice Merchant so meaningful, and I hope it continues for years to come."
Boewe still remembers the collegiality between faculty and students during his time at Newman.
"Sometimes after class, we'd take off and drive to Winfield for dinner," he said. "It was just a really good experience for me. I remember Sister Tarcisia Roths, Dr. Campbell who taught some of my business classes and a commercial design art class that I really enjoyed, too." 
Boewe has been working since the age of 14 and says he has truly learned about the real world through his business.
"One of my customers is an adjunct professor at a school and he asked me to come and speak. I always tell the students, 'put your books away and let's talk about everyday business.' We talk about taxes, upkeep, landlords — every penny counts and you better not squander it. You can read all the books you want, but experience is crucial."
At 75 years old, Boewe says he loves what he does.
"I get up every morning and come here, to work. My wife asks when I'm going to retire. She says, 'you're old,' and I say 'well, I'm not done yet.' We're survivors, we love what we do, and we're going to be doing it for a while."