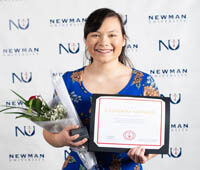 The Academic Awards this year were a great success as staff and faculty honored nearly 40 individual students for their achievements.
There was outstanding representation of students from the Schools of Arts and Sciences, Business, Education and Social Work, Healthcare Professions and Catholic Studies.
As stated by Newman President Dr. Kathleen Jagger, the Academic Awards allows us to "reflect on and honor students for a joyous year of academic achievements."
Among the many titles presented to students, the 2022 Ablah Award nominees were also named: Kayla Garvert, Jacqueline Lari, Kelly Mai, Hannah Millershaski, Julia Myers, Patti Rolf, Paige Roubiddeaux, Margaret Sweeney, Allison (Williams) Tollefson, Matthew Clark, Tejay Cleland, McGrew Foley, Marcus Gonzalez, Daniel Knolla, Ian Lecki and Steven Nguyen.
Lastly, the most prestigious award of the evening, known as the St. Catherine's Medal, was given to Catherine Madison, who was recognized for her contributions to the university and her surrounding community.