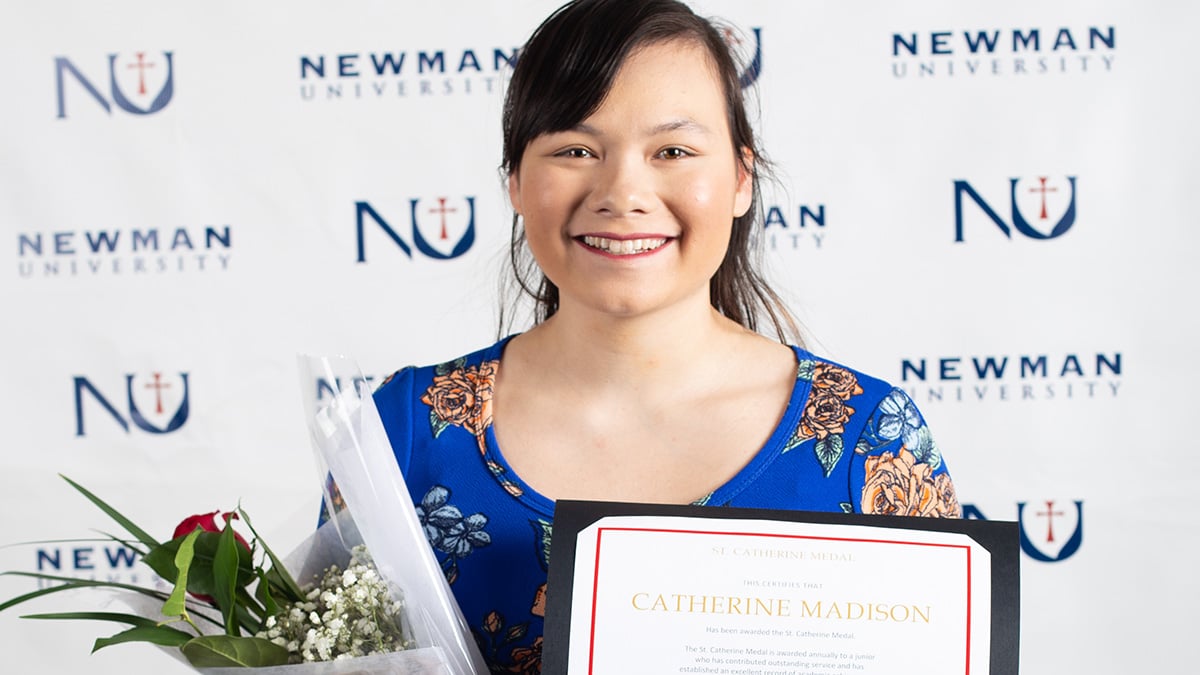 The Academic Awards this year were a great success as staff and faculty honored nearly 40 individual students for their achievements.
There was outstanding representation of students from the Schools of Arts and Sciences, Business, Education and Social Work, Healthcare Professions and Catholic Studies.
As stated by Newman President Dr. Kathleen Jagger, the Academic Awards allows us to "reflect on and honor students for a joyous year of academic achievements."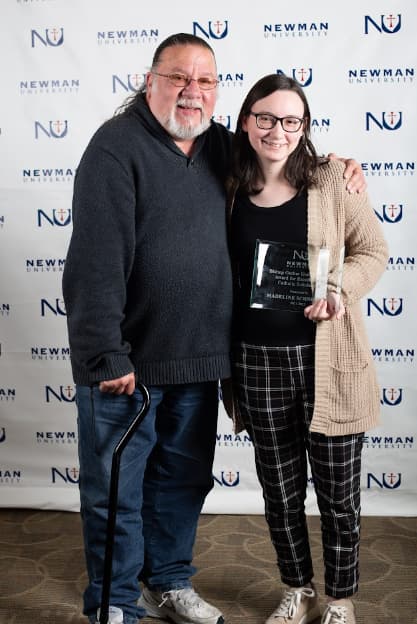 Burbage Award – Brenden Schwartz
Creative Initiative Award – Matthew Clark
Fine Arts Achievement Award – Allison Williams
Freshman History Prize – Isabel Porres
Humanities Achievement Award – Alondra Torres-Hernandez
Joyce Suellentrop Prize for Distinguished Scholarship in History – Joseph Shubert
Randall Austin Award – Shawn Whiteker
Outstanding Calculus Student Award – Nathan Klaus
Outstanding Math Student Award – Jordan Ashworth
Outstanding Senior Chemistry Student Award – Madison Shay
Sister Margaret Knoeber Undergraduate Chemistry Award – Joshua Dessenberger
The Claudine Axman Award – Marie Moore
The Steve Palubicki Award – L. Charles Morrison
The Surendra P. Singh Outstanding Freshman in Biology Award – Alexia Gamboa
Outstanding Business Data Analytics Student Award – Kayla Garvert
Outstanding Accounting Student Award – Justin Johnson
Outstanding Bachelor of Business Administration Student Award – ​​Ian Lecki
Outstanding Management Information Systems Student Award – Brayden Prockish
Outstanding MBA Student Award – Hayden VonFeldt
Outstanding Nontraditional Student Award – Tanya Potter
Robbi and Larry Heck Outstanding Social Science Student Award – Paige Roubideaux
Outstanding Intern Award: Wichita – Nolan Martin
Outstanding Intern Award: Arkansas City – Elizabeth Ochoa
Sister Susan Reeves Award – Miriam Solorzano
Sister Sylvana Schulte Award – Eric Solis
Sister Vivian Miller Elementary Award – Makayla Hayes
Outstanding Master of Science in Education – Patricia Lujan
Excellence in Mastery of Social Work: Wichita – Courtney Train
Excellence in Mastery of Social Work: Colorado Springs – Mark Searle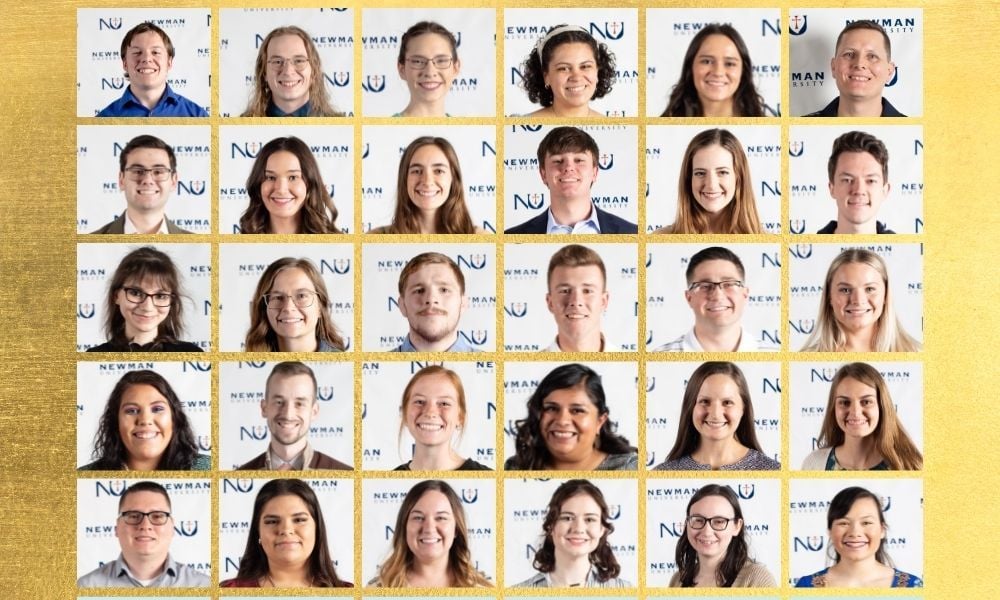 Distinguished BSN Graduate Award – Amanda Zavala
Radiology Technology Janie Ward Clinical Excellence Award: Ascension Via Christi St. Francis – Matthew Roth
Radiology Technology Janie Ward Clinical Excellence Award: Wesley Medical Center – Iveth De Loera-Gallegos
Radiology Technology Janie Ward Clinical Excellence Award: Ascension Via Christi St. Joseph – Kacie Austin
2022 Outstanding OTA Student Award – Adison Wendt
Bishop Gerber Undergraduate Award for Excellence in Catholic Scholarship – Madeline Schnieders
Bishop Gerber Graduate Award for Excellence in Catholic Scholarship – Carey Boyzuck
In addition to the distribution of awards, students of the following honors societies, St. Newman scholars and ASC Community Leadership Scholars were recognized during the 2022 Academic Awards: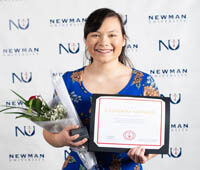 Among the many titles presented to students, the 2022 Ablah Award nominees were also named: Kayla Garvert, Jacqueline Lari, Kelly Mai, Hannah Millershaski, Julia Myers, Patti Rolf, Paige Roubiddeaux, Margaret Sweeney, Allison (Williams) Tollefson, Matthew Clark, Tejay Cleland, McGrew Foley, Marcus Gonzalez, Daniel Knolla, Ian Lecki and Steven Nguyen.
Lastly, the most prestigious award of the evening, known as the St. Catherine's Medal, was given to Catherine Madison, who was recognized for her contributions to the university and her surrounding community.
"I just think it was quite an honor to receive the biggest award you can get that's also named after St. Catherine," Madison said. "It's a very big honor."
---