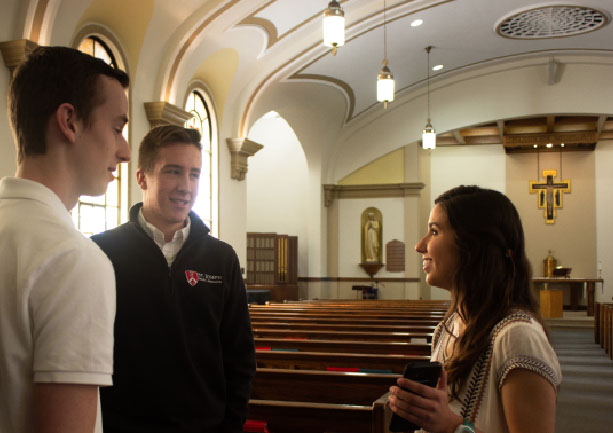 (left to right) Newman students Nolan Martin, Luke Meyerhoff (seminarians) and Marie O'Neal.
Newman University recently announced the formation of a new School of Catholic Studies, which houses theology, diaconate and pastoral ministry programs for undergraduate and graduate students. The new school also includes a Bachelor of Arts in philosophy for theological studies for seminarians in the dioceses of Wichita, and Little Rock, Arkansas.
In addition to bringing existing programs together "under one roof," the Newman School of Catholic Studies will provide expansion opportunity for a variety of future program areas. Currently, the school is in the planning stages for a two-year Catholic Studies degree, which will focus on the great books of the Catholic tradition.
Father Joseph Gile, S.T.D., associate professor of theology and priest of the Wichita diocese, has been named dean for the new school.
Gile said creating the school is a great step in continuing to build a solid relationship between the Catholic community and Newman.
The Diocese of Wichita established the St. Joseph House of Formation, a two-year college formation program for its seminarians, in collaboration with Newman University in 2017. The program expanded to three years in 2018 and the diocese recently announced a fourth year will be added in fall 2019, making the St. Joseph House of Formation a full four-year program for seminarians.
Newman established a similar association with the Little Rock House of Studies during the fall 2018 semester. This newest partnership began when St. Gregory's, located near Oklahoma City, had to close its doors.
"When it closed, they came to us asking for Newman to accredit them," explained Gile. "And they also realized the Wichita Diocese was starting a house of studies, so it was a perfect opportunity for the two dioceses and Newman University."
Newman University President Noreen M. Carrocci, Ph.D., is excited about the new school and what it means for the future of Newman and its students.
"Starting the School of Catholic Studies is a natural progression for Newman," Carrocci said. "The programs offered in this new school embrace our Catholic identity and rich heritage and we are proud to bring this new academic option to the Wichita community, the region and all other communities we will be serving."
Bishop Carl A. Kemme added, "Newman University is a great blessing to the Catholic Community of Wichita and beyond. As the bishop, I enthusiastically support the development of its new School of Catholic Studies, which will help educate students in the richness of our Catholic tradition and to form future priests for the Diocese of Wichita during their college years.  We are grateful for this unique and important partnership."   
Gile believes the new school will be attractive to Catholic students and their families.
"I think there are a lot of parents who would be delighted to have their sons and daughters come to Newman and study alongside the seminarians — to be in class with them, to learn with them," Gile explained. "And with the grounding in Catholic studies and liberal arts here, I think we can immerse students in the richness of the Catholic tradition."
The Newman University School of Catholic Studies will be the home of the following programs:
Kansas
Bachelor of Arts in Theology, Wichita
Master of Arts in Theology, Wichita
Master in Theological Studies, Wichita
Bachelor of Arts in Philosophy for Theological Studies, St. Joseph House of Formation, Wichita
The Gerber Institute for Catholic Studies, Wichita
Bachelor of Arts in Pastoral Ministry, Dioceses of Dodge City and Salina
Oklahoma
Bachelor of Arts in Theology, Archdiocese of Oklahoma City
Bachelor of Arts in Theology as a 2nd degree for deacons, Archdiocese of Oklahoma City
Bachelor in Pastoral Ministry, Diocese of Tulsa
Arkansas
Bachelor of Arts in Philosophy for Theological Studies, Little Rock House of Studies