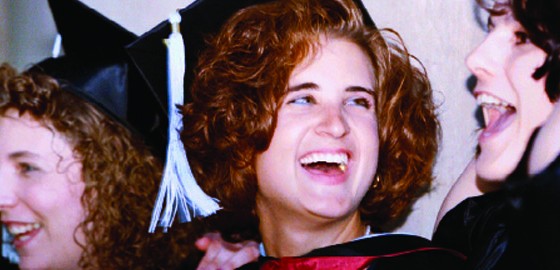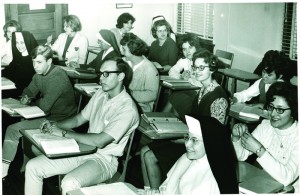 Newman University is proud of its alumni, beginning with students who graduated from St. John's or Sacred Heart Academy, to alums of Sacred Heart Junior College and Sacred Heart College, to graduates of Kansas Newman College and Newman University.
That's why the university is sounding the call to alumni from every institution and era to join in the All-Alumni Reunion, June 10 through 12, 2016 on the campus of Newman University.
"The All-Alumni Reunion is an opportunity to celebrate the thousands of alumni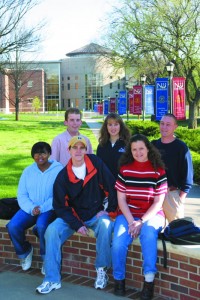 from Newman and all previous schools, and for alums to strengthen friendships, reacquaint themselves with other members of their classes, and reconnect to Newman as it is today," said Director of Alumni Relations Sarah Kriwiel Cundiff '86, '90, '15. "We want to celebrate graduates of all years."
Cundiff said All-Alumni Reunions had been a regular event on campus in the past but were discontinued sometime in the early 1990s. "We felt this was a good time to reestablish it," she said.
Mark Your Calendar for June 10-12, 2016
Cundiff added that the opening date of the event, June 10, was selected because it is the feast of the Sacred Heart of Jesus. "That's an important day for graduates of Sacred Heart Academy, Junior College and College," she said. "It was a special day they celebrated and will be meaningful fo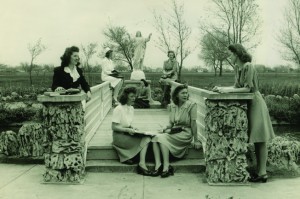 r them."
The weekend will have something for everyone, Cundiff added – young and old, families, former faculty and guests. The days will be packed with a variety of events, with more than one event happening at the same time to give attendees a choice.
Featured events include campus tours, small group activities, presentations on various topics by Newman faculty members, class activities for anniversary classes ('66, '76, '86, '91, '96 and '06), exercise and sports sessions, and other fun events. Of course, alumni may also just relax and visit with old classmates throughout the weekend.
Events especially designed for children will also be available, as will on-site child care on the Newman campus throughout the weekend. Additionally, all campus residence halls will be open to alums who wish to stay one or more nights on campus and be in the thick of the action.
Registration is scheduled to begin in January 2016, Cundiff said.Some alumni will be contacted by the chair of their respective class committees (see related story, right) with more details. Alums will also receive more information from Newman University.
"Whether you'd like to volunteer your time, or just enjoy all the action, join us to celebrate, reconnect, get inspired and have fun," Cundiff said. "All are welcome and encouraged to attend this special reunion weekend!"
For questions or more information contact Cundiff at [email protected], or 316-942-4291, ext. 2166.
All-alumni reunion to include special milestones celebration
As part of the June 2016 All- Alumni Reunion, Newman University will recognize several classes that will have milestone anniversaries. Beginning with the Sacred Heart College class of 1966, which will celebrate the Golden Heart 50th anniversary of its graduation, Newman will salute graduating class
years in increments of 10 that will celebrate their anniversaries.
This includes the classes of 1976 (40 years), 1986 (30 years), 1996 (20 years) and 2006 (10 years). Additionally, the class of 1991 will be honored for its 25th year.
The All-Alumni Reunion and the recognition of these six classes will be a great opportunity for Newman alums to reconnect and reminisce. Many are already looking forward to the reunions. Class of 1966 graduate Vicki Weldon said she cannot believe that she completed her college studies 50 years ago.
"How is this possible when I think of myself as age 31?" Weldon said. She added, "I look forward to seeing members of the classes of the '60s and reminiscing about our days at Sacred Heart College."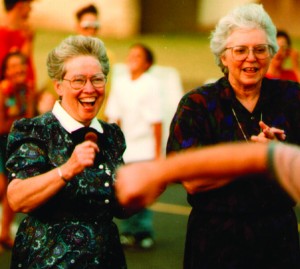 Christine Siefers, who is chair of the All-Alumni Reunion committee, is a member of the class of 1991. She remembers her time as a Newman student being underscored by the people she met during her time on campus.
"There are so many good memories, I can't narrow it down to just a few things, but the good memories were all enhanced by the people I encountered during those years," she said. "My hope is that this All-Alumni Reunion weekend in June 2016 will be something people connected with Newman will talk about for a long time."
Committees make all-alumni reunion possible
Creating the All-Alumni Reunion requires hours of planning and effort. Fortunately, alumni are stepping up to create committees to cover all aspects of the event.
The effort is led by the All-Alumni Reunion Steering Committee, which is chaired by Chris Siefers '91. Other Steering Committee members are: Patrick Edwards '07; Kathy Linnebur '99, '08; Sarah Phelan '07; Laura Quick '04; Douglas Sherwood '97; Therese Wetta, ASC, '64, and Tammy White '11, '13.
Other committees and chairs are:
Decorations – Molly Fox '10
Entertainment – Patrick Edwards '07
Family events – Laura Quick '04
Hospitality – Patrick '75 and Sharon '76 Manion
Liturgy – Haley Hungate '15
Registration – Mark '78 and Ann '81, '01 Fox
Anniversary class agents are:
'66 – Vicki Weldon and Patricia Ebenkamp
'76 – Tim Eckberg
'86 – Charisse Frisch Bachrodt
'91 – Chris Siefers
'96 – Dan Giroux and Kathy Girrens
'06 – Bianca Montagnino-Simmons