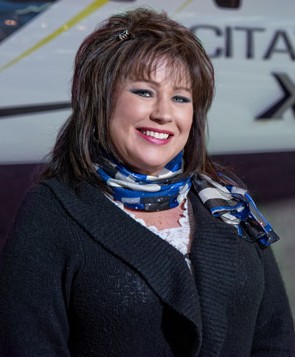 TAMMY WHITE CAME TO NEWMAN UNIVERSITY AS A RETURNING ADULT STUDENT – AND AS A COMPLETELY DIFFERENT PERSON THAN SHE WAS JUST WEEKS BEFORE STARTING CLASSES.
Shortly before enrolling at Newman University, Tammy White '11, '13 contracted meningitis and encephalitis from a mosquito bite and suffered a near-death experience. Due to severe brain trauma caused by the high fevers she experienced during her illness, her entire life changed.
"When I got out of the hospital, I slowly began to realize that I was no longer the person I had been going into the hospital," White said.
Her neurologist told her she had "emotional amnesia," referring to a loss of emotions about the memories of her past life, including her husband and children.
"I could not be the Tammy everyone knew," White said. "So all I could think about was running as far away as I could get and just hiding."
What was a painful experience for White and her family was tempered by returning to school.
"Newman was part of what saved me," she said. "When I started at Newman, I realized immediately that I had found a place where no one knew me as the old Tammy so there were no expectations."
Today, White said, she's more aware of who she is and why she has chosen to be the way she is.
"I decided to own my journey to finding out who I was, what I believed and why I was still alive," she said. "I figured out for me what really mattered."
White earned her bachelor's degree in 2011 and her MBA in 2013.
"I went from being an (administrative) assistant with no degree at Cessna to a program manager with an MBA in three years," White said.
At Cessna, now known as Textron Aviation, White is a program manager for Special Missions, which serves government and defense contracts. Day-to-day, she works with high-ranking government officials, domestic and international, organizing aircraft contracts and ensuring that their aircraft stay mission capable.
White credits her success at work to the education she received at Newman University and the confidence she built.
"The most important thing I took away from my education was not my degrees," she said. "Newman gave me the gift of self-confidence. I learned to believe in myself and understand my strengths and weaknesses."
In 2015, White took the lessons she learned in business and the self- confidence she rediscovered at Newman to fulfill a dream of her daughter's.
HOPE AND HEALING WITH BLUE SKY RANCH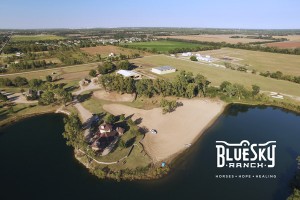 At age 8, White's daughter Camber entered a raffle to win a horse and prayed every night that she would win. To her parents' surprise, she did.
"She told me that God wanted her to have a horse farm and use horses to help kids that are sad and do not have good parents," White said.
Fourteen years later, White and her family purchased a 40-acre property that includes an airport, hangars, barns, riding arenas and a horse boarding facility, BSR Boarding, and founded Blue Sky Ranch, a nonprofit that works with at-risk children – fulfilling 8-year-old Camber's prayers.
"We don't see ourselves as the owners, but as the keepers," White said. "We believe God has blessed us with Blue Sky Ranch so that we will give it away to those who need hope and healing."
White and her husband/business partner Paul established the nonprofit Equine Endeavors of Hope and Healing to manage the ranch, with Tammy as CEO. In the past year, they have established a board of directors, purchased seven therapy horses and brought on a certified therapist and equine specialist.
"We are in the planning stages with several different entities to figure out how to partner with each one in such a way that we become the missing link and fill a huge need in Wichita," she said.
Blue Sky Ranch will primarily work with 15- to 19-year-old boys who are struggling in high school and at risk of dropping out. The effort is to help them finish their education or earn their GED, as well as to assist them in learning skills, such as construction and mechanic skills. They will be paired with a life coach to teach them basic life skills, including cooking, laundry, grocery shopping and managing a checkbook.
"Our three- to five-year goal is to open an independent living facility at Blue Sky Ranch for these young men," White said. "We are hoping to give them an opportunity to become all they can be, acknowledge their potential, believe and achieve it."
Thanks to her work on the ranch and the nonprofit, White was inducted into the VIP Woman of the Year Circle of the National Association of Professional Women.
White said Newman University equipped her for service to her community with confidence as an educated professional.
"[Blue Sky Ranch] has been a dream come true," she said. "It answered all of the 'why's' in our lives. We know that it is '…not because of anything we have done, but because of His own purpose and grace…'" (2 Timothy 1:9).