Catherine Mohr Powers
Other Newman University alumni volunteered their time and services to help earthquake victims in Haiti. Here is a brief look at just three.
Catherine Mohr Powers '78 is a pediatric anesthesiologist at Children's Mercy Hospital in Kansas City, Mo. Powers, who is married to Bill Powers '78, arrived eight days after the earthquake and spent 10 days in Leogane, a town about 40 miles from Port-au-Prince, where she helped set up a makeshift hospital in a nursing school. With another anesthesiologist, Powers ran two operating rooms, working with six surgeons to perform up to 15 surgeries a day, half of them on children.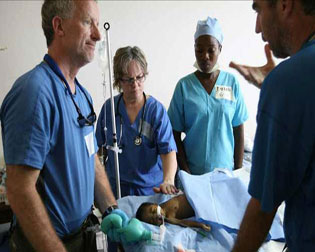 Her most moving or memorable experience: "When we got there, the people had not had any surgical care yet, and definitely no anesthesia for their needs.In fact, we heard of amputations being done without any meds in the previous week."
Powers added that more must be done for the people of Haiti. "Not enough international aid has come to the country," she said. "Prayers and aid are needed for this country."
.
.
Gino Salerno '88 is a physician's assistant in the Emergency Department at Via Christi Medical Center in Wichita. Salerno, who has been on multiple aid trips to Haiti, arrived three weeks after the earthquake, and spent approximately a week caring for patients in clinics, makeshift hospitals and refugee camps in and around Port-au-Prince and Milot, a town in north Haiti.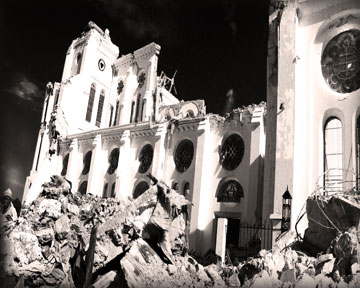 His most moving or memorable experience: "I remember going into the OB/GYN ward helping pregnant women. They all had amputation of at least one limb plus burns or other wounds."
Salerno agreed with Powers that the need is still great in Haiti. "I would recommend for anyone with a specific skill to sign up as a volunteer. There are multiple organizations out there."
Chet Schrader, M.D. '01 is currently a resident physician at the University of Texas-Southwestern, and practices medicine at the Baylor Health Care system in Dallas, Texas. Schrader and his wife Ashley, an occupational therapist, came to Haiti 10 days after the earthquake via a flight to the Dominican Republic and an eight-hour bus trip to Port-au-Prince. Over the course of 10 days they set up clinics in three locations with limited medical resources, with Chet performing OB/GYN and wound care services.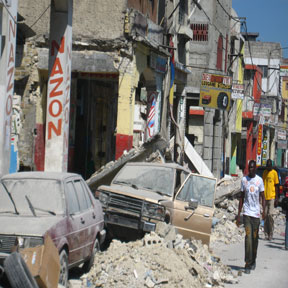 Chet Schrader's most moving or memorable experience: "The widespread damage of the earthquake. Street after street after street with buildings damaged. It took a while for me to realize the scope of it."
The Schraders may return to Haiti later this year through their church. "It really opened our eyes in terms of medical missions," Chet said," so now we're also exploring options of going to Africa or somewhere else where we can impact people's lives."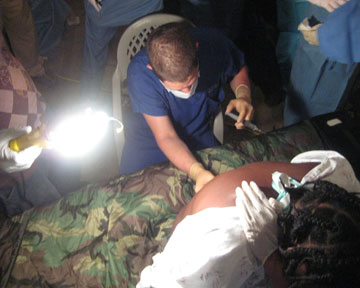 Tags:
Africa
,
Ashley
,
Baylor Health Care system
,
Bill Powers
,
Catherine Mohr Powers
,
Chet Schrader
,
Children's Mercy Hospital
,
Dallas
,
Dominican Republic
,
Gino Salerno
,
Haiti
,
Kansas City
,
Leogane
,
Milot
,
Newman University
,
Port-au-Prince
,
Texas
,
Via Christi Medical Center
,
Wichita