Former students remember Sister Margaret
On April 12, 2014, a large group of alumni, current and former faculty and staff and other well-wishers gathered on the Newman campus to celebrate 80 Years of Science and Mathematics Education at Newman University. Among other activities, Margaret Knoeber ASC, along with Professor Emeritus of Biology Surendra Singh, Ph.D. and Director of Transfer Student Orientation and Retention JoAnn Mark, ASC, Ph.D., were honored for their service to the development of science and math at the university. Each was presented with a "Memory Book" containing tributes from former students and colleagues. Here are some of the comments in Sister Margaret's Memory Book.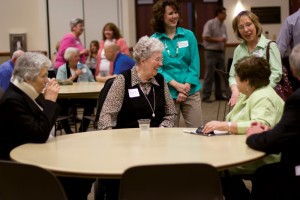 The other teachers honored here this evening helped me along the way, but I would not be a pharmacist if it were not for Sr. Margaret, her dedication, her belief in me and her version of "tough love."
– Leonard Utz '75, Pharmacist
Sister Margaret, you were always so kind and very helpful when I struggled with Organic Chemistry II. When I had some personal challenges, you were there to lend an ear, and provide good, sound advice. I appreciate you and I am thankful you were a part of my life!!
– Margaret Schaefer Hebenstreit '78, PT
It was such a privilege to have had the opportunity to have been in your classroom way back when. . . I thought you, my teacher, were amazing; the course actually was one of the main reasons I got into dental school. I actually thought you made Organic Chemistry easy.  I don't know why the good Lord blessed me to have been honored to grant me this relationship, but all I can say is thank you Lord and thank you, Sr. Margaret.  You are an incredible teacher, and I've been blessed to know you.
– Mark Troilo '74, DDS
Amazing, intelligent and a caring woman who knew and LOVED organic chemistry. . .
You, Sister Margaret, were one of the most motivating professors who encouraged many of us to go to medical school.
– Catherine Powers '78, MD