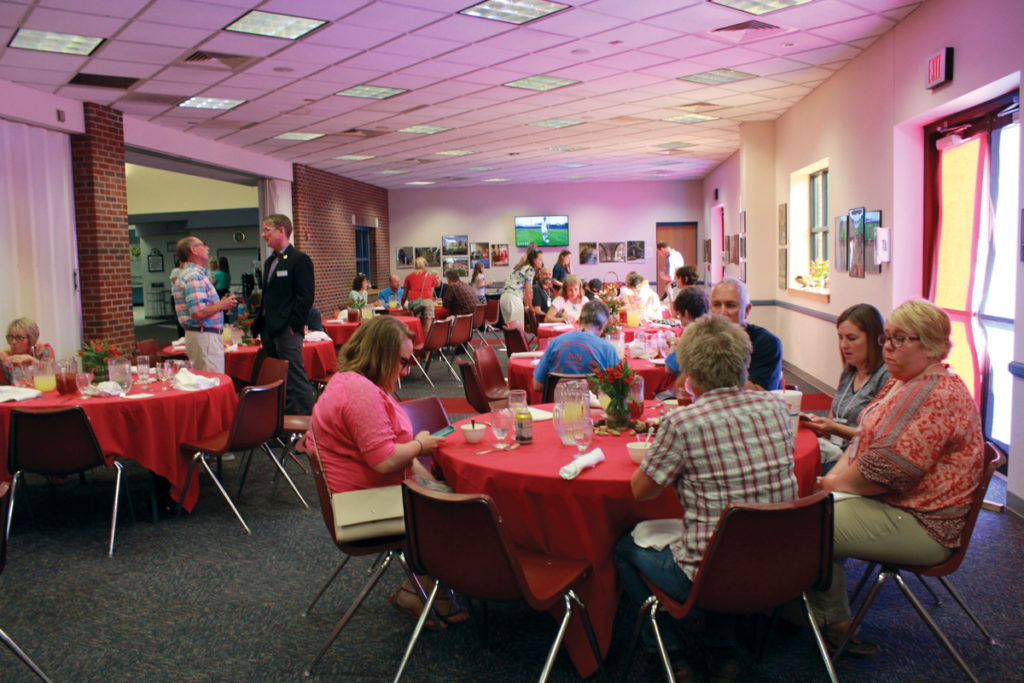 Alumni gather at the Friday night dinner in Mabee Dining Center.
WEEKEND FILLED WITH ACTIVITIES HELPS NEWMAN ALUMNI RECONNECT AND REMINISCE
The annual Newman Alumni Weekend, which took place June 23-24 this year, gave alumni a chance to reconnect with old friends and reminisce about their favorite college memories. The weekend was packed with social meals, inspiring presentations, fun activities and more.
It all began with a dinner on Friday, June 23, in Mabee Dining Hall. Alumni gathered for a pig roast dinner before heading over to the Dugan- Gorges Conference Center for a beer tasting, which had a special theme tied to the Adorers of the Blood of Christ (ASC), led by Betty Adams, ASC.
As each beer was poured, tasters were given a verbal description and brief history by Adams who then explained how the ASC sisters were connected with the location from which each beer originated.
"The organizers of the event know where our sisters are located and chose the beers accordingly," said Adams. "I would tell something about the sisters who were working in that place. Sometimes I made references to historical things, but mostly just talked about what the sisters are doing there now."
As a linguist, Adams added a special touch by coaching the tasters on how that region would say "cheers," and then encouraged them to join in a toast before tasting.
Those who were up for it participated in a round of karaoke after the beer tasting ended. Monty Schreiner '81 said he didn't participate in the karaoke because that would be a bit "scary for others," but he enjoyed watching others have a good time, saying there were quite a few that were pretty good singers.
Alumni Relations and Annual Giving Coordinator Brielle Dunham said, "The atmosphere was relaxed, people fell into place and started having a good time."
Two alumni, a former coach and a current faculty member all prepared presentations for the "NED talks," which were open to all Newman alumni as well as the general public and were free to attend.
Former Director of Alumni Relations Sarah Strole said, "I think the NED talks are a great way to continue the lifelong learning that is established as students at Newman. As alumni, once you leave, it's a great way to stay connected with that education."
Each presenter prepared about an hour presentation on various topics.
On Saturday afternoon, Vice President for University Advancement J.V. Johnston led a private tour of the new Bishop Gerber Science Center for interested alumni and their families. During the tour, Johnston explained the planning process for the new building, the backstory to some of the classrooms, and the design elements within the building.
Later in the day, a fun "Paint the Campus: Wine and Paint" event was held in the De Mattias Fine Arts Center for those interested. The class was given by Kaycee McGill '08. McGill guided the participants as they painted a large, colorful flower on canvas.
McGill led the 2016 alumni weekend painting class and said she was happy to return for another year. "I basically lived in this studio when I was a student at Newman," she said, adding that it made her feel good to be back.
CELEBRATING ALUMNI
The big event of the weekend was the Newman Alumni Awards Banquet, which was held in the Dugan-Gorges Conference Center on Saturday night. The banquet is held as a way to honor alumni and their contributions to Newman and within the community.
The banquet began by celebrating five individuals who were given an Honorary Alumni Award, which is presented to someone who has either attended Newman but did not graduate or has a long history of involvement with and loyalty to Newman.
The five individuals who received the Honorary Alumni Award were Dana Fugate, Tim McGreevy, Lou Murdick, Jean Peters and Leonard Utz.
This was followed by the presentation of four distinguished awards that are presented annually to alumni: the Leon McNeill Distinguished Alumni Award, the Beata Netemeyer Service Award, the Saint Maria De Mattias Award and the Spirit of Acuto Transformational Award.
The Leon McNeill Distinguished Alumni Award is given to someone who has achieved a high degree of success and integrity in their professional life. This year's recipient was Lanny Gridley. The 2007 alumnus holds an MBA degree and is the chief financial officer and project manager for Sherwood Construction Co., handling Tulsa area projects. He was also recognized for his active involvement with the March of Dimes and the Park Plaza Church of Christ in Tulsa.
George '72 and Lois '74 Kreidler were the recipients of the 2017 Beata Netemeyer Service Award. Both graduated from Kansas Newman College with degrees in education. Lois spent her career teaching at St. Marks Catholic School and George is retired from Starkey Inc., a nonprofit organization that works to foster the independence of developmentally and physically disabled individuals in Wichita and its surrounding areas. George and Lois were recognized for their involvement in both the Catholic Church and the Wichita community.
The Saint Maria De Mattias Award celebrates alumni who have displayed a deep loyalty to Newman University and its mission through their stewardship and Catholic life. This year's recipient was Gerry Killeen '69, who began a lifelong career in the advertising and marketing world after graduation and has had her work come full circle. Killeen recently completed a nine-year term as a member of the Newman Board of Trustees and also played a major role in creating the university's new tagline, "A Degree of Difference."
Ginny Wylie '93 was honored with the Spirit of Acuto Transformational Leadership Award. As a successful soccer coach, Wylie has helped children with unique and special needs. Wylie was a police officer for the Wichita Police Department and was named Police Officer of the Year a er only three years on the force. She was celebrated for demonstrating what "transforming society" looks like in a career of dedicated service to the community.
Tags:
alumni reunion