Father Adam Grelinger
Newman University has welcomed back a friendly face. Alumnus Father Adam Grelinger has been assigned as the new university chaplain.
Grelinger was ordained a priest in 2017 and spent two years at Blessed Sacrament Catholic Church as the parochial vicar before he was called to meet with Bishop Carl Kemme. Grelinger explained he knew that call usually meant a reassignment was in the works, but said he was surprised upon hearing he would be chaplain at Newman. He was not expecting to receive a larger leadership position this early in his priesthood, he said.
"I think the first thing I said was, 'Are you serious?' But (I was) super excited," Grelinger said.
He said the news brought back many memories from when he attended Newman University as a student. Grelinger was one of the students who created Newman 360Five, a fun and light-hearted student-run video series relating to college life.
Although he had no prior experience, he did most of the writing, editing and hosting for the series. One thing Grelinger was not expecting, he said, was that the series would reach beyond Newman students.
"A lot of high schoolers at Blessed Sacrament found (the videos) and, yeah, they gave me a hard time about it," he said with a smile. Grelinger added he had a fun time hosting the series and dropped a hint that he would love to be a guest star on a future episode.
"I'm excited to be back and to be at this university and to help people encounter Jesus Christ in whatever way they need."

Fr. Adam Grelinger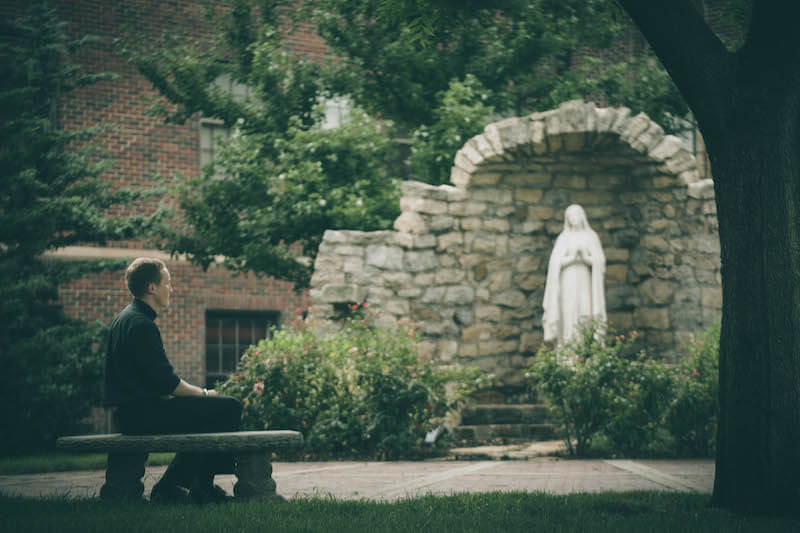 For Grelinger, coming back to the university is significant since his first call to the priesthood was as a student living in Fugate Hall.
His roommate, high school friend J.D. Betzen, began to discern the priesthood and Grelinger felt a need to pray for his vocation as well. After he "started to feel the call," he still had trouble accepting it. He spent many hours in the chapel with this spiritual struggle until he eventually accepted his call to the priesthood. Grelinger said from there, he decided to graduate early and enter the seminary. He and Betzen were ordained at the same time.
While Grelinger has a personal connection to the university, his role as chaplain serves a very different purpose. He explained there are many differences from his parish life experience.
Newman is a bit smaller than a large parish with a wide range of ages and parish groups. With smaller numbers, however, Grelinger said he will be able to build stronger relationships with the students.
Grelinger said he looks forward to getting to know and understand what Newman students want. Before making any changes, he hopes to address the needs of the students with a goal "to serve the students … whatever the students want to do, I'll try to make that happen."
He said he is "passionate about strengthening community, a sense
of belonging and for those to feel comfortable in believing" at Newman University. He also seeks to bring fun activities to build friendship among the students while still focusing on Christ and connecting as an educator to the students.
Grelinger knows how beloved his predecessor, Father John Fogliasso, was to the university and he plans to continue Fogliasso's work as chaplain.
Grelinger said he is also looking forward to working with some of the same professors that he had as a student and "getting to know them a different way" as colleagues.
As a strong believer of the priesthood, Catholic universities and campus ministry, Grelinger stated he is proud to be a part of the faith aspect during a student's college journey.
"I'm excited to be back and to be at this university and to help people encounter Jesus Christ in whatever way they need."