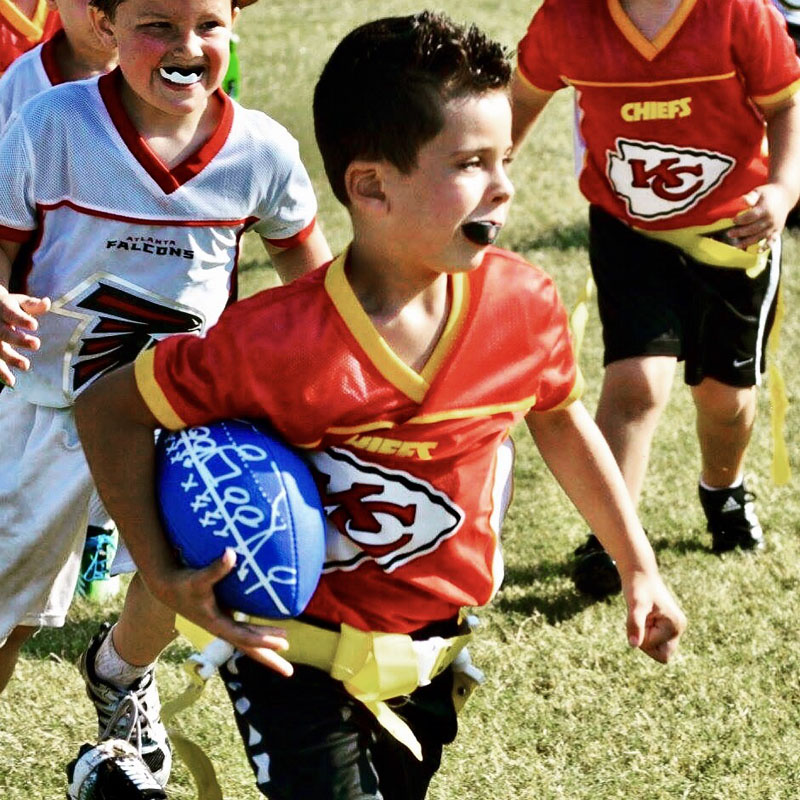 Harper Elliott practices with his team from K12 Sports.
Newman Alumnus Jason Prideaux is using sports to enrich childrens' lives
Youth sports have always been of interest to Jason Prideaux '05. It's one of the main reasons he founded K12 Sports USA.
Prideaux recounts his story on the K12 Sports USA official website: "My passion for youth sports stems from myself and two siblings being raised by a single mom who was unable to afford to pay for the three of us to play sports. After finishing my MBA and investing over seven years into youth sports with my own kids, I decided to start K12 Sports USA."
The goal of the organization is to "give all kids the opportunity to try a new sport, or press further into one they already love, by giving them a safe, caring and nurturing environment with safety, structure and the promotion of building confidence in kids and their families."
One of those families is Holly Elliott and her son, Harper. She was actively looking for a place her 5-year-old could play football to have fun while staying safe. She describes her son as "rough, fearless, active and full of limitless energy — and desperate to play football."
As a former athlete, Holly worried about the negative physical impacts sports have on a player — especially a young player — not to mention the expenses.
Once she found that K12 Sports offered a free season of flag football, and after talking on the phone with Prideaux, she felt comfortable and confident her son would learn important lessons on teamwork while having a great time.
Early into the season, Holly noted, "The boys learned quickly and each week their knowledge, fundamentals and confidence improved drastically."
She recounted a time when Harper was heading straight for the end zone to score his first touchdown — except he was nearly to his team's own end zone. Right before he reached his end zone, he turned around and made it all the way back to his opponent's end zone to score a touchdown.
"As a first-time football mom, and Harper a first-time player, I am beyond grateful for this opportunity and experience. Prideaux and K12 Sports will surpass other youth sports organizations to become the standard of success and achievement that all others strive toward," she said.
Currently, K12 Sports has after-school sports in the Tulsa area. The organization is designed for kids ages 5 to 16, and a starter league is offered for ages 3 to 4. Cost is $100 per player, per sport. Registration forms can be found on the official website. Five sports are offered: Baseball, basketball, flag football in partnership with USA NFL flag football, lacrosse and soccer.
Prideaux hopes to expand K12 Sports into all 50 states. Currently, he has prospects to franchise in Michigan, North Carolina, Tennessee and Kansas with opportunities to franchise in other states.