Anonymous donor establishes Margaret Knoeber Scholarship
An anonymous donor has made a gift of $25,000 to establish a scholarship in honor of one of the pioneers of science education at Newman University – Margaret Knoeber, ASC.
According to the donor, the Sister Margaret Knoeber, ASC Endowed Scholarship was created out of great respect for Knoeber, and to recognize the high level of energy and enthusiasm she brought to her work at Newman and other organizations. While complete guidelines are still being established, the scholarship is designed for full-time students with demonstrated financial need. For the immediate future, the scholarship will be awarded to one student per year, at a dollar amount yet to be determined. The first award is expected to be made next fall for the 2013-14 academic year.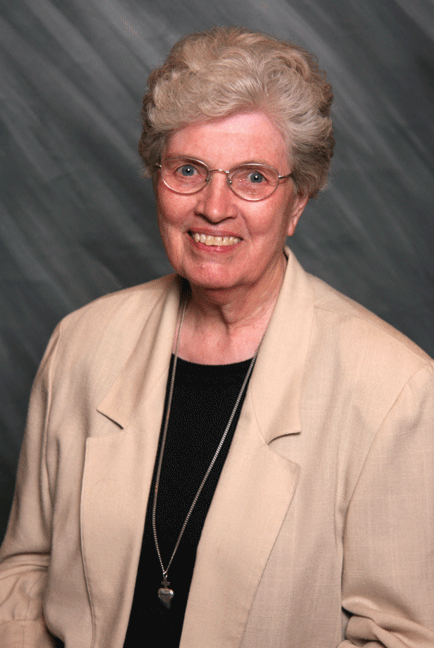 "This is a beautiful tribute to a truly beloved member of the Newman community," said Newman Major Gifts Officer Coryanne Graham, who is working with the donor to establish scholarship guidelines. "Sister Margaret has made so many important contributions to the development of this institution. This scholarship is a fitting honor to her and everything she has accomplished."
"I'm very pleased to know that someone is providing funds for this scholarship, and very appreciative," Knoeber said. "This will help create opportunities for many Newman students in the years to come."
In setting up the scholarship, the donor noted Knoeber's love of life, happiness with her religious life, and commitment to students. The donor also pointed to Knoeber's ability to inspire students and help them realize their full potential.
Knoeber has a long and celebrated association with Newman. She attended Sacred Heart Academy, graduating in 1949, and became a professed member of the Adorers of the Blood of Christ, taking her first vows in 1950 and her final vows in 1955. For nine years she worked as an elementary school and music teacher in rural parochial schools, and took classes in the summers in education and science. She received a bachelor's degree in natural sciences from Sacred Heart College in 1961.
Knoeber discovered she had a knack for chemistry, and earned a doctorate in organic chemistry at the University of Notre Dame in 1967. She then returned to Kansas and over the following 11 years in effect created the Chemistry Department at Sacred Heart, working as instructor and associate professor of chemistry.
Knoeber also served as alumni director from 1983 to 1990, and later helped pioneer interactive television technology in western Kansas while working with Newman to launch a pastoral ministry program for rural communities in the Diocese of Dodge City. She also served a term as provincial counselor for the ASC, was community archivist at the ASC Wichita Center, and was a member of the Newman Alumni Board of Directors. She continues her connection to Newman today as an active alumna, maintaining many relationships with her former students and alumni.
Additional contributions to the Sister Margaret Knoeber, ASC Endowed Scholarship can be made in any amount from any donor. For more information or to make a gift, contact Coryanne Graham at 316-942-4291, ext. 2174 or [email protected], or visit the Give to NU section of the Newman University web site.
.
.