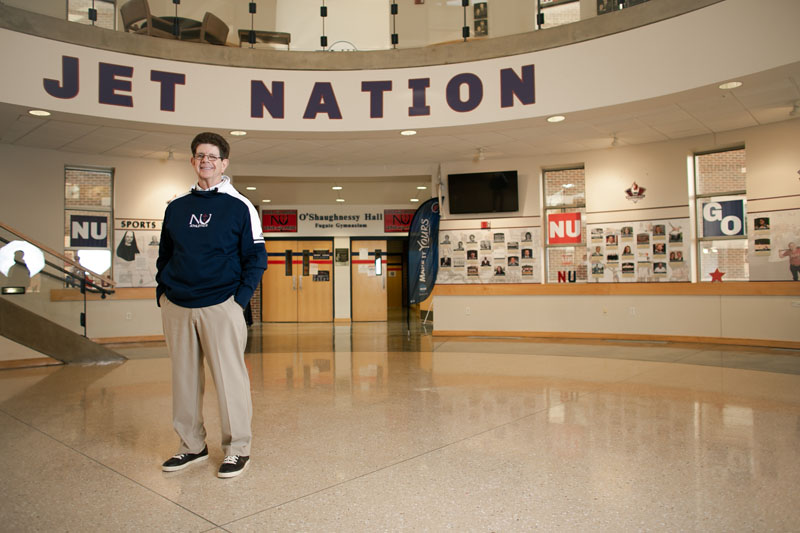 Vic Trilli, athletic director and vice president for Student Affairs at Newman University, will retire in June 2019 after an 11-year career at Newman.
Trilli's first point of business when he arrived at Newman was helping Newman transition into Division II NCAA.
"I remember encountering obstacles that were preventing some of our teams from competing when I was two weeks into the job," explained Trilli. "Now we have teams that are nationally ranked and it is a great accomplishment. Newman underwent a growing process as we became part of the NCAA, and we are still growing."
Recently, Trilli worked with a committee to begin Newman's transition from the Heartland Conference to the Mid-America Intercollegiate Athletics Association (MIAA). Newman will be an official affiliate MIAA member in fall 2019 and that will benefit students and faculty, Trilli said.
"It's a new direction for the future of Newman athletics and how people view us. I'll definitely miss the opportunity to be at Newman after we are a part of the MIAA, but I'm very happy that I could be here as we started the process of joining. I'm excited to see what happens next for Newman."
Trilli said he'll miss the dedication of his department and how hard athletes, coaches and other members of the staff work.
"We all do our best to work together for the betterment of the department. The coaches really support each other. There are a lot of relationships that I've formed over the years, especially with the music department, and I think I will miss those especially. I love being able to work together with people in different departments to make events extra special."
Working at a Catholic university is something Trilli said he is grateful for.
"I love that I get to have a crucifix on my wall and that we can begin our games with prayer. It is one of the things that made Newman stand out to me. I've worked at big schools, and I decided when I came here that Newman was the right fit. I wanted to make a difference. I didn't think that I would be here for 11 years, and I'm extremely thankful that it's been that long."
Trilli said his favorite part of the job has been the drive and determination that he sees from the students.
"I start my days by watching the cheer team practice in the gym. They put in hours and hours every morning, and I don't think a lot of people see the effort that goes into what they do. They really improve the atmosphere of athletic events on campus. We didn't have a cheer team when I came here, and I knew that it needed to change. They're one example of the athletes that make our department and our university so great."
After retiring in June, Trilli plans to move to Dallas to be close to his children and grandchildren. He said that he will have to adjust to life away from Newman and that retirement will be another exciting chapter in life.
"I've been able to do a lot here, and I have loved being an advocate for students and athletes. I hope that in some small way I've been able to make a meaningful difference at Newman. Go Jets!" 
Trilli was presented with the Thomasine Stoecklein, ASC, Spirit Award during the 2019 Newman Athletics Hall of Fame ceremony in recognition of his hard work, energy and passion for Newman University.