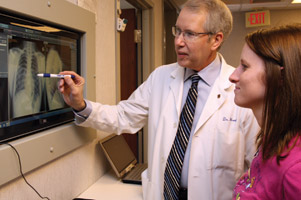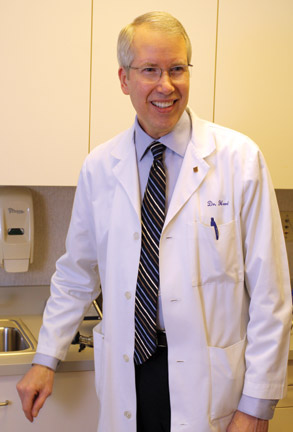 Before Newman University had built a reputation as an excellent school for pre-med students, and before those students' acceptance rate to medical school consistently topped 90 percent, there was Larry Hund.
Hund, a 1974 Newman graduate and only the second Newman alum to be accepted into medical school, has in the decades since his years at Newman become a successful and well-respected pediatrician in Wichita.
"If I hadn't gone to Newman I probably wouldn't have gone into medicine," said Hund, a native Wichitan who made his decision to attend Newman largely on a family member's advice, and the fact that he could live at home and save money. Whatever his reasons, Hund liked the university once he began attending.
"I'm glad I picked Newman because of the smaller class sizes, and there were lots of opportunities to do things I probably wouldn't have done at a larger university," he said. "I liked the idea of a Catholic school, too."
A key decision
Like many students, Hund's career plans were not fully determined at the beginning of his collegiate experience. He began as a biology major and considered a career in environmental biology. As with many Newman students over the years, Professor of Biology Surendra Singh, Ph.D. played a formative role in Hund's decision.
"Towards the end of my junior year Dr. Singh approached me," Hund said. "At that time EPA jobs were being cut back, and he spoke to me about the prospects of finding a job, a career, and suggested I think about medicine. I talked to some other people, got a job at a hospital, and it kind of went from there."
Where "it" went has been remarkable. In the 30-plus years Hund has been practicing pediatrics in Wichita, he has received awards from the University of Kansas School of Medicine-Wichita, Wichita Register magazine, the Kansas Chapter of the American Academy of Pediatrics, and the national American Academy of Pediatrics. Hund has received recognition as one of the "Best Doctors in America" several times, and was awarded the Leon A. McNeill Distinguished Alumni Award from Newman in 1994. He is now president of Mid-Kansas Pediatric Associates, P.A., which has three offices in the Wichita area.
Hund's success is no mystery in light of his reasons for becoming and continuing as a pediatrician.
"I liked the idea of having an impact on children at the beginning of their lives," he said, "and you get to see them grow up."
His attitude toward his patients as they grow shows the same care.
"I try and be honest with them," he said. "I won't go into a different room with their parents because I don't want the kids to feel like we're talking behind their backs. It's very important that they trust me."
Hund is equally respectful of his teenage patients.
"About one-fourth of my patients are teenagers," he said, "and it's a hard time in life. Sometimes they feel that adults don't respect them or care what they think. So by showing them respect in the office, along with a little bit of attention and caring, a physician can make a huge difference."
Awards are one thing, but there is an even better indicator of the effect Hund has had on his patients' lives: about 80 of his patients today are from "second generation" families, children whose parents Hund cared for when they themselves were babies.
"It makes me feel old!" Hund remarked. Nevertheless, he is quick to deflect the credit for his work, pointing out that everything he does is dependent on the help of nurses, other physicians, nurse clinicians, office staff, therapists and many others.
A lifelong spiritual journey
Hund is also quick to credit his wife. Hund and his wife Margy met as students at Newman, and married in 1977. When their first daughter was born, Margy Hund decided it was important to be a stay-at-home mother in spite of earning a master's degree in her field, and Hund continues to give her the credit as he speaks lovingly of his three, now-grown daughters.
"I couldn't do what I do if it wasn't for her," Hund said. "Doctors get noticed, but she's the one who probably deserves these awards more. She has been, and continues to be, an exemplary mother for our daughters."
He unquestioningly names his wife as his best friend, as well as an important guide in his Catholic faith.
"I believe that God wants all of us to experience a lifelong spiritual journey by which we come to know Him better," said Hund. "Margy is much farther down the road in her journey than me, but she is bringing me along with her. A big part of Christian marriage is helping each other gain heaven."
Though Hund's workload is slowing down, you might not know it. Instead of the 70 hours per week that he worked in his earliest years, he now puts in about 50. Instead of being one of two partners in a practice, there are now seven, which means he is on-call fewer nights and weekends. Even though he eventually plans to work about three days a week, that only means he wants to volunteer more.
"Public insurance isn't adequate [to meet the health needs of low-income families], and volunteers need to step in," he said. "I've considered doing missionary work in a foreign country, but there's plenty to do here."
He added that he would like to continue contributing to environmental issues in the future.
"I believe that climate change is real and is due, in great part, to human activities," Hund said. "It is amazing that so many politicians are choosing to ignore it or deny its existence. I believe we will see its effects start to snowball during our lifetimes, and the people who will be the most adversely impacted by it will be the poor, many of them children, especially in third world countries."
Another reason he would like to cut back his work hours is a bit more personal – the recent birth of the Hunds' first grandchild.
"I take some Fridays off so we can go see our kids," two of whom live in Omaha and one in Dallas. "Now having a grandchild, I can see that it's going to be important for us to see the grandkids frequently."
No hesitation
Looking back on his career, Hund remembers clearly how his experience at Newman has helped him. In addition to the critical influence of Dr. Singh, Hund remembers the impact made by Margaret Knoeber, ASC, who taught organic chemistry, and Claudine Axman, ASC, who taught genetics.
"The basic science was very good," he added, "very adequate for preparing for medical school. But I was also taught ethics, morality, and other things that you wouldn't get at a public university."
He also cites another lasting, if somewhat unexpected, benefit of attending Newman.
"Newman helped provide me a good background in the English language," he said. Since doctors' offices routinely send out letters and other correspondence, "I feel that anything I send is a representation of our office and of me, so it should have good grammar and composition. That's the beauty of a liberal arts education."
Given all his memories and experience, and his view of Newman's pre-med program today, perhaps it's no surprise that Hund doesn't hesitate when asked if he would recommend Newman to a student seeking a career in medicine.
"Yeah, and I do all the time," he said. "I put a plug in for Newman whenever I can."
.
.