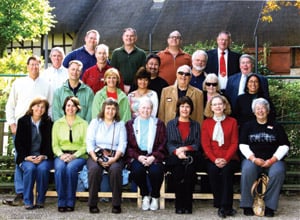 On Sept. 19, Newman University joined with individuals and organizations from around the world to celebrate a long-awaited occasion, the beatification of John Henry Cardinal Newman.
Beatification is the recognition by the Catholic Church of an individual's ascension to Heaven and ability to intercede on behalf of individuals who pray in his or her name. Typically the individual being beatified must have personal attributes of charity and heroic virtue, and have performed or been responsible for one miracle. It is the last step before canonization as a saint.
In celebration of the event, the university sponsored an eight-day "Cardinal Newman Tour" in England during September comprised of 21 people, including representatives from Newman and the Adorers of the Blood of Christ. The group attended the beatification ceremony presided over by Pope Benedict XVI near Birmingham, and visited many places where Newman lived and worked. The tour included London, Birmingham Oratory, and Oxford, where the group visited Oxford Oratory and Littlemore, the district where Newman lived when he led the Oxford Movement and converted to Catholicism. The group also visited Shakespeare's birthplace Stratford-Upon-Avon.
"Words cannot describe how it felt to witness the beatification ceremony," said Newman President Noreen M. Carrocci, Ph.D. "This was a sacred and joyous occasion, and a great day for the Church and for Newman University."
Editor's Note: Newman Provost and Vice President for Academic Affairs Michael Austin, Ph.D. sent messages chronicling the trip via Twitter. Here is a sample of his tweets:
9:29 a.m. CDT, Sept. 15
Getting ready to head out. Layover in Chicago. Apparently, all the direct flights from Wichita to Heathrow were booked.
6:45 a.m. CDT, Sept. 16
Great hotel on the Thames. This afternoon, a nap or the British Museum. Wichita time 6:45 am? Nap wins.
12:32 p.m. CDT, Sept. 16
Lovely dinner on the Thames, right beneath the Eye of London and overlooking Parliament Hall. The fare? McDonalds of course.
12:43 p.m. CDT, Sept. 17
Busy day sightseeing: St. Paul's, Buckingham Plce, British Museum, Drury Lane, Covent Garden, and back to St. Paul's 4 evensong
1:56 p.m. CDT, Sept. 17
It is distressingly easy to spend money when it just looks like funny paper.
2:08 p.m. CDT, Sept. 17
Today, the street to Buckingham palace was lined with Papal flags. This does not happen often in London
10:39 a.m. CDT, Sept. 18
Lovely day at Stratford-upon-Avon, which was once a town but is now the world headquarters of William Shakespeare ™.
2:29 p.m. CDT, Sept. 18
Wakeup call for the beatification mass is at 2:45 AM tomorrow? Whatcha talking about Willis?
3:47 p.m. CDT, Sept. 19
Cardinal Newman beatified
6:27 p.m. CDT, Sept. 20
We had an absolutely stunning boat trip down the Thames River tonight. Weather perfect.
7:26 a.m. CDT, Sept. 21
Today at Westminster Cathedral and Westminster Abby, which, apparently, are not the same. More dead people at the latter.
7:29 a.m. CDT, Sept. 21
One last adventure—"Merry Wives of Windsor" tonight at the Globe. Then it is up and back to Kansas.
8:55 a.m. CDT, Sept. 23
Back in Wichita, happy, safe, and much wiser for the journey
To view a series of short videos from the pilgrims' trip, click here.
Adorers of the Blood of Christ
,
Benedict XVI
,
Birmingham
,
Birmingham Oratory
,
British Museum
,
Buckingham Palace
,
Cardinal Newman Tour
,
Catholic Church
,
Chicago
,
Covent Garden
,
Drury Lane
,
England
,
Eye of London
,
Globe Theatre
,
Heathrow
,
Heaven
,
John Henry Cardinal Newman
,
Kansas
,
Littlemore
,
London
,
McDonalds
,
Merry Wives of Windsor
,
Michael Austin
,
Noreen M. Carrocci
,
Oxford
,
Oxford Movement
,
Oxford Oratory
,
Parliament Hall
,
River Thames
,
St. Paul's Cathedral
,
Stratford-Upon-Avon
,
Twitter
,
Westminster Abbey
,
Westminster Cathedral
,
Wichita
,
William Shakespeare