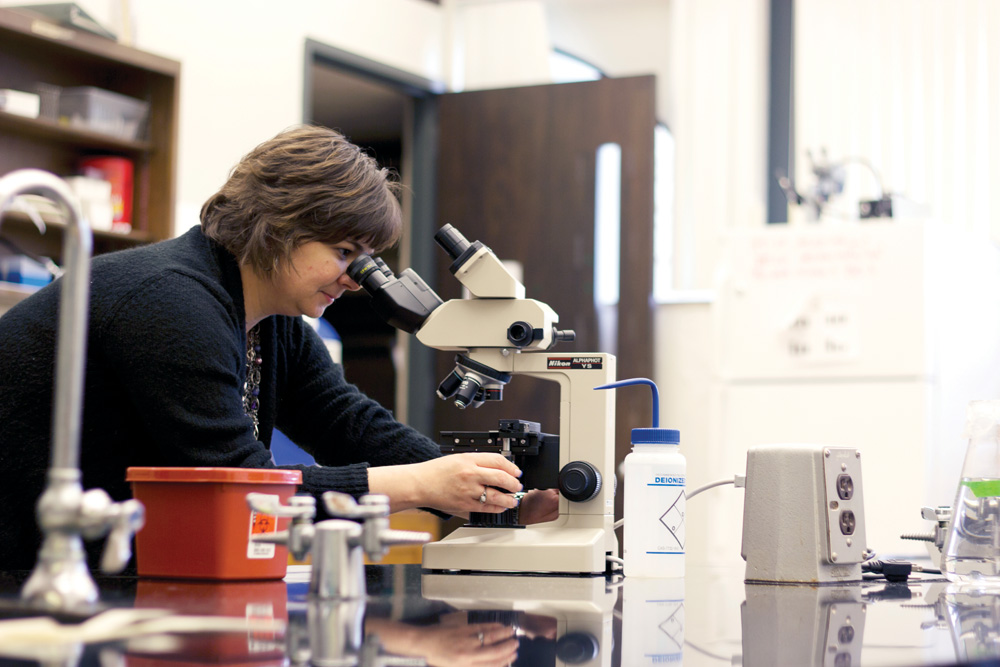 The Newman University Division of Science and Mathematics recently made some curriculum adjustments to provide a clearer and more organized academic path for biology students planning to pursue post-graduate studies. The adjustments are designed to prepare students for post-graduate work in their chosen profession.
With the changes, the Bachelor of Science in Biology program now offers 13 concentrations in areas including pre-med, pre-pharmacy, pre-veterinary, pre-optometry and others. The new concentrations were created largely by grouping current classes to match the specific areas students wish to pursue.
"We actually only created a few new classes; mostly it was a matter of re-organizing the classes and systems we already had in place," said Associate Professor of Biology Stacy Jones, Ph.D., who played a major role in the development of the new concentrations.
To earn the Bachelor of Science in Biology, all students take about 40 credit-hours of core biology courses, Jones said. They then choose the concentration they desire. Each concentration requires 19 to 44 additional credit-hours to meet the overall degree requirements.
The new concentrations were introduced in the 2013-14 academic year.
Jones said the changes were made so students could focus their upper division required classes and electives for their chosen career. It also made sense to do concentrations because gaining admission into graduate and professional schools is increasingly competitive, and schools are requiring more specific prerequisite coursework.
The concentrations also help alleviate concerns among students and their parents that majors such as "pre-medicine" and others are not offered by Newman. The new approach will also make the best use of faculty resources, Jones said.
Jones and the other members of the Biology Department spent about two years planning how to adjust the curriculum to meet student demand, and at the same time to continue to deliver high quality instruction. While the concentrations are relatively new, Jones said the response has been positive.
"It's only been a year, but so far we're getting good feedback from students," she said. "They seem to like having a concentration for their career."
Pictured above: Associate Professor of Biology Stacy Jones, Ph.D. helped develop the biology concentrations.
The Bachelor of Science in Biology is now offered with the following concentrations:
Pre-Med (M.D. or D.O.)
Pre-Pharmacy (PharmD)
Pre-Physician Assistant
Pre-Physical Therapy
Pre-Occupational Therapy
Pre-Dentistry
Pre-Veterinary (DVM)
General Biology
Biomedical Research
Pre-Chiropractic
Pre-Optometry
Pre-Medical Technology
Biology Teacher