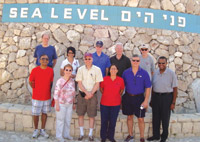 . . .So, today I found myself stepping in places I never thought I'd go. I will re-frame these steps and praise the Lord for welcoming the likes of me to this Holy Land.
Newman President Noreen M. Carrocci, Ph.D. was among 11 Midwest university presidents invited on a week-long trip to Israel last fall by the Consulate General of Israel, to learn about Israeli life, culture, and higher education. Following a whirlwind schedule, Carrocci and the group visited universities and research institutes, museums, Jerusalem, the Sea of Galilee and other sites in the Holy Land. In addition, she had the opportunity to dine and have deeper dialogue with a host of intellectual and political leaders.
Carrocci diligently blogged each day's activities to share nuggets of history learned, sights seen, and her own realizations as she explored the complex and often clashing interactions of belief systems, cultures, politics and emotions in this land of Jews, Palestinians, Muslims and Christians.
Following is a sampling of her blog entries and photos from her trip. Click here to read the full blogs and see more photos.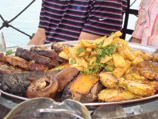 Posted on October 23:
Tonight we had dinner with Yigal Baruch Caspi, Deputy Director General for Media & Public Affairs. . . Our conversation was wide-ranging from the history of the West Bank to tensions with Iran today. We discussed educational issues as well.
Posted on October 24:
. . . Our hosts [at Hebrew University] expressed concerns similar to those raised in the U.S. about decreasing government investment in scientific and technological research and development. We sensed that hope for peace could be found in the collaborative problem-solving that good scholars do both across disciplines and across countries.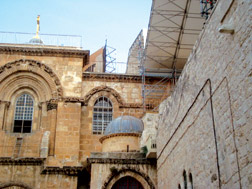 Posted on October 25:
Today we spent the morning touring the "Old City" of Jerusalem with another very competent guide, Shalom. He wove political and religious history through the centuries (of course, mostly it's mixed!), along with recent history and contemporary issues as we walked from the gates of the city through the streets to the Holy Sepulchre Church, and ending at the "Wailing Wall." I lost track of how many times Old Jerusalem has changed hands and/or established semi-peaceful coexistences over time – the Jews, the Romans, the Turks, the Armenians, the Ethiopians, the Arabs and so on. Bullet holes from 1948 and 1967 are still in evidence on the outskirts of the newer Jewish Quarter.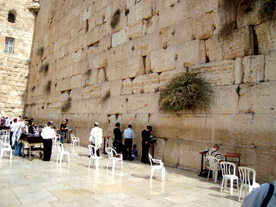 Posted on October 26:
. . .Next we heard from a Middle Eastern Scholar, Mr. Haim . . . He disabused us of the notion that the "Arab Spring" is about a yearning for democracy by taking us through history . . .He captivated us for an hour, giving a coherent narrative that helped us to understand the complex history of Islam and its relationship to all the peoples of the middle east.
. . .So, after these days and presentations and conversations with colleagues, one reaction is sadness. How could we so many times through so many centuries judge one another, discriminate against one another, hurt and kill one another – all in the name of faith? The direct antithesis of what we are called to do as Jews, as Christians, as Muslims. . .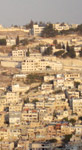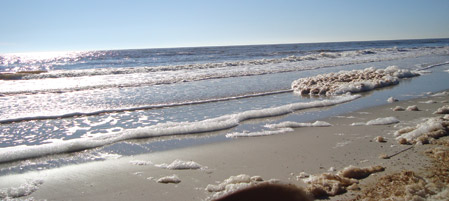 Posted on October 27:
This morning I got up and crossed the street to find a wonderful walking path along the [Mediterranean] Sea. No need to turn the Ipod on as my music was the sound of the waves. . . What a great way to start the day!
.
.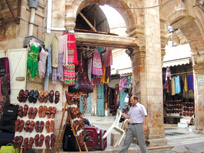 . . . [We] spent the afternoon touring Tel Aviv. First we hit the Carmel Market, which reminded me of the French Quarter Market writ larger! Booth after booth with fresh produce, meats, fish, followed by lots of trinkets, tee-shirts, shoes, caps, purses, and on it went. We had our lunch there at one of the food stalls and ate delicious falafel pita sandwiches.
Posted in October 28:
[Our guide] Coopie had lots of information to share as we wound our way from Tel Aviv to the northern-most point of Israel. . . He showed us old maps and new, including a more impressionistic diagram that I vaguely remember from high school days depicting this land as the bridge for Africa, Asia, and Europe. Friends, this has been important land for a few thousand years!.

. . .We moved on and found the Church of the first feeding of the multitude at Tabgha. . . Last stop was the Jordan River where St.John [sic] the Baptist and Jesus were baptized. Oh my gosh!
.
.
.
In her last blog entry, posted on Oct. 31, Carrocci noted how impressed she was by Israel's complex and tumultuous history, as well as the nation's ability to create a "vibrant, entrepreneurial and thriving" society. She was also struck by the optimism of its people that they will find solutions to their tensions and therefore realize a brighter future for all. She added:
I will pray for peace with even greater passion in the days to come, and work to find ways to live out Newman University's value of global perspective ever more fully and deeply for our students in the years to come.
.
.