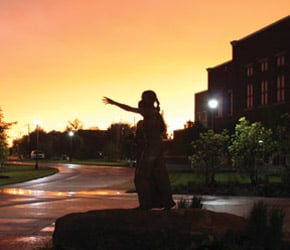 The Newman University Campus Master Plan 2010 is a comprehensive plan for growth, and a shared vision for campus development that incorporates features and facilities designed to meet the needs of the Newman community.
Yet the plan is not a static entity. Instead, it's a dynamic tool that offers a foundation for future development, but remains flexible enough to respond to unforeseen circumstances.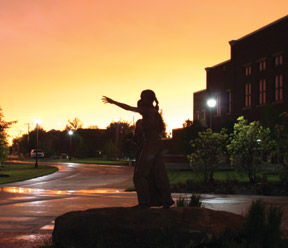 "A campus plan is a guide, or a work in progress," said Vice President for Institutional Advancement Tom Borrego. "Like anything else it must be able to respond to change. As conditions and needs change in our community and at the university, the plan will necessarily change too. This plan was created with that in mind."
A good example of the need for flexibility in campus planning is Ryan Library. At the turn of the 21st century, plans called for additions to Ryan Library, built in 1971, to create a combination student union-library-coffee/music shop by 2010. When it was discovered in late 2002 that the library's foundation was unstable, university officials closed and later demolished the building, and launched the capital campaign that created the Dugan Library and Campus Center.
Several components of the 1993 plan also changed over time. The master plan originally envisioned the site where the De Mattias Fine Arts Center and O'Shaughnessy Hall complex now stands to be strictly an athletics facility. As the building it was replacing, however, the original De Mattias Hall, functioned as both a gymnasium and a theater, a performing arts venue was added to the plan.
In addition, some structures never materialized, such as an extension to the Heimerman Science Center, while others on today's campus were not part of the 1993 plan, including Beata Hall, which was built in 2000.
"With the 2010 Campus Master Plan, we have a great blueprint for the future that is also adaptable to unforeseen circumstances," Borrego said.
Tags:
Beata Hall
,
Campus Master Plan
,
De Mattias Fine Arts Center
,
Dugan Library and Campus Center
,
Heimerman Science Building
,
O'Shaughnessy Hall
,
Ryan Library
,
Tom Borrego