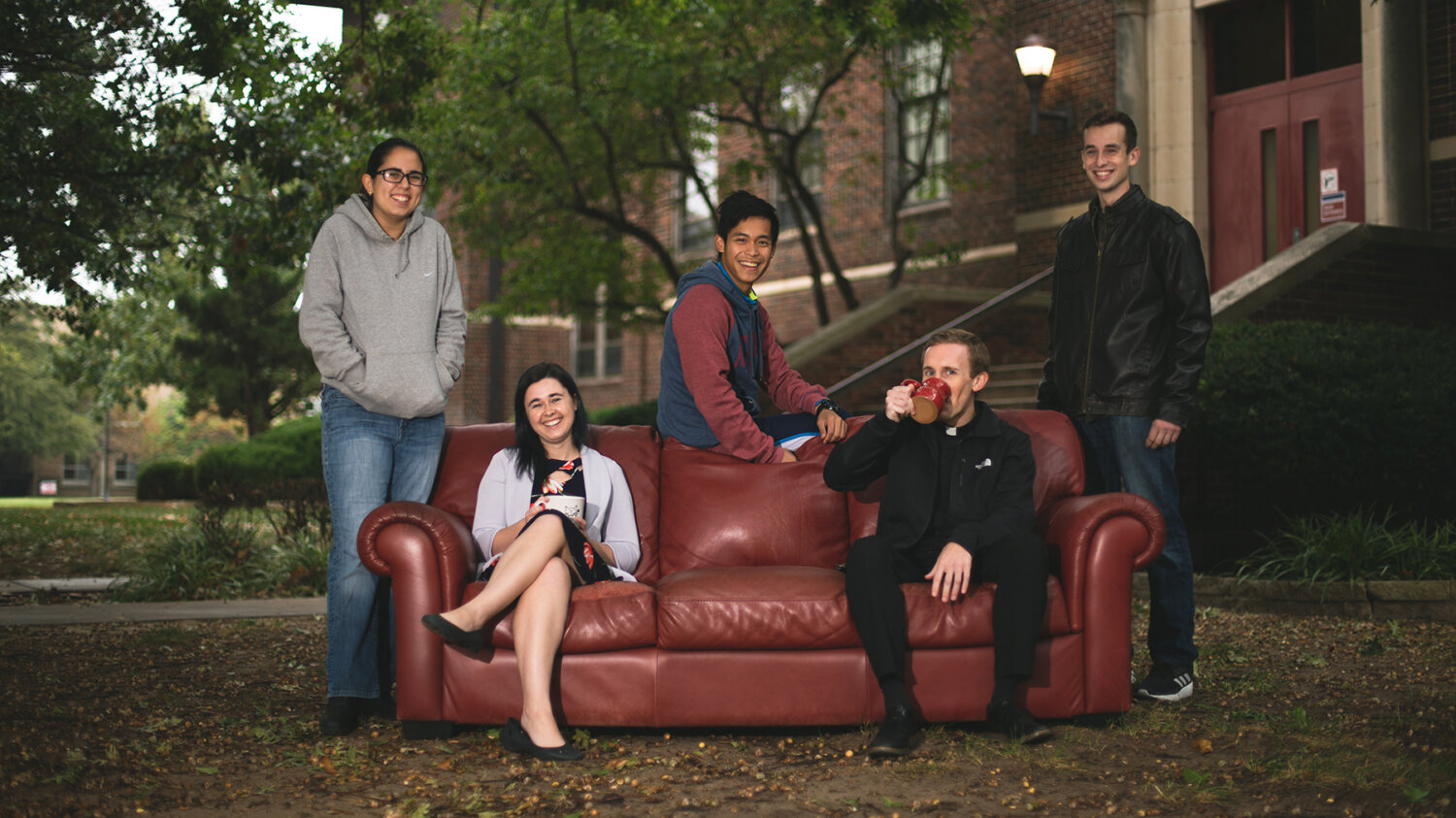 ---
by Dana Beitey
From retreats and celebrations to collaborative books and blogs, Newman University Campus Ministry is a staple to the campus environment, keeping students and alumni alike engaged and informed.
Father Adam Grelinger, Newman University chaplain, and Emily Simon, assistant director of Campus Ministry, go above and beyond in finding ways to carry on the Catholic traditions that Newman University holds dear while providing a light and fun atmosphere where all faiths and religions are welcome.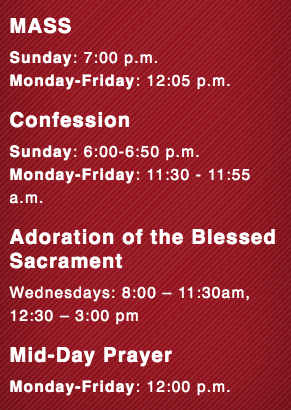 For those who need spiritual guidance, Campus Ministry has many options. Daily Mass, confession and Adoration of the Blessed Sacrament are offered on a regular basis inside St. John's Chapel.
Students can unwind and reconnect with their faith during annual service trips and retreats. Other faith-based resources and services that the office provides for members of the Newman community include a speaker series, spiritual direction and Bible studies.
The Campus Ministry office is also a place for students to unwind, gather and bond. There is a small meeting space, which recently received an artistic update. A large, colorful mural depicting Mary, Undoer of Knots, created by Wichita artist Heather Byers, makes the space bright and inviting.
Grelinger said the mural and space was a perfect addition to the office.
"Art is something that lifts our spirits, especially because school can be a stressful time that comes with some anxiety," explained Grelinger. "The art itself is a depiction of Mary, Undoer of Knots and the mural recognizes that Mary prays for us before Jesus her son, cares for us and loves us as a mother and undoes the knots of our lives."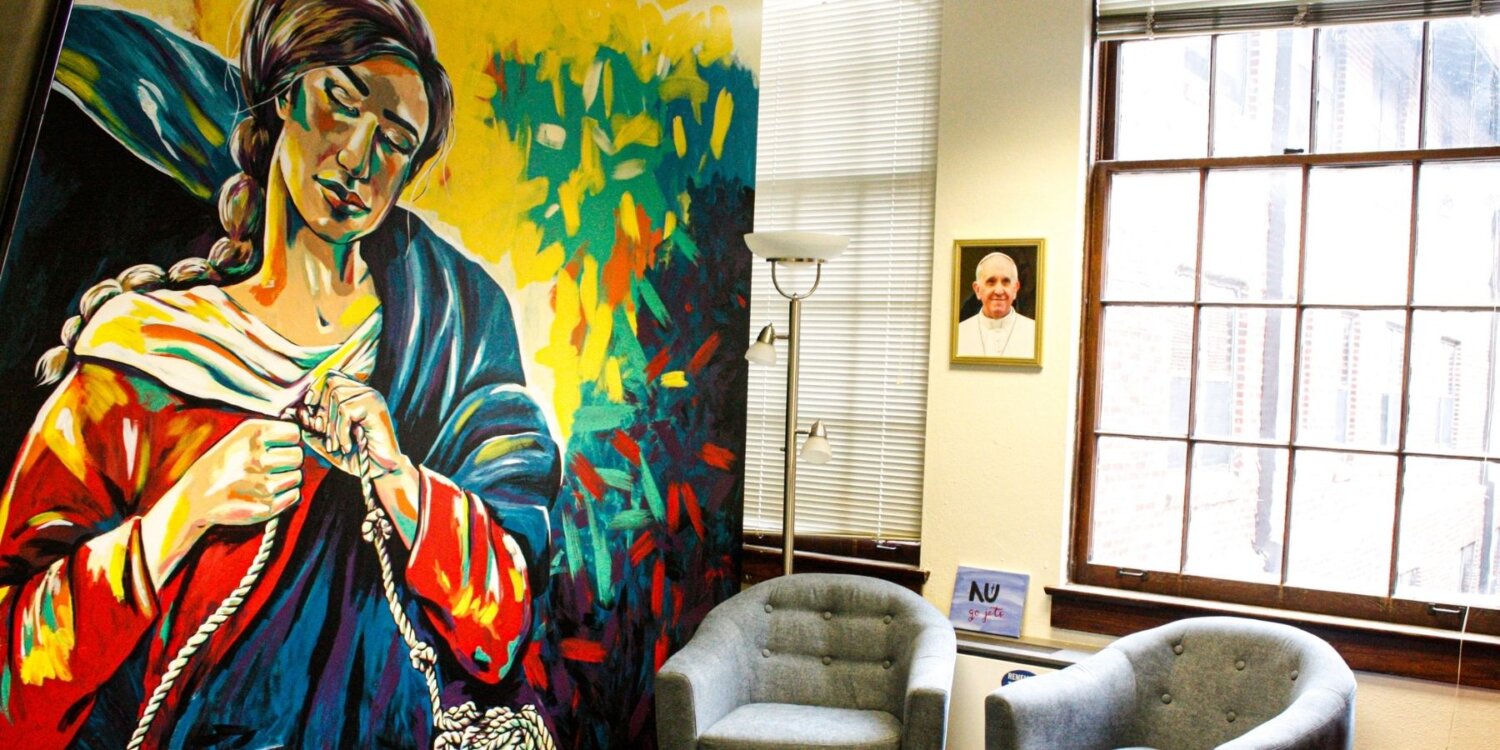 But Grelinger and Simon go beyond offering faith services at Newman.
They have created campus scavenger hunts, hosted concerts on campus, organized fun games for students, staff and faculty and are regularly involved in students activities around campus.
Students can generally find an open door and open ears in the Campus Ministry office.
Most notably is the welcoming and comfortable red couch, which has become famous in its own way. But students can also find snacks, coffee and overall good conversation within the office.
During the pandemic when students, staff and faculty needed to follow stay-at-home orders, Grelinger and Simon decided to create a virtual experience that would allow students and the rest of the Newman community to stay connected to Campus Ministry.
Together, they created a website called "The Virtual Red Couch" and posted stories of inspiration, fun videos and prayers that their audience could turn to for comfort during a stressful time.
They engaged students and staff to create a collaborative short story consisting of nine chapters written over nine weeks and each chapter written by a different author.
Whether connecting in person or online, Campus Ministry continues to make a difference in students' lives.
Many students have said stopping by the Campus Ministry office for relaxation, study or reflection feels much like walking into a second home. The familiar atmosphere gives them a sense of peace and comfort.