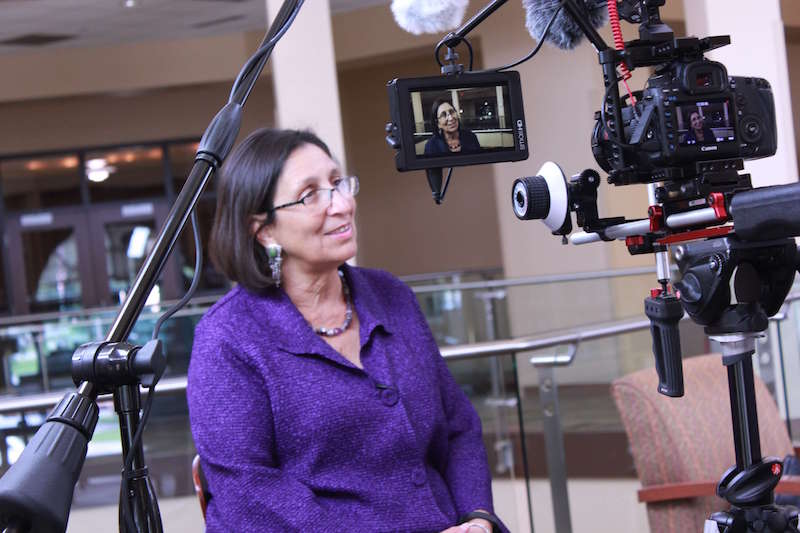 Carrocci is interviewed for the Chung Report.
Newman University president Noreen M. Carrocci, Ph.D., will retire at the end of 2019 and her time at the university will be remembered as one of great leadership, authentic relationship-building, genuine involvement in community development and positive vision and direction for Newman.
During her 12 years as president at Newman, Carrocci played a role in major fundraising campaigns, dedications and numerous program introductions. Teresa Hall Bartels, former chair of the Newman University Board of Trustees, said, "Noreen has really put Newman University on the map in the region by being such a great ambassador for the university and working in partnerships with so many organizations to make Wichita a better place.
"She has put both her professional as well as her personal time into building up opportunities for people to advance and gain the education that they need for better jobs and better lives."
Carrocci, the fourth female and first laywoman to hold the presidency at Newman, started at Newman in 2007. Since she arrived on campus, the first-time student population has grown 67%, the four-year graduation rate improved by 30% and student retention rates are at an all-time high.
In addition, Newman was named on the U.S. President's Higher Education Community Service Honor Roll six times between 2008 and 2016 in recognition of its commitment to serving others.
Carrocci said she is proud of all the successes Newman has seen during her tenure but a few of the most memorable are the successful Facing Forward campaign, the 10- year reaffirmation of accreditation received by The Higher Learning Commission and the four-year undergraduate seminarian program and partnership with the Catholic Diocese of Wichita.
"I hesitate to call anything that has happened during my time here 'my accomplishments' because nothing happens except through the partnerships with and the efforts of many individuals working together."

– Noreen Carrocci
She said her time at Newman has been wonderful, full of memories, and involving a little bit of everything she loves.
"I love being out in the community, but I also enjoy doing a freshman seminar with our students and working with cabinet and faculty and staff. I appreciate working with the board and the ASC (Adorers of the Blood of Christ) sisters. We've had the luxury of great boards and board chairs, and the Adorers' leadership teams with whom I've worked have been terrific. It's the best job I've ever had!"