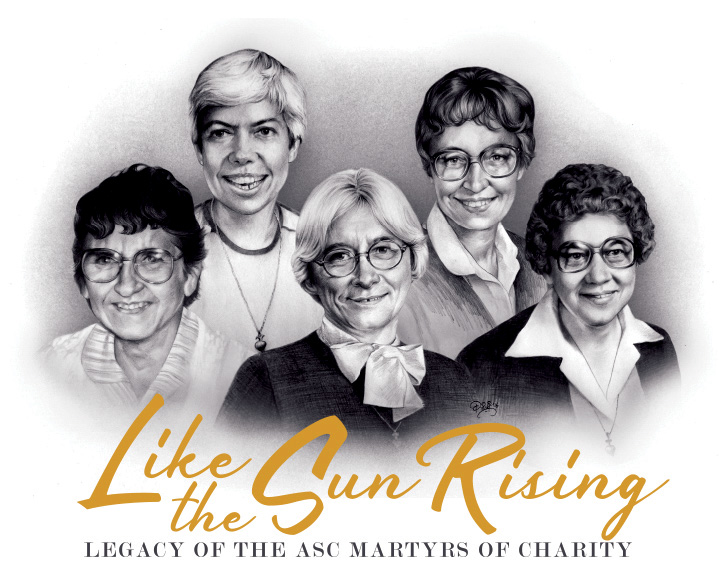 The Adorers of the Blood of Christ (ASC) members honor the 25th anniversary of the Five Martyrs of Charity with planned special commemoration ceremonies held at each of their three centers — Wichita, Kansas; Ruma, Illinois; and Columbia, Pennsylvania.
Janet McCann, ASC, is on the leadership team with the Adorers and acted as liaison to the commemoration committee. She said they took the theme for the event — "Like the sun rising" — straight from the Bible.
"The theme of our event is from the book of Judges 5:31," said McCann. "It reads, 'So perish all your enemies, O LORD! But may those who love you be like the sun rising in its might!'" (New America Bible)
McCann said that all five of the martyrs were from Illinois and many of their family members attended the Oct. 21 ceremony in Ruma. The Columbia ceremony took place on Saturday, Oct. 28.
In Wichita, there were two ceremonies. The first on Friday, Oct. 20, was open by invitation to the Wichita community, staff , faculty and supporters of Newman and the ASC. The second celebration on Saturday, Oct. 21, was geared toward the sisters, their families and friends. Both events included hors d'oeuvres, a prayer service, the showing of a documentary produced by Bill Streeter with Hydraulic Pictures and presentations by those who traveled on the Liberia pilgrimage.
Commemorative CDs filled with music of healing, including songs sung at the memorial Mass for the five martyrs and a special performance by the Newman University Troubadours, was available at all three services on a first-come, first-serve basis.
"We don't honor their deaths as much as their service," said Sister Marsha Wilson, ASC. "And it's not outstanding for them, it was just what they knew to do. They gave out food at the convent, took people to appointments, just simple stuff that people do."
Diana Rawlings, ASC said, "We talk about the ministry of presence, we have vitality, and part of what we do is wanting to remember Liberia and their people, and to let civic people know that we're alive and well, even though you don't always see us in public."
Packets of seeds were also handed out to those in attendance.
"The idea is to invite everyone who comes to take a packet of seeds and plant those as a sign of new life and a reminder that life goes on," said McCann. "Even though that was such a tragedy for us in 1992 to lose all those sisters at once under such tragic circumstance, as people of faith, we see the rising of new life in many ways. So the seeds will be a physical symbol of that, as well as bring a little beauty to wherever those are planted. We think that's a nice way to honor them as well."
McCann added, "We want the Liberia story to be told. Along the way, every now and then, people who knew the sisters say that it's kind of about them, but it's really about that relationship, and so I think they would really be in favor of us continuing to tell the story of the people of Liberia. That's why we've put as much time and energy and resources into this."
Listen to or read the free official book of the Five Martyrs of Charity.
Tags:
ASC
,
five martyrs of charity