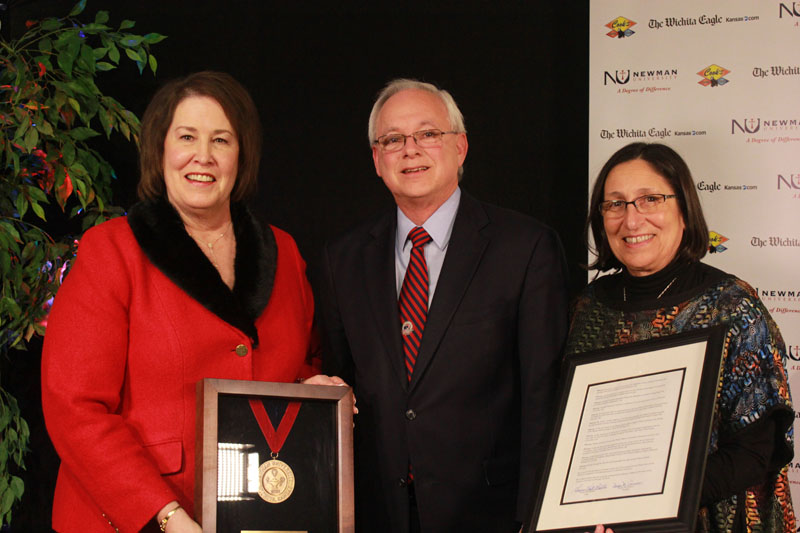 Newman Board of Director Chair Teresa Hall Bartels (left) and Newman President Noreen M. Carrocci, Ph.D. (right) present Aturo "Archie" Macias (center) with the Cardinal Newman Medal.
The Difference Makers program was launched in 2016 to celebrate the contributions and positive influences of individuals and organizations that have made a significant difference in the Wichita community.
Five Difference Maker awards along with five Everyday Hero awards were announced during a banquet Feb. 24. Cook's Heating and Cooling, Newman University and The Wichita Eagle/Kansas.com were title sponsors of the 2018 Difference Makers event.
During the awards banquet, Newman University alumnus Arturo "Archie" Macias was given the 2018 Cardinal Newman Medal — the university's highest honor.
The Cardinal Newman Medal recognizes individuals who have been instrumental in the growth and development of the university and have thus exemplified the truths Cardinal Newman espoused.
Macias attended Newman in the early 1970s and stayed connected through his gifts and time spent on the Board of Trustees. Macias has given hundreds of hours of service to community organizations and has achieved professional success with integrity.
The following Difference Maker awards were bestowed:
The Sister Tarcisia Roths, ASC Award for Not-for-Profit was bestowed upon Lloyd Hanna, executive director of the Medical Loan Closet.
The Murdock Award for Business was sponsored by The Wichita Eagle/Kansas.com. The honoree was Lance Minor, owner of Aero Plains Brewing.
The Russ Meyer Award for Community Leadership, sponsored by Donovan Auto & Truck, was received by Kevin Mullen.
The Brian Bergkamp Student Service Award, sponsored by Simpson Construction, was given to high school senior Hailey Colborn for her organization, Self Posi, which helps young girls learn the importance of self confidence.
The Ivonne Goldstein Award for Community Volunteer was awarded to Don Barry.
The Everyday Hero awards were sponsored by Envision. Recipients were Michael Pasco, Larry Hanafin, Janelle McGee, Bob Lutz and Jean Pouncil-Burton.