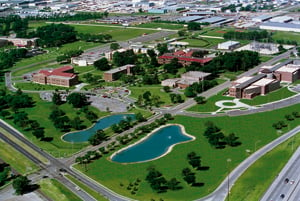 Today–5 years:
Replace the Heimerman Science Center. A new 77,000 square-foot, state-of-the-art science building will be built near the existing center. The current building will likely remain for some time as a staging space for future development.
A new building to support the athletics fields. A building west of Merlini Hall would provide support to teams and spectators, storage and possibly indoor practice areas for golf, bowling and other sports. Other improvements will follow as conditions allow.
A gateway sign at the east entrance of campus. A large, possibly brick sign near the McCormick/K-42 entrance will welcome people to campus.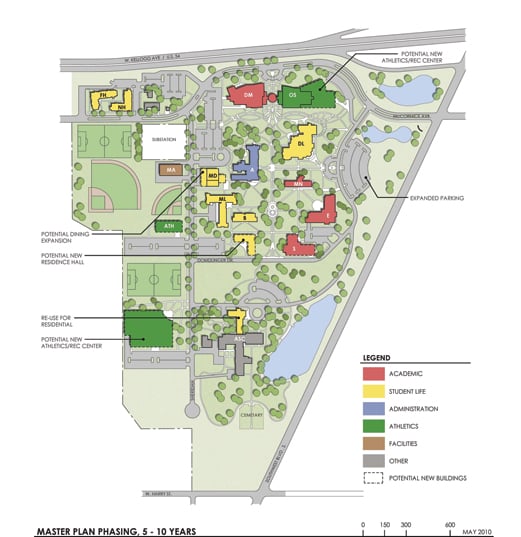 5–10 years:
A potential new athletics/recreation center. With a growing NCAA DII program, Newman needs a larger venue to support all team sports, and a separate facility for  student intramural, wellness and recreational activity. The plan offers three options: a new stand-alone 81,000 square-foot facility for team sports; renovation and a 55,000 square-foot addition to O'Shaughnessy Hall for both team and recreational use; a 79,000 square-foot addition to O'Shaughnessy that includes a 2,500 seat performance gym and a larger fitness area. Newman officials are studying the feasibility of each option.
Reallocate all space in Eck Hall to nursing and allied health programs. Eck Hall now houses nursing and allied health programs as well as the School of Business. Most classes are also taught in Eck classrooms. The nursing and allied health programs need space to upgrade and increase lab facilities to meet continued demand for these programs.
Renovate and restore Sacred Heart Hall. The university will make some changes and upgrades to Sacred Heart Hall while taking special care to preserve its status as a campus landmark. Possible changes include reshuffling some offices and making cosmetic changes inside and out. University officials stressed the importance of renovating the infrastructure and restoring original spaces.
More on-campus housing. Newman officials are exploring several options to meet future housing needs, including renovation and new construction, or housing selected students in the ASC Wichita Center. Merlini Hall will likely be renovated and updated to remain in use for five or 10 years, then be replaced.
Expand the Mabee Dining Center. As the on-campus population grows the Mabee Dining Center will be expanded up to 2,000 square feet, and will offer more dining options.
Expand parking. The main lot on the east side of campus will be extended toward K-42.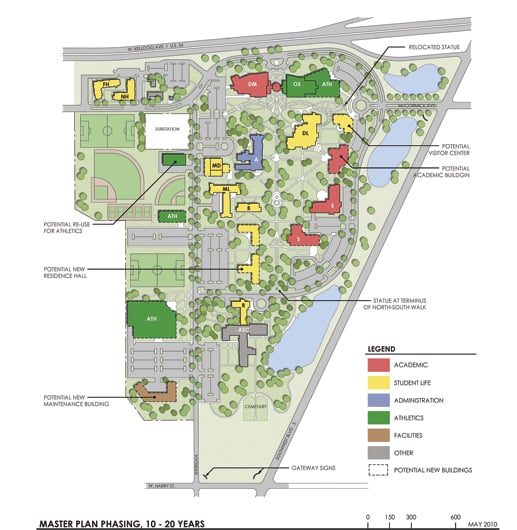 10–20 years:
Replace McNeill Hall. McNeill suffers from inaccessibility issues, an aging infrastructure and limited opportunities for remodeling. Although the building can stay in use in the short term, McNeill would ultimately be replaced with an estimated 50,000 square-foot general purpose office building.
New residence hall construction. The Master Plan illustrates possible locations for new halls as they are needed.
A visitors center. The plan includes the possibility of a freestanding center west of the McCormick/K-42 entrance.
A new maintenance building. A building twice the size of today's facility could be built near the ASC Wichita Center.
New Fine Arts facilities.
As Newman works to grow its fine arts and theatre programs, it could need a new fine arts studio and storage and construction space for the performing arts. Three possibilities are to relocate the Broadcast Education area to gain studio space, expand the De Mattias Fine Arts Center, or build a new studio space in another building. A decision has not yet been made.
Changes to existing structures and new buildings will include design elements that reflect current buildings. The plan also recommends that buildings be kept to two stories, and be energy efficient and environmentally friendly. Planners also recommend situating buildings far enough apart to maintain the open feel and appearance of the campus.
Tags:
ASC Wichita Center
,
Broadcast Education
,
Campus Master Plan
,
De Mattias Fine Arts Center
,
Eck Hall
,
Fine Arts
,
Heimerman Science Building
,
Mabee Dining Center
,
McNeill Hall
,
Merlini Hall
,
NCAA
,
NCAA Division II
,
O'Shaughnessy Hall
,
Sacred Heart Hall
,
School of Business
,
Theatre