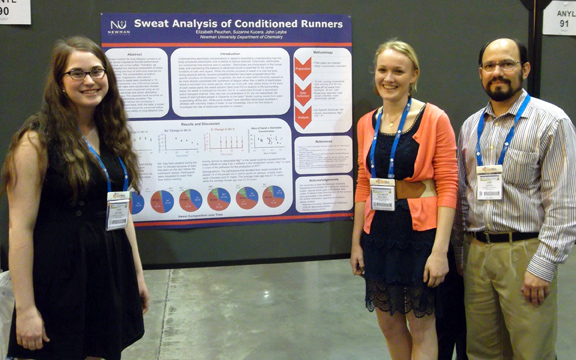 What started as a research project to meet a science class requirement turned into a trip to one of the largest conferences for chemistry professionals in the nation recently for two Newman University students.
Elizabeth Peuchen and Suzie Kucera were selected to present their findings from a research project entitled "Sweat Analysis of Conditioned Runners" at the American Chemical Society (ACS) National Meeting April 7-11 in New Orleans, La. The ACS is the world's largest scientific society with more than 163,000 members worldwide, and one of the world's leading sources of authoritative scientific information.
The project by Peuchen and Kucera, both junior chemistry majors, focused on reaction rates, specifically the rates at which electrolytes leave the body through sweat during exercise. Peuchen said she chose the topic because, "I really liked the reaction rates of chemistry and I love to run, so I decided to combine my interests into a research topic."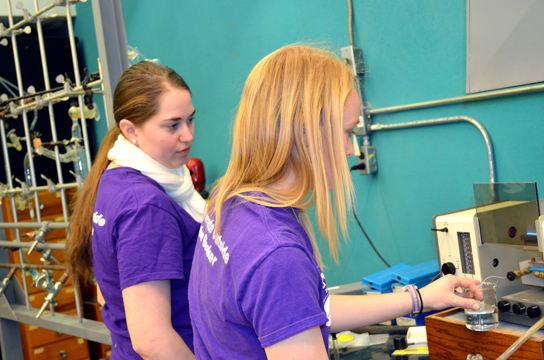 After attending the Regional American Chemical Society Meeting in Omaha, Neb., last October, Kucera came to Peuchen and offered to help in the research, and brought up the idea of submitting an abstract for the national meeting.
The students gathered data from 26 different people, monitoring the percent composition of sodium, potassium, magnesium, and calcium electrolytes in the subjects' sweat during strenuous exercise. From this data, they were able to construct reaction rates for the runners.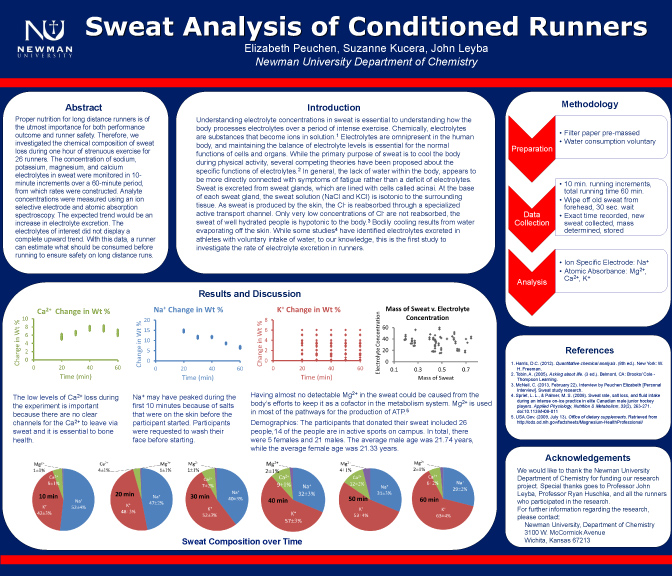 Once the research and analysis were complete, the students submitted an abstract of the project to the ACS with the help of Assistant Professor of Chemistry Ryan Huschka, Ph.D. Despite Peuchen's assumption that "there was a very small chance we would actually be selected," the students learned shortly before Christmas that they had been chosen to present a poster at the event, which was attended by approximately 12,000 chemical professionals.
"Liz and Suzy gained very valuable research experience with this project," said Chair of the Division of Science and Mathematics John Leyba, Ph.D., who oversaw much of the students' research and accompanied them to the conference. "It has enabled them to design and carry out a fairly complex set of experiments. In addition, their poster presentation at a national American Chemical Society meeting will serve as a wonderful primer for graduate school and beyond."