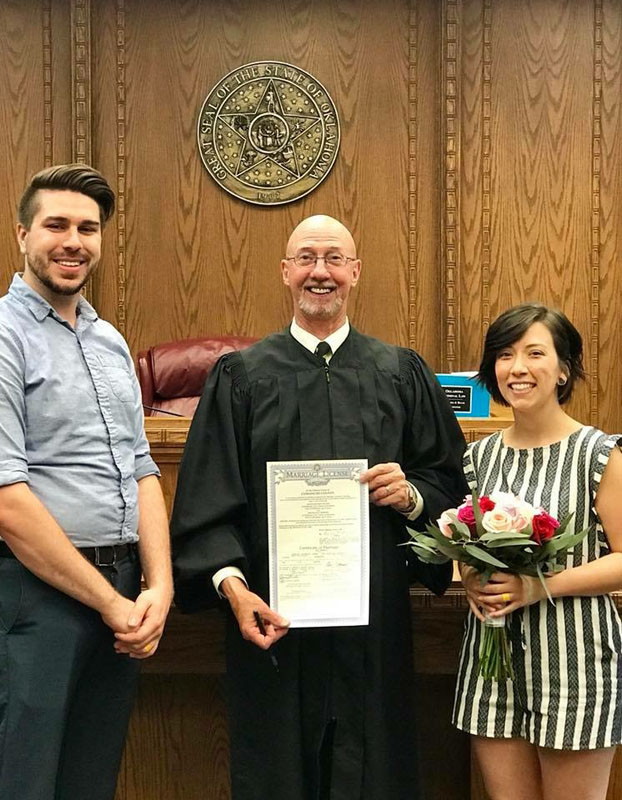 1980-1989
Ralph Thiergart '80 married to Barbara (Neuharth) Thiergart '80, was promoted to vice president and general manager of extended stay brands with Choice Hotels International Inc.
Jeff Baker '83 married Darryl Thompson on Nov. 14, 2016. Baker is a freelance writer published in various fiction markets.
Tad Druart '87 was named vice president of marketing for ESO Solutions in June 2017.
1990-1999
Monica Walker '93 joined the K-State Extension Office as the new family and community wellness agent for the Grant County Extension Office.
Terry Lawrence '95 retired from Argonia Elementary in Kansas as an elementary educator.
Faye Wells '95 was named the new Dodge City Middle School principal.
Jessica (Shelton) Duke '97 joined the staff at El Paso Animal Hospital in Derby, Kansas, as a veterinarian.
Rebecca (Wetta) Knox '97, '99 is the new respiratory therapy program director at Rose State University in Midwest City, Oklahoma.
Patricia (McCammon) Pratt '97 retired from Koch Industries as controller/manager, financial services.
2000-2009
John Rapp '00 was named Wichita Bar Association president for the 2018-19 term.
Joana Camacho-Matthynsse '01 was named director of admissions for Cristo Rey Oklahoma City Catholic High School.
Curtis Nightingale '01, principal at Bennington High School in Salina, Kansas, since July 2016, received the KSDE Mercury School Distinction.
Jennifer LaSalle '06 took a position as agent at the K-State Research and Extension – Finney County office in June 2018.
Amy (Meyer) Huschka '06 and Ryan Huschka '07 welcomed daughter, Leah Therese Huschka, born Dec. 7, 2017.
Marc Cyr '07 married Rachel Richanbach on Sept. 30, 2017.
Janet Sutton '07 was promoted to technical assistance specialist at Workforce Alliance of South Central Kansas.
Amy Gensweider '08 finished her two-year residency with the Children's Hospital of Wisconsin for pediatric dentistry in June 2018.
Amanda Stanley '08 was named general counsel for the League of Kansas Municipalities in January 2018.
Travis Torkelson '08 is the new principal for Everest Middle School, USD 430, in Horton, Kansas.
Andrew Hill '08 is the new boys basketball coach at Wichita Northwest High School.
Jenna (Streit) Hill '09 and Andrew Hill '08 welcomed a new baby girl, Haylee Ann Hill, born Feb. 24, 2018.
Sara (Hough) Mitchell '09 joined the Greenwood County Hospital team as a social worker.
Gilbert Still '09 was named assistant principal and athletic director at Dodge City Middle School beginning with the 2018-19 academic year.
Isaac Johnston '10 and his wife, Sophia (Kolb) Johnston '17, welcomed son Grant Xavier Damiano Johnston, on June 5, 2018.
Nikki (Jones) Garcia '10 was named assistant principal at Sullivan Elementary School and instructional coach for USD 214 in March 2018.
Chandra (Kliewer Armstrong) Brown '11 joined the Clara Barton Hospital medical team in Hutchinson, Kansas, as a certified registered nurse anesthetist.
Born to Kellie (Palmer) Ketchersid '11 and her husband Jerrod, a boy, Declan Avery Ketchersid, on March 5, 2018.
Tyler Nordman '11 and Stephanie (Harshberger ) Nordman '12 were married on June 3, 2017.
Meghan (Jost) Cummings '12 received a doctor in nursing practice with a specialization in family practice in spring 2018. She is now a nurse practitioner at Kansas State University Lafene Student Health.
Born to Yamir Lozada '12 and his wife Nicole, a son Valen Marko Lozada, in April 2018.
Heather (Ranney) Pianalto 12 is a marketing analyst at Love's Travel Stops and Country Stores. She and her husband, Justin, welcomed a baby girl, Rebecca, in April 2018.
Kevin Andes '13, airman first class, graduated basic military training at Joint Base San Antonio-Lackland, Texas.
Paul Lavin '13 became a resident physician of neurology at Jackson Memorial Hospital in Miami.
Nicholas "Nick" Eden '14, '17 married Amy Eden on Sept. 29, 2017 and started working at Green Egg Media in April.
Chelsea (Herrera) Moyer '14 married Travis Moyer on May 10, 2018, and also started a new job as an associate buyer for Astronics in Clackamas, Oregon.
Ashton (Lee) Kendall '15 married Lee Kendall on Aug. 5, 2017.
Born to Ashton (Lee) Kendall '15 and Lee Kendall, a daughter, Kenlee Elizabeth Kendall, on April 26, 2018.
Deborah (Friday) Davis '16 started teaching fourth grade at Sullivan Elementary in Ulysses, Kansas.
Wesley Williams '16 received special recognition from Sen. Elaine Bowers as staff member of Bowers' 2018 Kansas legislative session.
Ericka (Bruechert) Jobe '17 married Kenneth Jobe on Nov. 7, 2017.