Class Note Sections:
Marriages
Baby Jets
Class Notes
Alumni Obituaries
Friends of the University
Obituaries
Marriages
'04 Emily Iseman and Manny Montenegro on May 3, 2013.
'04 Jennifer Lepont and Jay Fowler on March 1, 2013. Jennifer is a doctor of nursing practice student in Psych/Mental Health at Wichita State University, where she is the graduate teaching assistant to undergraduate nursing students.
'05 Kevin Blick and Elizabeth Emerson on June 1, 2013.
'05 Kendra Christine Chance and '02 Steven Engels on July 26, 2013. Kendra is the grandniece of '61 Margaret Knoeber, ASC.
'09 Angela Dreher and Curtis Schmidt on April 20, 2013.
'10 Isaac Johnston and Sophia Kolb on April 12, 2013.
'10 Paul Kapalata and Crystal Carr in September 2010. Paul is the IT Quality Analyst I at CCH, Tax and Accounting, a Wolters Kluwer Business in Wichita, Kan.
'10 Ashley Myers and James Howard on June 1, 2013. Ashley is a Constituent Services Representative for Congressman Tim Huelskamp (R-KS) in Salina.
'10 Holly Stein and Kyle Free on Sept. 8, 2012.
'11 Tyler Doyle and Lauren Schneider on May 13, 2013.
'11 Ross Kee and Lacey Goebel on July 27, 2013. Ross currently attends the University of Missouri – Kansas City School of Dentistry.
'11 Chelsey Potter and John Tiemeyer on May 17, 2013. Chelsey is the marketing and public relations fellow at the Wichita Library Foundation and assistant volleyball coach at Newman.
'11 Amy Steven and Ross Scheer on Dec. 15, 2012.
'11 Melissa Winter and '12 Cole Gillenwater on July 7, 2013.
'12 Matthew Gerlach and Ashley Luney on May 18, 2013.
'12 Caleb McCormick and '13 Abbey Nicholas on July 26, 2013.
'13 Rebekah Baldridge and '13 Lyle Valentine on Aug. 9, 2013. Rebekah is an admissions counselor at Newman. Both are regular actors at the Kechi Playhouse.
'13 Kimberly Simmons, MSW and Carlos Garcia on June 19, 2013. Kimberly is a residential therapist at Cedar Springs Hospital in Colorado Springs, Colo. She works with children diagnosed with reactive attachment disorder.
Baby Jets
Born to '00 Shana (Jarmer) M.D., and Jason Camblin, a daughter, Emma Mae, on March 1, 2013.
Born to '03 Sheryl (Giefer) and Craig Albers, a son, Andrew James, on April 15, 2013.
Born to '04 Maggie (Campbell) and John Urick, a son, John Campbell, on Dec. 3, 2012.
Born to '04 Molly Deering Alvarez and Robert Alvarez, a son, Dominic, on July 24, 2012.
Born to '04 Kristy (Hanson) and Mike Sandbo, a daughter, Kailtyn Leigh, on Jan. 19, 2012.
Born to '05 Lori (Barton) and Matt Morford, a daughter, Callie Ann, on Oct. 24, 2012.
Born to '05 Cari (Skinner) and JR DiMercurio, a son, Rocco Anthony-John on Jan. 12, 2012.
Born to '05 Jennifer (Washburn) and Curtis Leiker, a daughter, Victoria Raegan, on July 17, 2013.
Born to '08 Shelly (VanHorn) and Dan Ferris, a son, Carter Michael, on May 17, 2013.
Born to '10 Paul Kapalata and Crystal (Carr), a son, Joseph Kapalata, on May 6, 2013.
Born to '10 Melissa (Sabala) and '08 David Nelson, a daughter, Katherine Louise, on June 21, 2013. Katherine is the first granddaughter of Linda Sabala, Newman director of graduate admissions and degree completion program, who has 10 grandsons.
Class Notes
'64 Mary Margaret Orsman-Kelch celebrated her 90th birthday on June 17, 2013.
'64 Therese Wetta ASC is the director of development for sciences and health sciences at Newman University.
'72 Barbara Shea is a hospice social worker at Dare Home Health and Hospice in Nags Head, N.C.
'79 Kathy Hughes Hammond was promoted to Radiologic Technology Program director at Newman University. Br. Frederick Keiser, LC, the son of Fred and '80 Linda (Dix) Keiser and the late Barb Keiser, was ordained a deacon in Rome for the Legionaries of Christ on June 29, 2013. He has been assigned to work in youth ministry in Santiago, Chile. Deacon Frederick is scheduled to be ordained a priest on Dec. 14, 2013 in the Basilica of St. John Lateran in Rome.
'81 Ann (Roder) Fox is the executive director at Habitat for Humanity in Wichita. Ann is former director of Alumni Relations at Newman.
'89 '11 Shelly Bole is the director of Catechesis for the Catholic Diocese of Shreveport, La.
'93 Lori Niemoth Peters and husband Steve have four children and live in Wood River, Neb., where she is a substitute teacher.
'96 Tim Norton, Sedgwick County commissioner, was honored as Humanitarian of the Year by the Sweet Emergency Fund. Norton has also served on the Haysville (Kan.) City Council, and as mayor of Haysville.
'03 Erin Houser Sullivan is a wellness business owner. She and her husband, Scott, have two sons and one daughter.
'03 Rachel Saket Kashani is a contract nurse at Travel Max in Wichita.
'03 Tumaini Kasilima is currently a faculty director at Wright Career College, Wichita. Tumaini graduated with a degree in accounting.
'03 Humberto Medina is a physical therapist and area director of clinical operations in Bradenton, Fla.
'04 Melissa Tatro is a 3rd grade teacher and has taught for 11 years total. Melissa graduated with a
degree in elementary education.
'05 Tim Belsan received the 2012 Rookie of the Year award for the U.S. Department of Justice's Civil Division. The award is given "in recognition of exceptional performance and notable contributions toward the Division's mission by any employee with fewer than three years of service with the Division, and fewer than five years overall federal service."
'06 Chelsea Bieberle is the Rehabilitation Department manager for Pawnee Valley Community Hospital
in Larned, Kan. Chelsea graduated with a degree in occupational therapy.
'06 Linda Garrett Bitner is a registered nurse at Wesley Medical Center in Wichita.
'07 Melanie Glazier Summers has joined the Countryside Pet Clinic in Andover as a veterinarian.
'09 Abayomi Oke is a consultant with AIG in Houston, Texas.
'09 Drew Spencer is the IT manager at MAWD Pathology Group in North Kansas City, Mo.
'10, '13 Adelita Aldava, LMSW has joined Cana Counseling at Catholic Charities as a bilingual therapist. Adelita earned her undergraduate degree in liberal arts in 2010, and her Master of Social Work degree in 2013. She is also the recipient of the Newman Outstanding Master of Social Work Student of the Year award for 2012-2013.
'10 Kelsey Metro is the new science teacher at Marion Middle School, Marion, Kan., where she grew up. She is married to Jordon, and they have two daughters.
'11 Rosio-Ibarra-Monarrez began graduate school in international studies at the University of Denver this fall.
'11 Leasha Strang is a licensed master social worker at the Central Kansas Mental Health Center in Salina, Kan.
'12 Monica Hill Henning is in her first semester at the University of Kansas School of Law, in Lawrence.
'12 Sarah Long is a registered nurse at Hutchinson Regional Medical Center.
'12 Vince Lujano is a radiology technician at Wesley Medical Center in Wichita.
'12 Brian J. Murphy, LSW, is a readjustment counseling therapist with the U.S. Department of Veterans Affairs, and the Colorado Springs Veterans Center. Murphy also was recently promoted to GS-11 grade. Murphy is assigned as the Mobile Vet Center (MVC) counselor, and works with combat veterans who have readjustment issues, including PTSD, mTBI, Military Sexual Trauma (MST), and bereavement.
'12 Ellen Traylor is the campaign specialist for Team In Training at the Leukemia and Lymphoma Society in Ohio.
'13 Brice J. Albert, of Colwich, Kan., received the Harvey J. Ablah Award for 2013 and is now continuing his education at Washington University in St. Louis.
'13 Jared Ferris is beginning graduate school in Middle Eastern History at George Washington University in Washington, D.C.
'13 Karen Daugherty, MSW is working at the Griffith Center in Colorado Springs as a therapist for the day treatment program.
'13 Calvin Easter works in proposal development at Linde Process Plants LLC in Tulsa, Okla.
'13 Adrienne Fox, of Colwich, Kan., received the Leona J. Ablah Award for 2013 and is attending Duke University School of Medicine in the Doctorate of Physical Therapy program. She is the daughter of '81 Ann (Roder) and '78 Mark Fox.
'13 Jessica (Fridley) Huber and her husband Jonathan live in Elkhart, Ind., where she works as a mental health therapist at Oaklawn Psychiatric Center.
'13 Gloria Jones, MSW, recently passed the LCSW licensure exam.
'13 Daniel Martin is the Independent Living/National Youth in Transition database consultant for the Kansas Department for Children and Families.
'13 Elyse Pachta entered the Kansas State University College of Veterinary Medicine this fall.
'13 Erin Schmidt began veterinary school in fall 2013 at the Kansas State University College of Veterinary Medicine.
'13 Rachel Stanley is the new marketing manager at the Museum of World Treasures in Wichita.
'13 Raymond Williams has joined Big Brothers and Big Sisters of Wichita as their IT support specialist.
Several Newman cross country alumni gathered Aug. 25 for the "Time Trials," an annual event designed for alums to meet new cross country student-athletes, parents and other alums. The event includes a costume contest for freshman runners and breakfast. Pictured l-r are: Ed Shikuku '12; Zach Ball '13; Chris Taylor '12; Newman Director of Alumni Relations Sarah (Kriwiel) Cundiff '86, '90; Lindsay (Baldwin) Gully '06; Leroy "Junior" Allen '06; Assistant Cross County Coach Niki (Lee) Manbeck '06; Kyle Graber; Program Assistant for Graduate Theology Katie (Hamlin) Kissling '13; Manase Busienei '13, and Head Cross Country Coach Josh Schepis.
Several Wichita-area Newman alumni, spouses and friends turned out in August for a "Happy Hour" gathering in Old Town. Alumni from every decade from the 1960s to the 2010s were represented. Attendees were, l-r, front row: Director of Development for Sciences and Health Sciences Therese Wetta, ASC '61; Linda Hemken; Alumni Association Vice President Renee Soukup Hein '02; Chris Siefers '91, Director of Alumni Relations Sarah Kriwiel Cundiff '86; Director of Graduate Admissions Randy Ware; Melissa Ewald Grelinger '82, Board of Trustees Member Bart Grelinger '83; back row: Tumaini Kasilima '03; Tina Mesa Walterscheid '88; Jennifer Green '88; Dennis Hemken '73; Paul Kapalata '10; Rachel Stanley '13; Ray Williams '13, Tony Tamburro '03.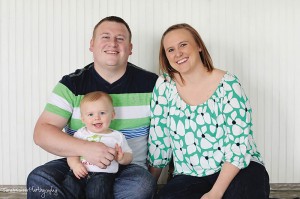 '07 Sara Rowe and Scott Keith, with son Jack.
Obituaries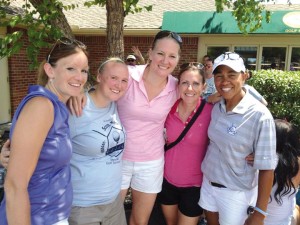 Newman softball and women's basketball alums joined together to stage a July 20, 2013 golf tournament at Braeburn Golf Course Wichita in support of '07 Sarah Rowe Keith, second from left. Sarah's husband Scott died of a sudden illness May 15, 2013, leaving her to care for their son Jack, 1, and a daughter due to be born in December 2013. Scott Keith, who had been a paramedic and nurse, did not have life insurance. The tournament drew several doctors, nurses and other health care professionals who knew Scott and Sarah, an emergency room nurse at Via Christi.
Pictured are, l-r: '03 Josie Loewen Dean, Sarah Keith, '04 Molly Deering Alvarez, '04 Erin Bailey Hall, and Marie Thomas, former Newman assistant softball coach.
'35, '37 Teresa Palsmeier, ASC, passed away on July 11, 2013. She was 101 years old. She was received into the ASC congregation in 1932, where she took the name Sister M. Mechtildis. She earned a diploma from St. John's Academy in 1935, and an associate's degree from Sacred Heart Junior College in 1937. Sister Mechtildis taught religion and math at Sacred Heart Academy from 1946 to 1959, and served as principal of the Academy from 1960 to 1965. In 1968 she permanently changed her name to Sister Teresa Palsmeier. She was featured in the Spring 2012 issue of Challenge magazine. Read the story online at http://mag.newmanu.edu/sha-teacher-principal-celebrates-100-years.
Among those attending the July 16, 2013 funeral of Teresa Palsmeier, ASC, were, l-r: '52 Doris (Majerus) Wells, '54 Millie (Majerus) Schwartz, '60 Rita (Albert) Neville-Landwehr, and '60 Mary (Simon) Blasi.
'40 Maureen (Mary Lousie) Doughery, CSJ, on April 11, 2013.
James "Jimmy" Charles Grilliot, Jr., brother of '45 Barbara Mary Gerard and '61 Zita Brummel and father of '73 Ellen Larson, on April 26, 2013.
'47 Opal Lee (Hill) Loux, on Dec. 29, 2012.
'75 Gilbert Perez, on April 27, 2013.
'78 James E. Barkley, on April 3, 2013.
'80 Jeanette "Toots" Foley, on March 24, 2013.
Richard Higgins, father of '82 Maureen "Mo" Rohleder and father-in-law of '79 Albert Rohleder, on July 30, 2013. Maureen is the assistant athletics director and senior women's administrator at Newman.
George Leo Wendell, father of '83 Teresa Hinkel and '92 Rosemary Wendell, on July 4, 2013.
'85 Dorothy McCinn, on Nov. 15, 2012.
Andrew Frank Naab, father of '96 Lisa Hort, on May 26, 2013.
'01 Derek Bryan Kelley of Colorado Springs, Colo., on Sept. 15, 2012.
Glenn Rex Wiseman, father of '02 Vanessa (Wiseman) Harshberger and father-in-law of Steve Harshberger, former softball coach for Newman University, on June 16, 2013.
Alice Ann Drummond, mother of '04 Mark Drummond, on June 30, 2013.
Connie Williams, mother of '09 Amber and '09 Jason Williams on July 19, 2013.
Friends of the University
LeaAnn Knaebel and Brian Walker were married on April 6, 2013. LeaAnn is director of Resident Life at Newman.
Joyce Batman Suellentrop, retired Newman archivist, will serve as a consultant for the Gray County Korean War Veterans Oral History Project.
Obituaries
Roger Lamm, husband of Sherry Lamm, director of Career Services and Coop Education at Newman, on Aug. 6, 2013.
Jimmy Lewis, brother of Linda Fields, administrative assistant to the dean of Admissions at Newman, on April 17, 2013.
For more information on the tournament, visit http://scottkeithbenefit.com/index.html. Anyone wishing to contribute can send funds to the Scott Keith Memorial Fund, c/o INTRUST Bank, 105 N Main, Wichita, KS 67202.
Tags:
Baby Jets
,
Class Notes
,
Marriages