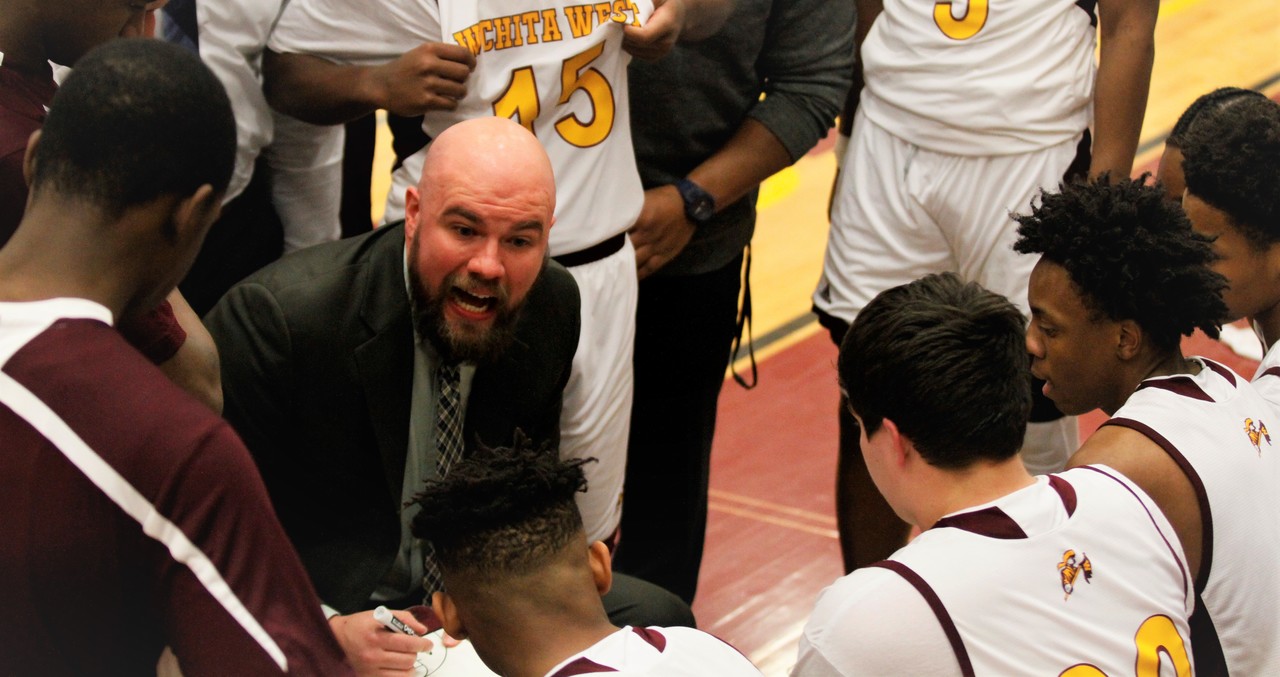 Tommy Brumbelow '11 talks to his West High School players during a game. (Photo courtesy Kansas.com)
---
by Dana Beitey
Being a collegiate student-athlete takes determination, team skills and a giant work ethic. Some college athletes don't see themselves in a future coaching role while others strive to make a career out of building the younger generation up through team sport.
At Newman University, several of its college athletes have gone on to coaching careers, hoping to teach their high school and collegiate students more than just the rules of the game but also teamwork and other fundamental values.
Overcoming adversity
Tommy Brumbelow '11 played basketball under the coaching of Mark Potter. He said his time on the team was phenomenal. Potter pushed him every day to exceed beyond his own expectations and become tougher both mentally and physically. Potter demanded the best from each of his players and that, said Brumbelow, is something that remains a part of who he is today.
Brumbelow's path to college was filled with obstacles. Sports kept him going and pushing ahead. He felt that a coaching career was his calling, so he did what he needed to in order to reach that goal.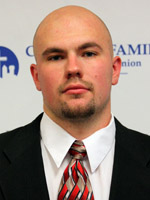 When Brumbelow was growing up, his dad was in prison. His mother did the best she could, but battled substance abuse. Many times money wasn't there to pay the bills. Eventually Brumbelow and his sisters went to live with their grandparents in Derby, Kansas. His grandpa's work ethic made an impact on Brumbelow's life.
"Our grandparents took us in with no questions asked," he said. "Watching my grandad working the second shift at a machine factory, he'd wake up, play golf, take a nap, eat lunch at 1 p.m. — he ate two peanut butter and honey sandwiches, he had an apple and chocolate pudding — every single day. He never missed a day of work. He busted his butt to make sure we could do what we wanted. I got that break, not everybody does. I can't thank them enough."
He was recruited to play at Newman, an opportunity he was very grateful for, but during his first year of Division II sports, he tore his ACL. That killed his momentum and he got nervous, thinking he would not play again, but his injury healed and he got back in the game.
He graduated from Newman with a sociology degree and teaches social studies at Wichita West High School where he also coaches the boys basketball team. He coached at Bishop Carroll Catholic High School and Wichita East High School before becoming head coach at West.
His background gives him an instant connection with some of the boys he coaches and he's happy to be there for them as a coach and mentor.
"My background, it gives me a playing field on which to relate to some kids. Whether it's substance abuse, maybe a split home, medical bills, depression issues, I think my background allows me to show a little empathy to that and reminding them that just because the negatives are there, you can control working hard at practice, control whether you get a job, along with other parts of their lives."
His overall goal, he said, is to make a difference in his students' lives, to see them graduate high school and to teach them to overcome any adversity that's been given to them.
"A lot of people overlook our kids, our boundaries because of the economics. It's the one thing I want to teach them. None of that matters. You do well, try your best, you'll have avenues to go forward. Not everyone is fortunate to play at the next level, but I want to show kids … you have to keep going, finish the job. Basketball is just a tool."
Family first
Jeff Topping '98 has led a long and successful career in coaching and recently made a big change so he could coach his own daughters in the sport they love.
Family has always been a big deal for Topping. His time on the Newman baseball team felt like being a part of a family and recently he changed coaching positions because of family. After nearly 20 years with a Wichita high school, where he'd become a head coach, Topping took on an assistant coaching role at another school to support his daughters' athletic pursuits.
He didn't always want to be a coach, but during his final year at Newman, Topping realized he wasn't ready to let the sport go.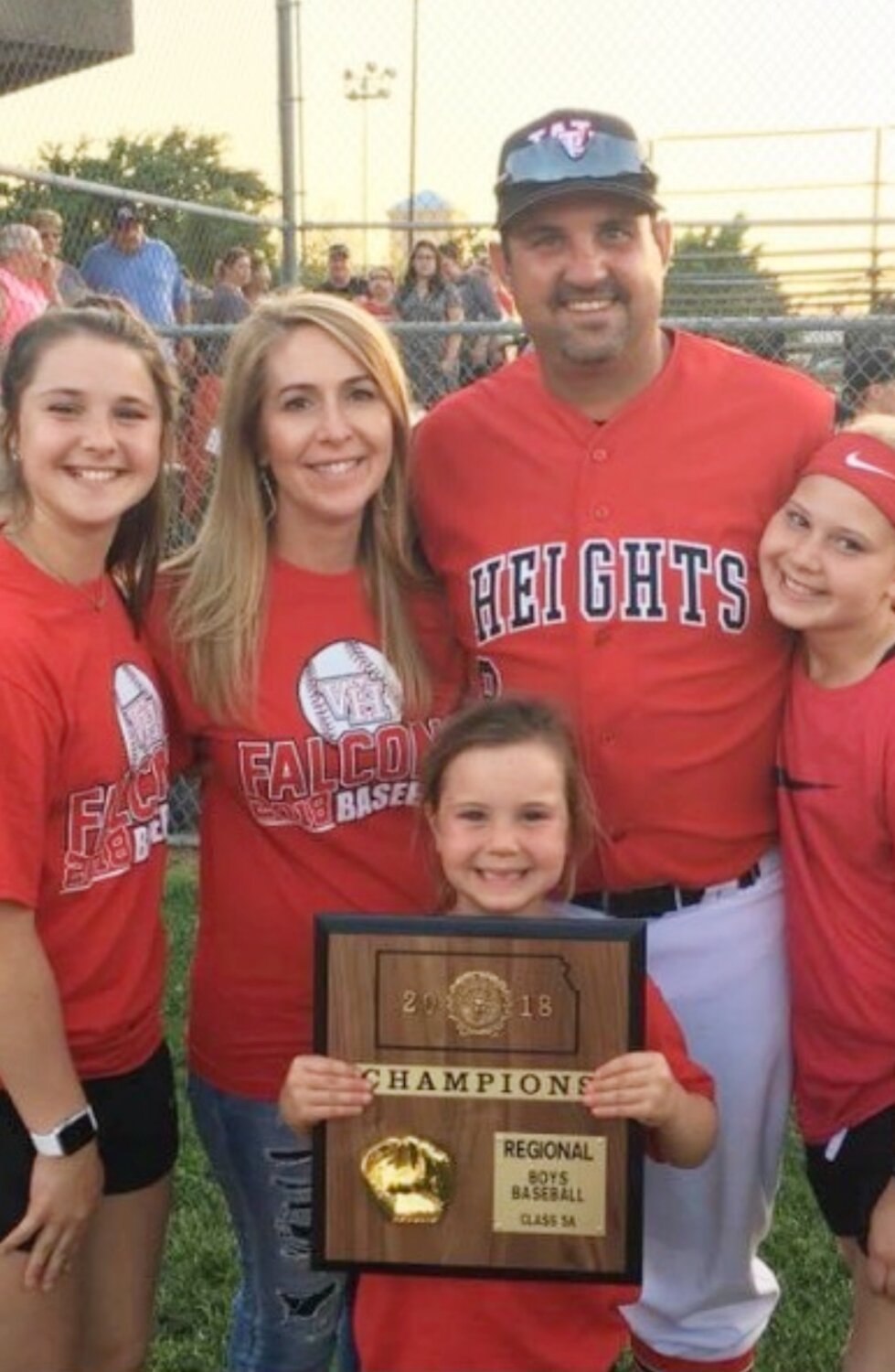 After graduating from Newman, he landed an assistant coach position at Wichita Heights High School, where he was an assistant coach in three sports — baseball, basketball and football. He stayed there, eventually becoming head baseball coach and teaching history and government, until 2019. He is now an assistant softball coach at Maize.
No matter what sport he is coaching, he brings a family atmosphere into the mix.
"At Newman, the first thing I think about is family," he said. "It was a family atmosphere. There were only 10-15 of us, that was our baseball family. It was always like that and felt comfortable at Newman, in the classroom and on the team. When I got into coaching, that was something I tried to instill in Heights. Team dinners, banquets — we wanted to make it feel family-oriented."
When he announced his move to Maize, his players and colleagues weren't surprised to hear his explanation: "Family comes first."
His oldest daughter was starting her freshman year and when he compared his Heights team schedule to that of his daughter's, he realized he would be missing too many of his daughter's games.
"I had to practice what I preached. They knew how important family is to me. I encouraged them to act like a family, and in turn, I needed to be there to watch my daughters and coach them. It really was an easy decision to make that move."
He is already enjoying the new time he has with his oldest daughter and looking forward to doing the same with his younger girls as they age into high school softball. He said time is precious and being able to have more time with his children is something he will not take for granted.
"I want them to have the best experience and most opportunity they can have. The kids don't understand how fast it goes until it's over. We want to be competitive and win, but we want to instill some life lessons in them and make it memorable."
A new journey
Michaela Mack '20 just started her coaching career in college athletics. She was hired by Crowder College in Neosha, Missouri, as an assistant women's basketball coach after graduating from Newman.
She said she learned a brand new style of play while playing guard for the women's team at Newman. The concepts she picked up from Head Coach Darin Spence will serve her well as she starts her new journey at Crowder, she said.
This isn't the first time she's been on the Crowder campus. Mack earned her associate's degree and played for Head Coach Tina Wilson, who is responsible for Mack's return.
"Tina informed me of the opening at Crowder," she said. "I am excited about the experience. This is a great opportunity and to just be a part of the growth of a program is a blessing."
Although the team's season was moved into the spring because of the pandemic, Mack said they have been practicing and scrimmaging. So far, she said everything has been going very well. Despite the team being young, they are learning and adapting together and excited for the season to begin.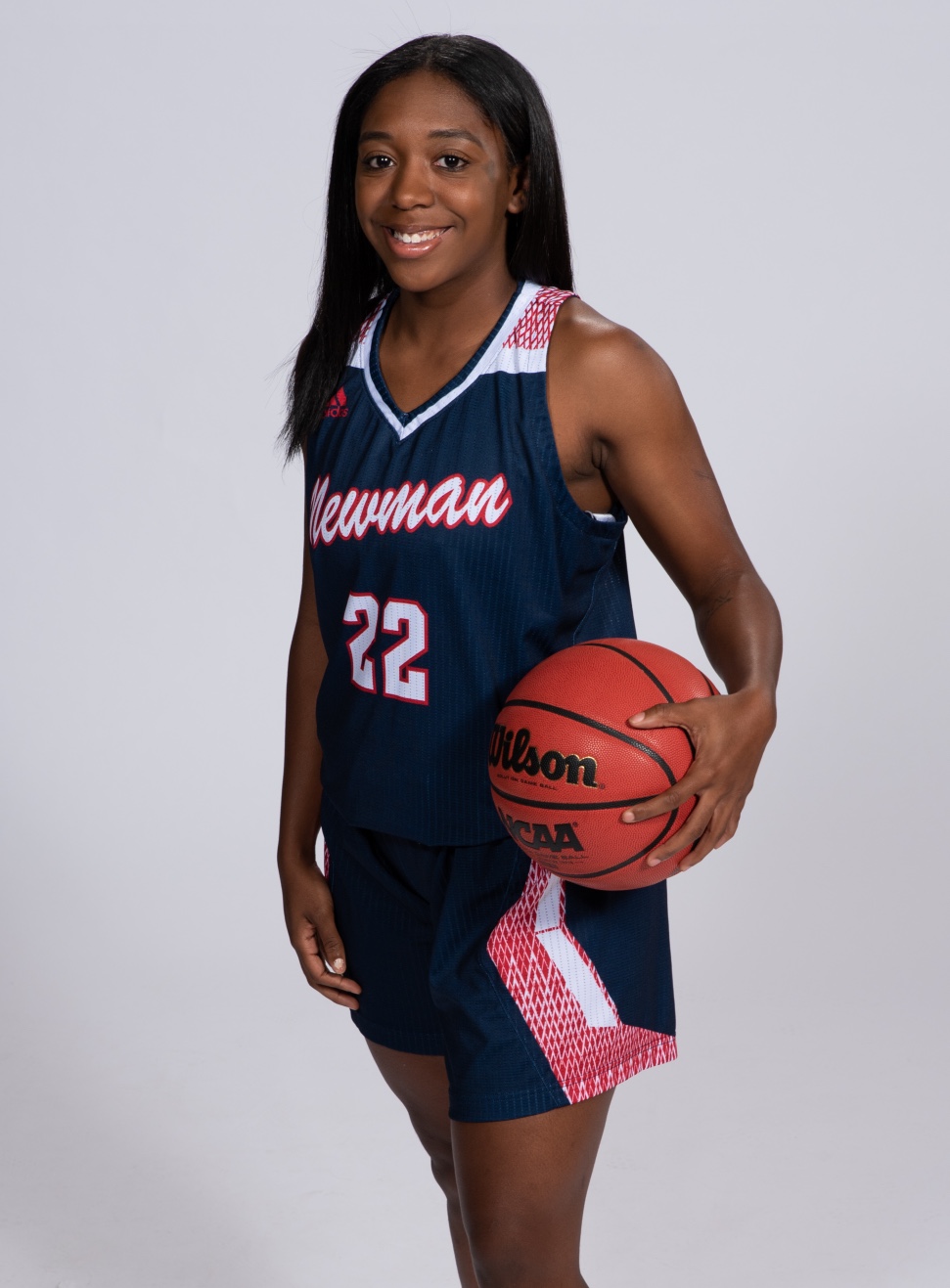 Her coaching goal is to create bonds with the women on her team, let them know they have a lifelong confidant while making a difference in lives.
"My biggest goal is to influence lives. I want to make sure my girls leave the program better than they came, not only physically but as a person. College is a big stepping stone in life and I want to make sure they develop into good people."
She said being a student-athlete at Newman instilled those values in her — values of family and protecting the team culture.
"During my time at Newman I've come to understand the importance of protecting your team values and making sure everyone is on the same page. This helps with the bridge between players and coaches while also instilling trust throughout the entire program."
Mack said her time at Newman was a memorable one and she knows the friendships she made there will last.
"I created numerous relationships with not only teammates but other students and faculty. Newman is kind of the best of both worlds; you get a big campus feel while also being able to create very close relationships with instructors and fellow classmates."