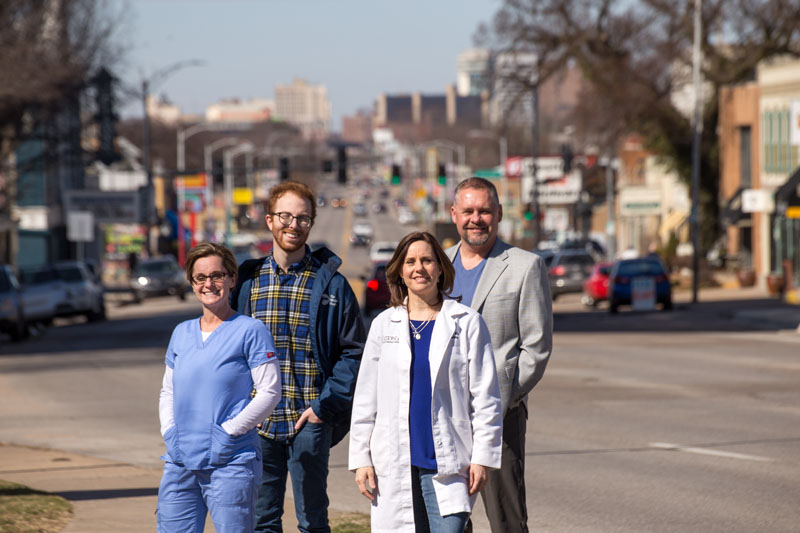 For the past few years — spurred by a Wichita Community Foundation-funded study by economist James Chung — community leaders have been hearing about challenges to Wichita's growth and development and looking at ways to find solutions. 
"We are a wonderful higher education community here, poised and ready to address the human capital challenge," said Newman University President Noreen M. Carrocci, Ph.D., in a video interview for The Chung Report, an online initiative that shares insights into challenges identified in the study. 
Some of the ways Newman is addressing those challenges include: investing in health care education with its new Bishop Gerber Science Center, showcasing Wichita's creativity with exhibitions at the Steckline Gallery, training more teachers than any other private college or private university in Kansas and creating more internship opportunities.
Here is how some faculty, staff, alumni and others in the community view Newman's impact.
Cameron Carlson, dean, School of Education
Many of Newman's education students end up staying in the area, Carlson said. About half of the 70 or so students that annually graduate from Newman's teacher education programs are latecomers to the field or career changers, so many want to stay and have an impact on the community where they've built roots. Traditional-aged students also often opt to stay in the area because it offers a variety of settings from urban schools to private and parochial schools. 
"We've had student teachers offered contracts in February for the next academic year," he said. "We also have a pipeline within ourselves to help advance people in their careers," said Carlson, explaining that some alumni stay to work in area schools and attend Newman for graduate education licensures or the Master of Science in Education degree. 
Melody Head, director, Career Services & Cooperative Education
Career development plays an important part of a Newman student's experience. For example, in March, students participated in the Highway 54 Career Fair, co-sponsored by Newman, that brings together students looking for jobs and internships with several local and national companies.
"Some internships can be like a long interview process," said Head. "Overall, most companies would like to hire the students if the internships go well."  
Head said campus officials are looking to create more internship opportunities to introduce students to careers and potential employers and for employers to have a hand in helping train students. 
Matt Riedl, alumnus, Wichita Eagle reporter
Riedl echoed Head's sentiments that students become familiar with Wichita's job market through internships, job shadowing and other similar opportunities that can put them ahead of other job applicants outside of the area.
"Those connections are invaluable in landing that all-important first job out of college … the hardest part is getting on that ladder in the first place," said Riedl, who interned with The Eagle as an undergraduate.
He cited several other advantages that await Newman graduates who stick around: lower cost-of-living, an opportunity to diversify the community and the ability to keep college friendships going.
"If you get the opportunity to have a career here as a young professional — and you show drive and creativity in that role — the city tends to reward those individuals with leadership roles of sorts."
Ron Rabe, alumnus, vice president at Spirit AeroSystems and a Newman University Board of Trustees member
As a manufacturing executive, Rabe clearly understands the human capital challenge Wichita faces and how Newman University can help. 
"For obvious reasons, retaining the people we invest in locally and keeping them in Wichita makes sense," Rabe said.
"We must continue to provide these individuals (with) challenging opportunities on the job that keep them engaged and developing throughout their careers. Additionally, we must continue to invest and partner locally for the success of our business and communities."
Natalie Hertzel, nursing manager, Ascension Via Christi
Much like the education program, the nursing program at Newman University has built key alliances with many of the health care providers in Kansas' largest medical community.
"Given the high demand for nurses, it's important that we do all that we can to retain nurses post-graduation," said Hertzel. "By providing a wealth of opportunities for professional growth and development, new graduates can find fulfilling opportunities right here in Wichita. That's a win for new nurses and the patients and families we serve."
Diana Crook, M.D., LakePoint Family Physicians
"Keeping good people in Wichita supports our community in so many ways: from supporting the industries we are trained to do and building the city of Wichita, and also being part of the community with entrepreneurship, social networks and faith. It trickles down to the next generation as graduates raise their families here, which will motivate their children to stay and support Wichita and then their children's children. The cycle just keeps going."