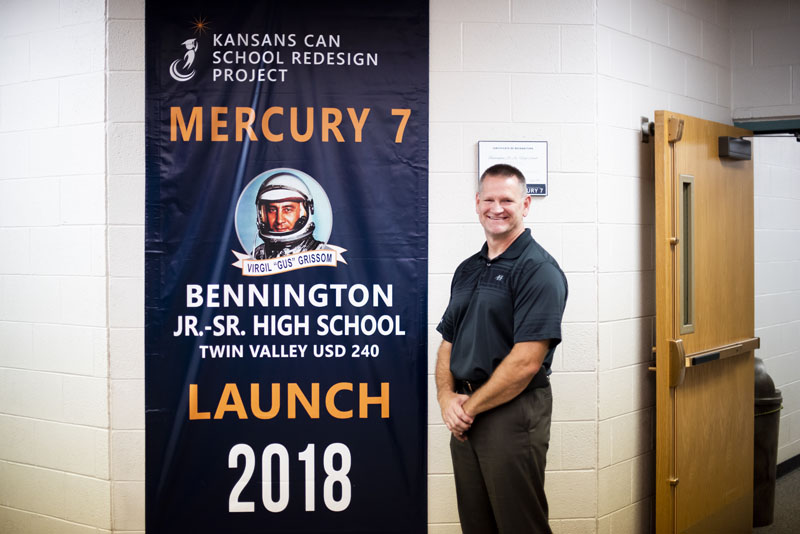 Curtis Nightingale is a Newman alumnus and high school principal who is working hard to change the way education happens.
Change is never easy — but alumnus Curtis Nightingale is eager to make it happen.
Nightingale is now in his third year as principal at Bennington Junior High/High School in Bennington, Kansas, about 15 minutes north of Salina.
His school was chosen by the Kansas State Department of Education (KSDE) to be a part of its new project "Redesign."
The project takes one elementary and one secondary school from each district to be redesigned around five outcomes. Established by the Kansas State Board of Education, the five elements reflect a successful Kansas high school graduate and what Kansans said they want their schools to look like in the future.
Excited to be a part of this initiative, Nightingale said KSDE commissioner Randy Watson had a vision.
"(He said) we need to redesign the way we do school," Nightingale said. "He and his assistant went around the state for opinions and developed a list of items that public schools were lacking in. They came up with a concept, an opportunity for schools to be a 'Redesign' school. They want us to reinvent our school to do something radically different."
Nightingale said he moved his school to a blending learning format when the initiative began in 2017. Now, the students have more of a role in how their schooldays are formed.
"When the students start class, they're going to receive a syllabus. It's then the students' responsibility to choose their own pace and path," explained Nightingale.
"The teacher might do a 10- to 15-minute discussion, and the student will still take notes, but maybe they are ready for the lab portion. They can do that lab, and then when that's over with, they go back to their path. They are creating their own learning system. Students who are faster in a particular subject don't get bored, and slower students don't disengage."
He explained that the self-directed format works well for students, allowing the individuals who work a little faster at one subject to move forward and keep from feeling sedentary. If that same student needs more time in another subject, they can dedicate the extra time to it without feeling overwhelmed.
To coincide with the self-directed learning method, the school has done away with bells between class periods.
"We talked about this level of anxiety that goes with the bells. But we're looking at it in terms of self-regulation and self-management. The adults weren't so sure about this, asking, 'How will the kids know when and where to go?' but the transition was so easy for the kids.
"When we shut off our bells, we removed a lot of stress issues that students have."
Nightingale explained, "We're blazing the trail because there aren't really any guidelines. We're trying to do things no one else has done, to revamp things."
He said when children don't finish high school or become successful in life after high school — whether that is college, technical school, military or moving straight into a career — it's easy to place the blame elsewhere.
"It's easy to blame society, parents, the kids, etc.," he said. "But at the end of the day, if we want to make true change, we have to focus on what we can control."
Based on surveys given to students, staff and parents throughout the year, Nightingale said, the program is working very well.
"Not only did we get complimentary surveys back from kids, I had a lot of kids just coming in and saying thank you. We were hearing from kids that they had more family time in the evening and that's important to them and their respective families."
Nightingale, a 2001 graduate of Newman University, was working as a police officer when he began studying to receive his undergraduate degree in secondary education.
With his busy schedule as an undercover narcotics officer, Newman's accelerated program was a great fit for him.
"The benefit of going through Newman University, it's a classroom of 12 versus 45 or 145. You have an opportunity to make a better connection," Nightingale said.
"If it hadn't have been for the accelerated program, I wouldn't be sitting where I am now," said Nightingale. "(The) format was a couple nights a week and some Saturdays. That was something I could get into my schedule. It was economical in terms of the time commitment away from home."