Newman graduate David Borho wants to change lives through education – and a $1 million gift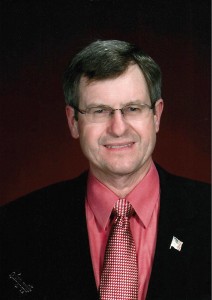 David Borho '01, '11 has experienced many changes and accomplishments in his life. Now the successful business, farm and parish leader wants to help others change themselves — and society — through their own accomplishments.
The key to success, he believes, is education. "It's a true stepping stone," Borho said. "Education presents you with life choices and allows people to maneuver to the field they want to be in."
To assist others in changing their lives for the better, Borho is making a deferred gift of $1 million to Newman University, to be used for the university's highest priority need. In addition to that gift, Borho gave $10,000 to the university's annual fundraiser, Party on the Plaza, which also raises money for student scholarships.
Borho, a long-time supporter of Newman, has donated to the university through a variety of fundraising events and programs. His $1 million gift, however, is one he knows will be a game-changer for others by helping them obtain a college degree — an increasingly important commodity in today's economy.
"The days my parents lived in when just hard work and achievement were good enough for success are probably gone," said Borho, 61. "Now, people need a formal education and, I believe strongly, should continue to learn throughout their lives."
Borho practices what he preaches. Originally from North Dakota, Borho earned a bachelor's degree in soil science and agronomy from North Dakota State University in 1974, becoming the first in his family to obtain a college degree. He entered the agribusiness field, and through a family connection moved to Kansas in 1975. He is now president and co-owner of Kincheloe's Inc., a farm implement business in Pratt, Kan., that he has been involved in since 1975.
Despite a busy schedule, Borho found time and motivation to earn a second degree in pastoral ministry from Newman in 2001, through the Interactive Television (ITV) classes and live instruction Newman offers in western Kansas. That degree inspired him to further achievement, and in 2011 he earned a master's degree in theological studies through Newman's online program.
Part of Borho's enthusiasm for Newman is because of the opportunity it brings to people in western Kansas who otherwise don't have access to a four-year college. Much of that area is in the Diocese of Dodge City, which Borho also supports.
Borho credits his wife, Glenna, former mayor of Pratt and currently a Pratt County commissioner, for much of his success. Along with her support and encouragement, Glenna, an English major, helped review his academic writing. Borho said the couple works as a team in another area: parish leadership at Sacred Heart Church in Pratt, where they have a long history of involvement.
Borho said attending college offers students not only the opportunity to learn, earn a degree and get a promising job, but also intangible benefits such as establishing a long-term network of supportive peers and mentors, who can provide recommendations or open doors to life-changing career opportunities. To get there, however, students often need financial support in earning a degree.
That's where the deferred gift comes in.
"I appreciate that I've been blessed in my life," Borho said. "I want others to have the same opportunities that I had."
Tags:
David Borho
,
Gift
,
Newman University