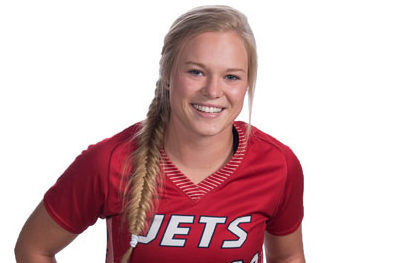 Google Cloud Academic All-America team, All-District and 2017-18 Heartland Conference Woman of the Year
Delaney Hiegert '18 had an amazing senior year. Her accomplishments on and off the softball field demonstrate perseverance and dedication.
Academically, she headed to the University of Kansas School of Law after graduating from Newman. She was awarded the prestigious Rice Scholarship, which brings Kansas residents with outstanding academic records and proven leadership ability to the program.
"I was beyond excited to find out I had been accepted into my top picks for law school," Hiegert exclaimed. "It was an honor to simply be selected to interview for the Rice Scholarship at KU."
Athletically, on top of being named to the Google Cloud Academic All-America team this year, Hiegert was named the 2017-18 Heartland Conference Woman of the Year, as selected by the league's senior woman administrators.
The Woman of the Year Award is given to an outstanding graduating female student-athlete who demonstrates excellence in competition, the classroom and their community.
A standout softball player for the Jets, Hiegert is the first Newman student-athlete to win the conference award since its inception in 2005-06, and was also placed in the running to be named NCAA Woman of the Year.