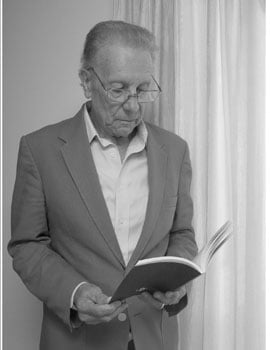 When Professor of Education Don Hufford, Ph.D. stopped teaching at Newman University at the end of the fall 2014 semester, he considered it his second retirement. His first, he said, was in the late 1980s, when he retired from a three decades-plus career working with troubled youth in Massachusetts, Illinois and Kansas.
Hufford joked that when he came to the university at age 62, he was Newman's oldest faculty member. When he left the university at age 85, he was one of its most treasured.
Originally from Kansas City, Kan., Hufford earned an undergraduate degree in Psychology from Baker University, where he met the woman he later married, Evie. He studied theology, first at Southern Methodist University and later at the Boston University School of Theology. There, with only one semester left to complete his graduate program, he answered a different "call" – to work full time with youth in the notorious south end of Boston.
"They had significant problems," said Hufford, who had previously worked with boys in Boston's south end for two years. "It was a rough neighborhood, with kids getting into crime. There was a gang in the area called 'The Scorpions.' I invited them to come and join in our activities, but they wouldn't until I challenged the leader to a one-on-one basketball game."
Hufford, who lettered in basketball, football and track in college and was a state pole vaulting champion in high school, won. After that, the gang slowly began coming to his organized basketball program. After receiving some used, donated uniforms adorned with the letter M, Hufford asked the boys if they would change their name.
"I wanted them to choose something with a less deadly connotation," Hufford said. "Since we had the uniforms with M on them I suggested something that starts with M. They came back with 'The Marauders," but over time they came up with 'The Majestics.'"
Hufford said he is still in contact with some of the now-grown Boston kids.
Hufford worked two years in a job called boy worker and three years as director of a settlement house in the area, and was later named resident director of the Hayden School for Boys, a residential school and treatment center in Milford, Conn., for adolescent boys referred by the courts and social welfare agencies.
Hufford, his wife and their three children later returned to Kansas, where Hufford worked as campus life supervisor of United Methodist Youthville in Newton, a residential treatment program for youth with emotional, psychological, and behavioral problems. After two years he was asked to move to Dodge City, Kan., to oversee the development of the new "Youthville at Dodge City," which grew to include an on-campus school related to the local school district, where Evie Hufford served as a teacher. While in Dodge City Don Hufford earned a master's degree in education from Ft. Hays State University, and served as an adjunct instructor at Dodge City Community College and St. Mary of the Plains College.
After 25 years, Hufford retired from Youthville, so that he and Evie could pursue doctorates in education at the University of Kansas.
"We had decided that education is pretty important to these kids," he said, "to help them live better lives, so we went to KU. We were the oldest full-time students on campus."
After receiving a Ph.D. degree in Foundations of Education in 1992, he came to Newman University. A year later Evie joined him on the Newman faculty.
Hufford said he was attracted to Newman because it was a small college with a focus on students.
"At a small college you have a chance to develop relationships with students," he said. "I also liked the sisters' philosophy of social justice, and their goal that when students graduate they seek peace and justice in the world."
Hufford said he enjoyed teaching at Newman, and that his approach to education was to collaborate with students.
"I told them, 'We're in this together, we're co-teachers and co-learners,'" he said. "'I'll learn as much from you as you do from me.' You know, the origin of the word education is Latin for 'to pull forth' or 'bring out.' As Heraclitus said, 'Education is not to fill a pail, but to light a flame.' That was my job, to light a flame."
Judging from comments made by former students, Hufford did his job well.
"This class is what I needed. It is as if a light bulb has gone off in my head," student Shannon Commons '14 wrote to Hufford in spring 2014.
"You opened my eyes to a new light," Angela Payne '04 wrote in spring 2003.
"Once again, I am on fire;  I am alive," Tracie Greening '96 wrote in fall 1999.
In 2002, a month after the Huffords' 50th wedding anniversary, a flame went out of Don Hufford's life when Evie died of breast cancer. It was a devastating loss.
"My life was forever changed," said Hufford, who 13 years later still tears up when talking about her passing.
Still, he continued teaching at Newman, and writing. Hufford is greatly admired for his work as a scholar of education theory and practice. Over the years he has made many lectures and presentations at prestigious education conferences, and published countless articles in academic journals.
As a tribute to his prolific and erudite work, the 2014 edition of the Journal of Philosophy and History of Education was dedicated to Hufford. The annual publication includes information on his professional background and articles written exclusively by Hufford.
Hufford said his interest in academic and philosophical topics stems from his belief in self-awareness.
"I think its a moral imperative that we interrogate ourselves every so often and ask, 'Why do I believe what I believe? Am I just conforming to what someone else expects of me or am I being authentic to myself?"
Members of the Newman community who have known Hufford over the years say he is as authentic as it gets.
"The first time I met Don Hufford was when he was CEO of Methodist Youthville, Dodge City," said Director of Development for Sciences and Health Sciences Therese Wetta. ASC. "Even then, his passionate and compassionate leadership was immediately experienced and I knew he was no ordinary leader. When Don and Evie left work with youth to become Education Department faculty members at Newman, Don brought more wisdom, more experience and a burning desire to prepare teachers who loved children and youth and believed in them and their gifts.
"Don has lived the mission of Newman University in the classroom and the many other ways he nourished life on campus and he advanced the mission far and wide via his prolific writings and presentations. He has been an embodiment of our mission and values."
To view more comments from Hufford's colleagues, watch the videos below: