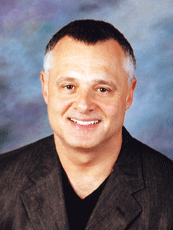 Captain Donald Bittner, M.D. '77 was awarded a Doctor of Humane Letters, honoris causa during the Spring 2013 Commencement, May 11, 2013. Bittner was recognized as an outstanding example of the university's Core Value of Global Perspective.
Bittner is a board certified orthopedic surgeon and is considered one of Southern California's most respected specialists in reconstructive and microvascular surgery of the hand, wrist and elbow. Bittner, who has a long history of service in the U.S. Naval Reserves, volunteered for active duty when he learned of the Navy's need for surgeons in Afghanistan and other war zones. As chief medical officer of a large medical battalion of commercial builders in Afghanistan, he performed surgery 10 to 12 hours per day on U.S. soldiers, prisoners and civilians, then traveled by helicopter to monitor crews under his watch throughout the country. Bittner flew a U.S. flag over Kandahar in honor of Newman University. He presented the flag to Newman President Noreen M. Carrocci, Ph.D. and the Newman community in 2011, when he received the Spirit of Acuto Transformational Leadership Award.
Bittner recently served as a deputy director at Landstuhl Regional Medical Center in Germany. He is currently deputy surgeon for the 6th Fleet, U.S. Navy and lives in California. He practices orthopedic surgery, and is associate professor in the Department of Plastic Surgery, Hand at the University of California at Irvine.
.
.