The late Doug Stanley to receive posthumous honorary degree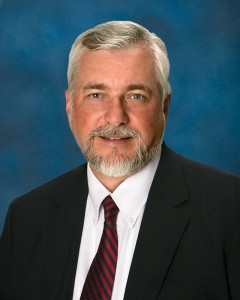 The late Douglas L. Stanley will be awarded a posthumous degree of Doctor of Humane Letters, honoris causa at the Fall 2013 Commencement ceremony, Dec. 14, 2013. The university will bestow the degree on Stanley for his exemplary dedication to the university's Core Values of Catholic Identity, Culture of Service, Academic Excellence, and Global Perspective.
Stanley served as a member of the Newman Board of Trustees from 2006 to 2013, and as Board Chair from 2011 up to his passing on April 2, 2013, following a battle with cancer.
"I can think of no one more deserving for this honor than our dear friend and former leader, Doug Stanley," said Newman President Noreen M. Carrocci, Ph.D. "He was an outstanding advocate for Newman, and we will not forget his generous support and guidance on behalf of the university."
Stanley was managing partner of Foulston Siefkin Law Firm in Wichita. His practice focused on employment and labor law. He was considered a brilliant attorney by his peers, and received many professional honors.
Stanley was committed to serving his community. He chaired the Greater Wichita Economic Development Coalition Steering Council, and was a member of the Board of Trustees of Exploration Place and the Board of Directors for the Wichita Business Coalition on Health Care. He was also active in the St. Peter's Catholic Church Building Committee and Church Council, Wichita Legatus Group, and other organizations.
Stanley's widow, Sheryl, will accept the degree for her late husband. Their children – Newman alumni Amanda (Stanley) Marshall '08, Christopher Stanley '11 and Rachel Stanley '13, and Newman students Diana Stanley and Katie (Stanley) Potter – will be present at the ceremony.
Read more about Doug Stanley at http://mag.newmanu.edu/category/sections/4-nu-people.
Tags:
Board of Trustees
,
Commencement
,
Doctor of Humane Letters
,
Douglas L. Stanley
,
Newman University