Dr. Michael and Carm Ludlow honored with 2016 Cardinal Newman Medal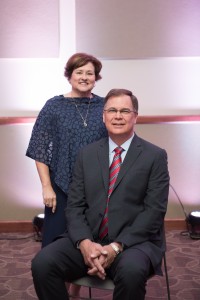 Dr. Michael and Carm Ludlow received the 2016 Cardinal Newman Medal for their four decades of leadership, financial support and service to Newman University.
Michael earned an undergraduate chemistry degree in 1978 at Kansas Newman College, then proceeded to the University of Kansas School of Medicine. He has practiced at West Wichita Family Physicians since 1985.
Beginning in 1987, Mike served as a Board of Directors member for 18 years, including four years as chair, 1994-1998. Ludlow, along with other Board members, helped avert the closing of the college during challenging times. As chair, he led efforts to build Fugate Gymnasium and the De Mattias Fine Arts Center, and to change the school's name to Newman University.
Carm (Faber) Ludlow has been a strong advocate for Newman and Catholic higher education. She earned a degree in English in 1979.
Carm has chaired and served on many Newman committees, including Party on the Ponderosa and Party on the Plaza. She has also volunteered for the Renaissance Faire, High Tea, and the Newman Alumni Office.
Michael, Carm, and other Ludlow family members, established the Margaret H. Ludlow Endowed Scholarship fund in 1997 in memory of Mike's mother. The Ludlows have been generous donors to Newman and have supported several major campaigns, including Facing Forward.