Students in the Newman University nursing and allied health programs are already enjoying the benefits of the Facing Forward campaign, through the extensive renovations to Eck Hall.
Renovations in the health care education areas began the week of May 9 and were completed in August in time for the start of the 2016-2017 academic year.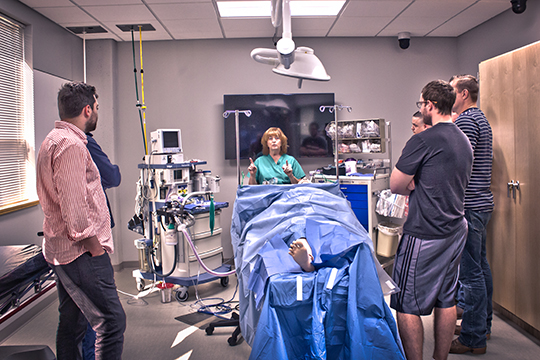 Inside the building, construction crews gave the health care facilities a complete makeover. First-floor upgrades include a nursing lab with two intensive care simulation suites, a nurse anesthesia task training room with two operating room simulation suites, and a respiratory care classroom and lab.
The simulation suites include rooms with the latest medical equipment as well as interactive, advanced-technology medical mannequins. On the other side of a wall with one-way glass, faculty in a control booth can simulate a variety of real-life medical conditions within the mannequins, observe students as they work and give feedback to help them develop their clinical skills. Instructors can also observe students from multiple angles through cameras installed around the room.
According to Associate Professor of Nursing and Associate Dean of Nursing and Allied Health Jane Weilert, Ed.D., the high-tech nursing labs will allow students to practice more effectively and begin to apply what they learn in class, ultimately providing better care and safety for patients.
The second-floor upgrades include an improved diagnostic sonography classroom and lab and an occupational therapy assistant classroom and lab. The occupational therapy area includes a laundry machine, a swing for kids, a bath and other equipment used to help students learn how to work with stroke victims and others who have lost the ability to use some or all of their limbs.
Another important upgrade was the replacement of the flat portion of Eck Hall's 20-year-old roof after workers discovered water damage in the building. Workers began the installation process June 15 and completed the roof Aug. 1. A thermoplastic polyolefin membrane that can withstand heavy rain and hail was installed and topped with a layer of rock for protection and for holding the roof in place.

Instructors in the control booth of an O.R. simulation suite can monitor students' work through one-way mirror.