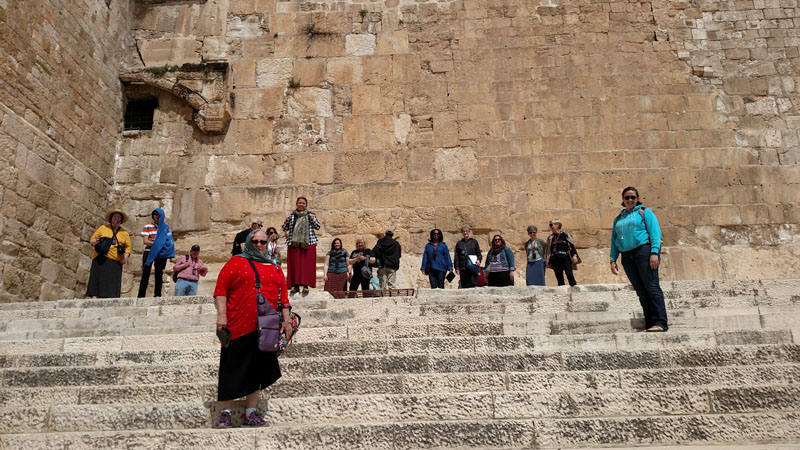 Newman University provides realistic opportunities for students to gain an education anywhere in the world.
For college students who think studying abroad is too expensive and difficult, Newman University's opportunities to travel and study may just be the answer. 
From study programs in Birmingham, England, to educational trips to the Holy Lands, Europe and Central America, Newman University offers several affordable study abroad options for students.
Cheryl Golden, professor of history and director of international studies, urges students to consider the advantages of making a trip abroad while in college.
"Study abroad opportunities for college-age students are important because for most people, those college years are the time when it is easier in many respects. Whether it's for a three-week experience, an eight-week experience, a whole semester or even a whole year, it's usually easier for people to 'interrupt life' here," said Golden.  
She added, "The other advantage, of course, is that when you're in college your main goal is to learn and develop professionally, so study abroad, internships abroad or experiences abroad help you to make the most of that educational time."
Students have multiple opportunities to travel with professors and other students but are also able to travel solo through Newman University. Students traveling solo typically opt to attend Newman University located in Birmingham, England, for a semester or full year.
Newman University in Wichita has a close relationship with the university in Birmingham and students find it easy to utilize the well-thought-out exchange program.
"What's great about that exchange program for our students," Golden said, "is that whatever your financial situation is here with scholarships, you take that with you."
 Students of most majors are able to attend NU Birmingham without disrupting their four-year plan. Recently, NU Birmingham crafted a math degree and is working on a liberal studies degree that directly coincides with Newman's math and liberal arts degrees. Students in these programs can seamlessly attend Birmingham at any time during their college career.
While studying abroad under the umbrella of Newman University is a more convenient financial choice since financial aid and scholarships can easily carry over, students can choose schools elsewhere that haven't had a previous relationship with Newman. 
If a shorter time commitment or traveling with a group sounds more appealing, Newman offers a wide range of professor-led trips that range in length and composition.
One of the more popular trips is a three-week "Europe By Rail" adventure led by Professor of History Kelly McFall. London and Vienna are staples of the trip but the group generally visits three other cities of interest as well.
McFall said, "The goals are two-fold — to help students understand contemporary Europe (its history, politics, culture, etc.) and to prepare students to be lifelong travelers."
Students can also join an eight-week service trip to Guatemala led by Professor of Spanish Sonja Bontrager. Students immerse themselves in the language and culture, see magnificent sights, join the Adorers of the Blood of Christ (ASC) in service projects and bond with the locals.
Other trips include exploring the Holy Lands, a theology-focused trip to Italy, a theater-based trip to England and much more. Many professor-led excursions require or urge students to take a related course prior to the trip to be more prepared.
Being immersed in a new culture and exploring unfamiliar spaces will educate students in a way that no classroom can. When they get lost, they "have to talk to people, really look around and observe, ask directions," said Golden, which can add to the experience. Her hope is that students who take advantage of these travel opportunities grow individually, spiritually and in service.
Opportunities to travel abroad are expected to grow at Newman.
Golden is working with the ASC International Leadership Team to revive a study abroad program in Italy similar to the one in Birmingham. On a recent trip to Greece, Golden visited with the American School of Classic Archaeology in Athens and the Center for Hellenic Studies out of Harvard to explore a new study abroad partnership.
Golden is also working with Newman University Director of Grants Jill Wheeler to identify grants and other sources of funding to help cover costs for students, especially airfare.
Golden said, "One of the best ways to enhance the education you're getting right now in Wichita, Kansas, is to add on an international component that shows, as a person living and working in this region, how connected you are globally."