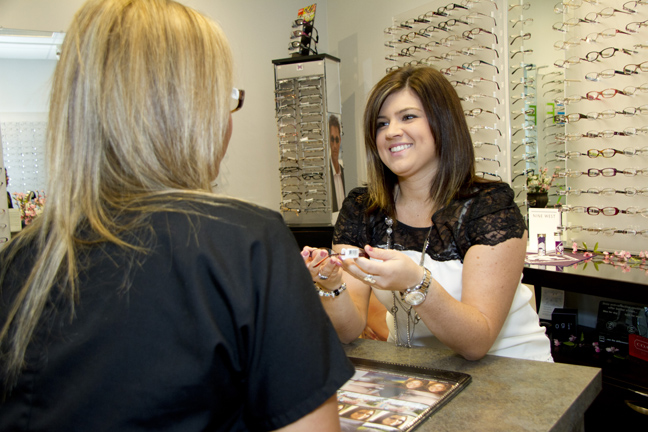 It's just after 5 p.m. at the busy optometry office where Emily Becker, O.D. practices. Patients are on their way out, the staff is cleaning up, the front door is about to be locked, and the workday should be done. Becker, however, still has more to do; her fingers dance over her iPad, filling in patient charts as she sits down to talk with a visitor.
"Oh, I have to multitask sometimes to get everything done," said Becker, a 2006 Newman University graduate.
Make no mistake about Becker's tasks or long days, however. She's living her professional dream and, according to her, "I'm loving every moment of it."
Ever since high school, Becker, 28, knew she wanted to be an optometrist, and she relentlessly pursued her goal. Sure, it would provide her with a good living, but the calling is much more than that to her — it's making a difference in the lives of others.
"One of my favorite things is when a kid comes in here with a vision problem, and we're able to correct it and all of a sudden it's like they're seeing in HD," she said. "It's just so rewarding."
.
.
Send me all the kids you've got
It's also rewarding to help those who otherwise wouldn't be helped, she said. In that regard, for the past two years, Becker has provided free eye exams to children in low-income households through her practice at West Wichita Family Optometrists.
The children, who don't qualify for any other program, are referred to her by Newman nursing students, who screen secondary school students.
Amy Siple, associate professor of nursing at Newman, oversees the screening program, which takes place twice a year in eight Catholic schools with low-income student enrollment. To Siple, Becker's contribution makes a vast difference for the less fortunate.
"Emily has a big heart for service," Siple said of Becker. "She is just amazing and has gone above and beyond to help."
Some other optometrists contacted by Siple agreed to see one or two cases, but Becker was different.
"She said, 'Send me all the kids you've got,'" Siple said. "And it costs her money because she's giving up appointment times that could be taken by paying patients, so I do recognize the sacrifice she's making."
Siple added that Becker not only donates time for exams, but also helps obtain glasses for her young patients at no cost.
A challenging academic road
Becker's path to becoming an optometrist did not come without plenty of hard work. After graduating from Garden Plain High School in 2002, Becker enrolled at Newman and maintained a part-time job at the optometry office. She said she selected Newman because of its size, atmosphere and personal attention.
"It has all the resources you need and if you have trouble, you are able to approach the professor and get the problem solved," said Becker, who majored in biology
Becker added that the university prepared her well for future studies. She would need it, too, as her four years of post-graduate study at the University of Houston College of Optometry were tough – even more difficult than she anticipated.
Becker was up to the challenge, however, and rose to the high standards put before her, including real world experience her final year in which she helped serve patients on an Indian reservation in Oklahoma.
She graduated in 2010 and came back to Wichita to work for the eye clinic. So far, the experience has been "more fun and rewarding" than she even imagined. Becker works most of the week in the practice's Wichita office, and spends a day and a half at its other location in Goddard. On an average day, she sees nine to 10 patients; on a full day, up to 13.
Building relationships
To Becker, her work is all about building and maintaining relationships. She recalls a child who was the victim of an eye accident. Becker was able to get him healed and now wants to be able to maintain the doctor-patient relationship as he grows and develops into
an adult.
Becker said her parents, Brian and Jane Becker, played a major role in shaping who she is today. The couple occupies a place of honor in Becker's examination room, in photos with Becker as she graduated from high school, college and finally, optometry school.
When not working, Becker enjoys spending time with friends and family, and her mixed-breed dog, 1-year-old Shelby, at her home. Hobbies include "crafty things," such as quilting and scrapbooking, and she enjoys giving her creations, including baby quilts, to others as gifts.
When asked if she is going to stick with optometry the rest of her career, Becker has an instant reply: "Oh, absolutely." She is equally emphatic in her advice to others, including young students looking for direction in life: do what you're passionate about.
"Just find what you are going to be happy at," she said, "and you'll love your job forever."
.
Know an alum who is transforming society?
Recommend him or her for a future Alumni Profile in Challenge magazine! Just send a brief message on why this person would be a good subject for a profile to Director of Alumni Relations Sarah Cundiff at [email protected].
.
.