Estate gift helps future students, university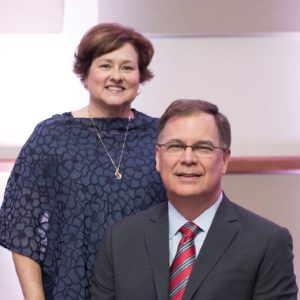 Newman University alumni Carm '79 and Michael Ludlow, M.D. '78 recently made a $500,000 bequest to their alma mater in their estate plan. The gift will be designated to the Margaret H. Ludlow Endowed Scholarship Fund to help future Newman students who have a demonstrated financial need.
The Ludlows, with support from Michael's father, John, sister and 1982 Newman graduate Liz Ludlow Di Silvestro, and niece and 2011 Newman alumna Maggie Di Silvestro, established the endowed scholarship in March 1997 in memory of Michael's mother. The scholarship is not restricted to any major or area of study. The $500,000 bequest will be added to the fund upon the Ludlows' passing.
"We appreciate the education we received at Newman and think it gave us a great base to navigate the rest of our lives," said Carm Ludlow. "Mike and I think education is important, and this is a good use of our money."
Michael Ludlow added that he and his wife also value the development of a critical consciousness regarding social justice and the development of a mind capable of critical thinking.
"These are qualities that last a lifetime," he said. "As we support all of those things, we can't think of a place that does all of that better than Newman University."
Like others who have included Newman University in their estate planning, the Ludlows appreciate the long-lasting impact of their gift, said Newman Senior Development Officer David Alexander.
"When alumni and donors choose to designate a portion of their estate to fund an endowed scholarship like the Ludlows have done, they are in effect establishing a legacy at Newman that will bless generations to come," Alexander said. "We believe our planned giving donors are gratified knowing that the impact of their generosity will continue for as long as Newman University exists."
For more information on how your estate gift can create benefits for future Newman students and for you, contact Alexander at [email protected], 316-942-4251, ext. 2165, or visit give.newmanu.edu.