Experiences of first-generation Newman students
First-generation students at Newman talk about their journey in higher education
Going to college is a big step; being the first one in your family to attend college is an even bigger step.
The feelings of excitement, fear, apprehension and courage swirl around the prospective college student. Incoming college students usually have some sort of support system — parents, older siblings, relatives or even friends — to lean on when starting the higher education journey.
First-time college students often have the same support system, but the college experience is a whole new endeavor they forge for themselves.
Approximately 20 percent of incoming Newman students self-reported to be first-generation college students in fall 2016.
One year later, that number jumped to nearly 30 percent.
Three students and one recent graduate gave their perspective about what it means to them and their family to be a first-generation college student.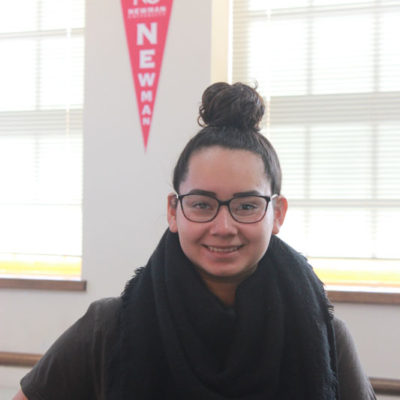 Daisy Garcia
Freshman Daisy Garcia is a graduate of East High School. Halfway through high school, when her friends began talking with her about it, Garcia began to consider going to college.
Ever since Garcia was young, she had a caring heart for others. She began volunteering in hospitals and discerned nursing to be her calling.
"As a nurse," Garcia explained, "I can make connections with patients, and I find helping people to be rewarding. Plus, nursing has a wide variety of options for career flexibility."
Thanks to the help of an East High School counselor and her own research, she decided Newman University would be the best fit.
Garcia said, "Other colleges were too big and overwhelming. At Newman, it feels like I'm a part of a family. The counselors were nice, helpful and took the time to learn my name. They actually wanted to help me."
Also, Newman is not too far from home, which Garcia said is important. 
"Family is a big deal to me. My parents came to America so that their kids could have better opportunities and be successful, and they're proud to see me go to college. They worked so hard to provide a good life for me here, so I want to show them their hard work has paid off."
Earning a degree not only means being able to do what Garcia loves but the ability to live a more comfortable and stable life, she said.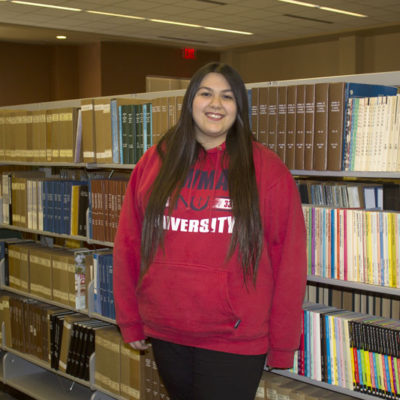 Dyana Baca
Sophomore Dyana Baca, a graduate of Bishop Carroll High School, knew since childhood that she wanted to attend Newman University.
Baca described her journey to attend college as a "strange process."
"No one had done it before so none of my family could help me," explained Baca. "I had to figure out how to do it all on my own. I slowly had to make it through each step of the way. I had to make many calls to admissions asking for help."
She also received puzzling reactions from family members as to why she did not go straight into the workforce.
Thankfully, Baca said, her mother is proud of her.
When faced with questions about going to college, Baca responded, "It's not just studying; it's fun to experience new areas of learning and important social opportunities."
Baca has chosen a business major with a music minor. She wants to open her own business in an area she feels is lacking in Wichita – an under-21 music nightclub.
Baca said, "Not only does a degree provide me with a safety net, but I also believe I will gain more knowledge, which will empower me to garner a better position in the business world."
She also believes she is setting an example for the younger members of her extended family. In fact, once her younger cousin saw the positive impact Newman is making in her life, he decided to attend Newman as well.
Baca said, "Hopefully my younger family members and future ones will all go to college, too, so they can further their education and thereby better their lives."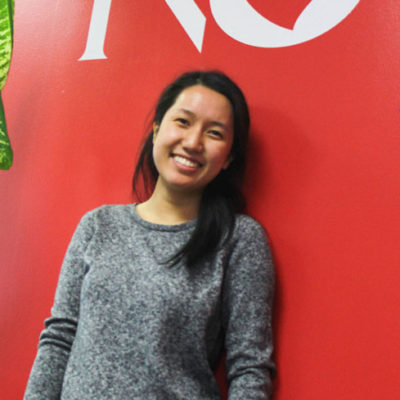 Annie Dang
Junior Annie Dang has not had it easy from the beginning of her education. 
"I learned English in kindergarten," Dang said. "My parents emigrated from Vietnam, so they knew little English. In kindergarten I just learned my name and how to count to 10; otherwise, I was focused on learning English."
Dang recounted how her parents worked hard to provide her with a good life growing up and always wanted to see their daughter gain a good education in order to live a flexible, comfortable life.
One of Dang's key reasons for choosing Newman was its location. She wanted to stay close to her parents and be around her younger brother. 
"I wanted an older sibling to show me the ropes growing up but I didn't have that, so I want to be there for him," said Dang.
When Dang was accepted to Newman and joined the science program, her parents were so proud, she said.
"They see their hard work and sacrifice of moving to a whole new country and starting over has paid off," Dang said, "and I am influencing my 
A member of Dang's family who has immediately been impacted by her choice is her cousin Emily, who now goes to Newman. Dang said, "She saw how hard I worked to get here and how it's paying off."
Dang is a biology major with a concentration in pre-optometry and she plans on applying to physician assistant school. Her cousin Emily plans on applying to physician assistant school as well.
Dang's advice to prospective first-generation students is to "seek out those who know what to do. I didn't know how or where to apply for scholarships. I didn't have any connections. I missed out on some scholarships that other people knew about because they had family and friends that had already applied for them.
"Find someone in your community, your church, an upperclassman. Also find books on the best places to find scholarships"
Irwin Torres
Irwin Torres is a recent graduate of Newman with a Bachelor of Arts degree in elementary education. He is currently teaching fifth grade at Miller Elementary in Dodge City, Kansas.
Torres remembers starting his college education feeling both frightened and excited. He was frightened because of the stress involved in figuring out how to pay for the education, but also excited since learning is a passion of his and he wants to share that with others.
"My mom always made sure to reassure me that if someone really wanted something, God will put opportunities in their path for them to be able to reach what they are determined to get," said Torres.
While working four jobs, Torres worked with Newman faculty who helped him find scholarships to cover the remaining cost of his education.
Torres was drawn to Newman after speaking to the director of Newman's Western Kansas Outreach Program during an education course Torres took at Douglas County Community College.
Torres said, "She portrayed the university as a caring and successful atmosphere. That is when I was hooked. She took her time to come out and really get to know us, which made me feel comfortable and at ease."
Once Torres entered the education program he quickly felt at home and made lifelong friends. He also said the education program prepared him beyond his expectations and helped him to get a job before he graduated.
"Being a first-generation student seemed unreachable," said Torres. "It seemed like a dream that will just stay a dream. But, because of me, I know my family now knows that college is not unreachable. With a little determination, nothing is impossible. I know for the future children in my family, college is something they will be looking forward to."
Advice Torres gives to first-time college students is "don't let the workload or financial part of college scare you, this is part of college life. The difficulties are what make everything worth it in the end."