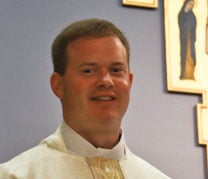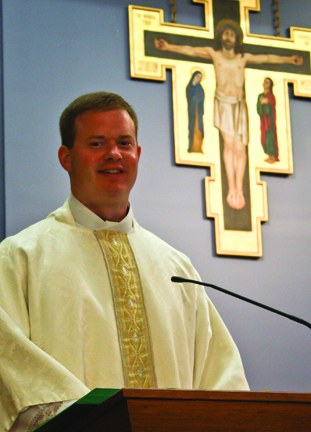 Newman University welcomed Father Michael J. Linnebur to campus in June as the university chaplain and director of Campus Ministry. Fr. Linnebur's appointment to Newman was part of a round of new priest assignments made by the Most Rev. Michael O. Jackels, Bishop of the Diocese of Wichita. Fr. Linnebur replaced former Newman chaplain Father Michael Simone, who returned full-time to his duties as director of vocations for the Diocese of Wichita.
Fr. Linnebur grew up in Colwich, Kan. Both his uncle (now deceased) and great-uncle were ordained and have served as priests for the Diocese of Wichita. He graduated from Kansas State University with a dual degree in accounting and finance before entering seminary in 2002. His studies took him to Pontifical College Josephinum in Columbus, Ohio, and Kenrick-Glennon Seminary, in St. Louis, Mo. Fr. Linnebur was ordained on May 24, 2008, at the Cathedral of the Immaculate Conception in Wichita, and served as associate pastor at St. Francis of Assisi Church in Wichita from June 2008 until his appointment to Newman.
In addition to his duties as chaplain and director of Campus Ministry, Fr. Linnebur teaches Theology classes.
"We are very pleased to welcome Fr. Linnebur to Newman University," said Newman President Noreen M. Carrocci, Ph.D. "He is a terrific addition to our Campus Ministry Office and to the Theology faculty. We will miss Fr. Simone, and wish him all the best as he continues his work as vocations director. We have greatly enjoyed and appreciated the fine work he provided this past year at Newman, and we know he'll continue to visit campus to recruit seminarians."
"I'm looking forward to being a part of the Newman University community," Fr. Linnebur said. "I thoroughly enjoyed my time in college, and now I'm blessed to be able to work with students, during their own college experience."
.
.