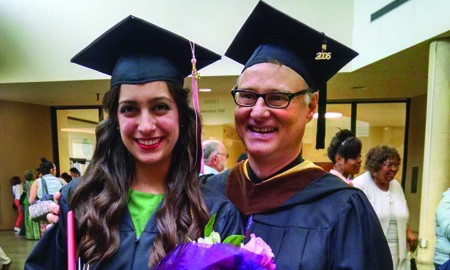 On May 16, 2015, Newman University awarded degrees to more than 400 candidates for associate's, bachelor's and master's degrees. While all those candidates were justifiably proud, one had a special and unique reason – the first four-year theatre program graduate, Rusty Carbaugh.
"I am extremely proud to be the first theatre major, and that is a thing I think I'll probably tell people for the rest of my life," Carbaugh said.
Carbaugh was the first student to go through the program a full four years, starting in 2011 when Newman began offering theatre as a minor. The university instituted the theatre major in fall 2013. Theatre productions had been popular going back to Sacred Heart Academy and Sacred Heart College days, but the institution had never created a four-year academic program. Theatre had languished in recent years, until Newman officials launched a campaign to bring it back.
Newman Director of Theatre Mark Mannette said Carbaugh has been key to the department's growth since the beginning.
"Rusty started attending Newman before I came and already knew she wanted to major in theatre, so she was really helping me be a pioneer by being in place when I got here," he said. "She's a hard worker, she likes to excel academically and I'm really proud of her accomplishments."
Carbaugh's hard work was apparent in her final semester, prompting her to develop good time-management skills.
"I have a planner and I have each day mapped out," she said in an interview before the end of the semester. "I have to schedule in naps. I have to schedule in meals. I wake up every morning at 4 and I go work at Starbucks. I get done with Starbucks; come back and change; go to class; get done with class; get ready for rehearsal; have rehearsal; then have another rehearsal and then go to bed hopefully by 8 p.m., so I can do it all over again the next day."
Carbaugh said she hopes her dedication to the Theatre Department made an impact, and can help the department grow in the years to come.
"I hope that in some way, I can help push the Theatre Department to become bigger and better," she said. "What [Newman has] is something special to offer. I'm thrilled to have been a part of it."
– Kati Bush '16