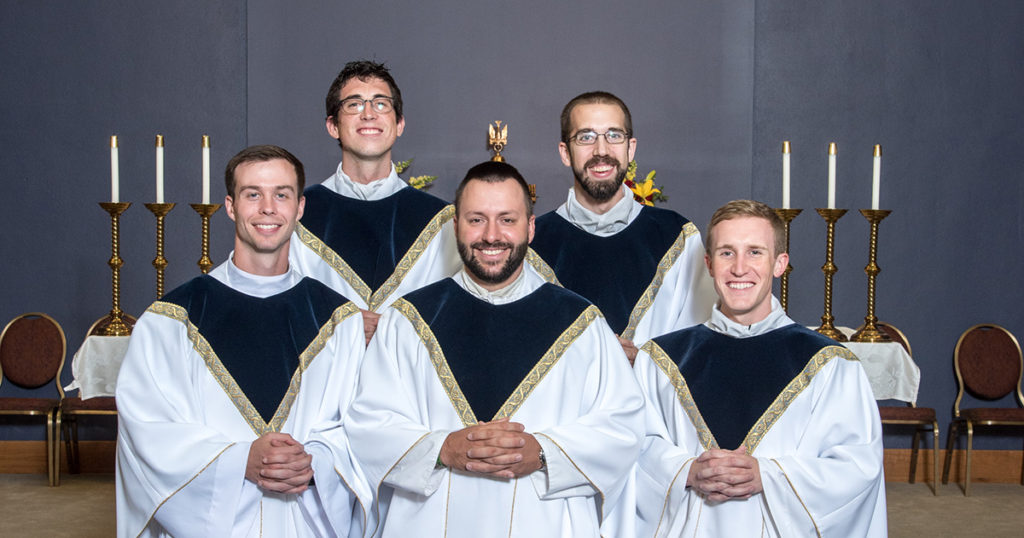 Five men with ties to Newman University ordained as Catholic priests
Nearly 2,000 people filled the Church of the Magdalen on May 27, 2017, to celebrate 10 newly ordained priests for the Diocese — five of whom have ties to Newman University.
The checklist to become a priest takes years to complete.
In the Catholic Church, a baptized, confirmed and unmarried man must go through a spiritual process known as "discernment," which typically includes praying for God's assistance, attending Mass regularly and working with a vocation director for guidance.
It is recommended that one attend college and earn a bachelor's degree as well — a degree in theology or philosophy prepares him best for his time in seminary. To apply to enter a seminary, one may need reference letters, proof of church involvement, a specific grade point average and a statement of interest. He must also live a life that is considered to be aligned with Catholic tradition and have a broad knowledge of the doctrines of the Church.
An average seminarian enrolls in four years of graduate-level theology and up to four years of undergraduate philosophy. Throughout seminary, the men study human, spiritual, intellectual and pastoral development, to include philosophy, Latin, Greek, Gregorian chants, dogmatic and moral theology, canon law and church history.
After completing seminary, a bishop may call a man to Holy Orders and ordain them as a deacon to serve in the ministry, where they will serve for six months. Once they have fulfilled all requirements, the men can choose to remain a deacon permanently or enter the priesthood.
On May 27, Newman University alumni Fathers Ed Herzog and Adam Grelinger, and former students Andrew Labenz, J.D. Betzen and Kyle Dugan took their vows to the priesthood, dedicating the rest of their lives to serving the Catholic Church.
Father Ed Herzog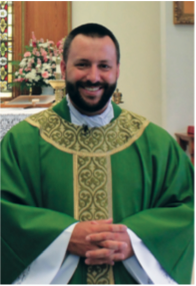 "Had it not been for Newman University, there is no way that I would be a priest right now."
Father Ed Herzog first attended Newman 10 years ago but did not consider himself a practicing Catholic at the time. "I would go to Mass every now and again, but certainly not every week," Herzog said. "The faith just really wasn't that important to me."
Because Newman is a Catholic university, all students are required to complete at least one theology course and one philosophy course before graduation. Herzog completed his theology credit by taking a Christian Morality course taught by Father Joseph Tatro, the chaplain at that time.
"Father Tatro and I hit it off right away, and I really enjoyed his class," Herzog said. "Needless to say, he had a tremendous impact on me and got me to start going to Mass again."
Shortly after Herzog began restoring his faith-life, he started taking confirmation classes with Father Tatro and in spring 2009 was confirmed in St. John's Chapel. Herzog said Father Tatro "planted the seed" about becoming a priest, and in 2011 Herzog decided to enter the seminary. With help from Fathers Tatro and Mike Simone, Herzog joined the seminary and spent six years at Mount St. Mary's Seminary in Emmitsburg, Maryland.
"Father Tatro and Father Simone were instrumental in my journey to the priesthood, but beyond that, Newman played a huge role as well," Herzog said. "With Newman being a liberal arts institution, I was introduced to a variety of topics, ranging from business to theology, to psychology to philosophy, and that helped me to keep an open mind as to what I wanted to do with my life. Being introduced to philosophy was important. It helped me in my pursuit of truth, and ultimately in my pursuit of God."
To Herzog, being a priest means living a life after our Lord, and ultimately being a disciple of Jesus Christ. "As a priest, I believe it is my job to spread the Gospel — to spread the good news that I have been privileged to receive," he said. "In coming to Newman I received the greatest gift that anyone could have ever given me in my faith, and with that gift now comes the possibility of entering into eternal life.
"Now I want to share that gift with others. I want everyone to experience the joy that comes with being a disciple of Christ, and if I can share that gift with at least one person in my life, like Father Tatro and Father Simone did with me, then my priesthood will be worth it."
Father Kyle Dugan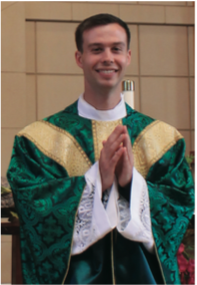 Father Kyle Dugan first wanted to be a priest when he was in the fourth grade.
"It was one of those moments when the teacher asked what we wanted to be when we grew up," Dugan said. "After thinking about it for a second, I decided that I wanted to be like my parish priest."
Dugan said this lasted for a few years, wore off and then resurfaced in his first year at Newman. He said, "I was constantly searching for something more and it wasn't until I finally started asking God for his will to be done in my life rather than my own when doors to the seminary began opening."
Dugan said his time at Newman played a huge role in his decision to join the seminary. Newman provided him and other students with an opportunity to attend daily Mass and ultimately kept him grounded with friendships that were "centered on Christ."
Chaplain Father Tatro was also an influential mentor to Dugan.
"He was the one who kept posing the question of whether I thought I wanted to enter seminary or not," Dugan said. "He taught me how to really pray about my vocation, introduced me to other guys that were also discerning the priesthood and took me on a trip to visit the seminary so I could see what it was like for myself."
To Dugan, being a priest means bringing Christ to others.
"I have accepted a change in my relationship to God," Dugan said. "I am now in a position to bring Jesus to his people through the sacraments, through my witness, and through my presence."
Father Adam Grelinger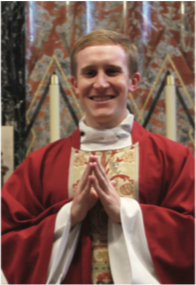 "I hadn't really thought about being a priest until I was at Newman," said Father Adam Grelinger.
While at Newman, Grelinger was roommates with Father J.D. Betzen, who was considering entering the seminary at the time. It was through Betzen's process of discernment that Grelinger witnessed what it was like and was prompted to ask himself some of the same questions, Grelinger said.
During Lent, Father Tatro invited Grelinger and a group of students to join him for morning prayer in the chapel before breakfast. The group that formed throughout those six weeks allowed Grelinger to not only get to know Father Tatro better, but also other students who took their faith seriously. It was here where Grelinger met Herzog, Labenz and Dugan.
Grelinger encountered metanoia, a spiritual revolution, during his last two years at Newman. He began to spend time in Eucharistic Adoration each week, became accustomed to praying Night Prayer every evening and continued to meet people who lived out their faith "authentically and joyfully."
"During my junior year, the thought of becoming a priest started to recur constantly in prayer so I jumped at the opportunity to graduate early and enter seminary," Grelinger said. Father Mike Simone, who was both the vocations director and the Newman chaplain at the time, helped him with this process, and before long, Grelinger was off to the seminary.
Looking back, Grelinger said it was mostly an impulse decision to join the seminary. However it didn't take long for him to get settled and grow in his understanding and appreciation of the priesthood, he said.
"I'm very grateful for the people and environment at Newman," he said. "They challenged me to engage my faith more intentionally and allowed me the opportunity to hear the early promptings of my call to the priesthood.
"I have only been a priest for a few months now, but it is certainly a blessing."
Father Andrew Labenz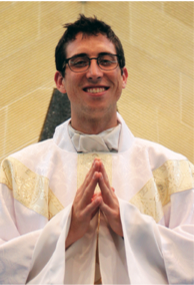 "At Newman University, I encountered and befriended many young people who had the same desire and zeal to live out their Catholic faith as I did," Father Andrew Labenz said.
Throughout his time at Newman, Labenz and his friends gathered to celebrate Mass and pray together. It was through these friends that Labenz felt great support to live out his vocation to the full, he said.
"The chaplain at the time, Father Tatro, was also a bold and radiant witness of the joy of the priesthood," Labenz said. "The sacrificial nature of his own vocation and his love for the priesthood was what I needed when I started to ask the question, 'Is God calling me to be his priest?'"
Labenz describes his vocation as humbling — being a priest brings an overwhelming amount of joy and peace to his heart.
"Venerable Fulton J. Sheen is right in saying that, 'The priest is not his own,'" Labenz said. "The priest is both uniquely configured to the High Priesthood of Jesus Christ and the priest unites himself to the Cross of Christ so that the people of this world may find true life. Simply, to be called by the Lord himself to be his priest is a gift that words cannot convey."
Labenz added, "Please pray for me that I may be a holy priest who is truly configured to the priestly heart of Jesus Christ."
Father J.D. Betzen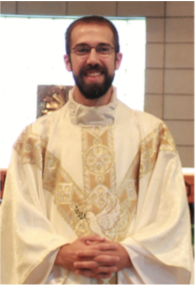 Father J.D. Betzen resisted the call to the priesthood at first — he thought he knew he wanted to work in the field of information technology and have a family of his own.
While at Newman, however, all of that changed.
At the beginning of Betzen's freshman year, a young woman who shared a few of his classes asked if he wanted to help with Campus Ministry on the Diocesan Retreat Team (DiRT). Although he was more interested in her than in the retreats, Betzen said yes. The following semester, the young woman transferred schools, leaving Betzen "stuck" with the work in Campus Ministry.
"Part of that experience in Campus Ministry, though, inspired me to sign up for weekly adoration in St. John's Chapel, which is where the call to the priesthood really began," Betzen said.
He continued participating in adoration and DiRT, and Betzen quickly got to know Father Tatro. The two traveled to Conception Seminary College and Mount St. Mary's Seminary, along with Labenz, Herzog and Dugan.
"As grace and God's providence would have it, all four of us — along with my roommate of two years, Adam Grelinger — are now priests," Betzen said.
There were three main influences on Betzen's journey toward priesthood — the examples of priests and family, Catholic schools and the experience of adoration.
"Mom and Dad raised us kids to be Catholic from their own inherited faith tradition, and they gave great example of going through life as hard workers," Betzen said. "My pastors at my home parish of St. Mary, Derby, as well as my chaplains at Kapaun Mt. Carmel and Newman University, not only were an inspiration for me as happy, healthy, and holy priests but also encouraged me to consider a vocation to the priesthood."
Betzen said, "Being a priest is not only being configured to Christ but also for me the fulfillment of my God-given vocation. I am grateful to be able to celebrate the sacraments of the church, right here in my home of the great Diocese of Wichita."
---
View information about similar academic programs at Newman University:
Catholic
,
priesthood
,
priests
,
seminary