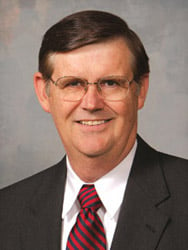 For decades, Newman University has set aside a week to honor the life, lessons and ideals of John Henry Cardinal Newman, the university's namesake. This coming year, the week will have even more meaning, as it will be the first year the university celebrates Newman since he was declared "Blessed" in September by Pope Benedict XVI.
Among the events scheduled for the week are Mass on Sunday, Feb. 20, followed by the Cardinal Newman Mass on Tuesday, Feb. 22. On Wednesday, Feb. 23, Newman will host the traditional High Tea, and on Thursday the Gerber Institute for Catholic Studies at Newman University will sponsor a special lecture by a nationally or internationally recognized Newman scholar.
The week will culminate with the Cardinal Newman Banquet and Awards Ceremony on Saturday, Feb. 26. Among the highlights of the banquet will be the presentation of the annual Alumni Awards (see related story), and the Cardinal Newman Medal to former university Board of Trustees Chair John Marstall.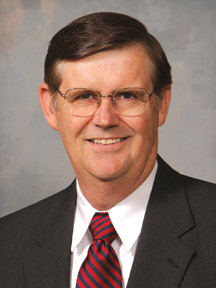 Marstall is a CPA with a 40-year career in accounting. He has served on corporate boards and in several offices of the Serra Club of Wichita – Downtown, including president and secretary. He was also a member of the Newman Associate Board of Directors and later the Board of Trustees. Among many other achievements on the board, he served as chair and led the university's search for a president that resulted in the hiring of Noreen M. Carrocci, Ph.D. He also provided strong leadership in concluding the capital campaign for the Dugan Library and Campus Center, including his work to secure the challenge grant from the J.E. and L.E. Mabee Foundation. Marstall will be cited for his long service to Newman, higher education and the Catholic community.
"The choice of John for the 2011 Cardinal Newman Medal was clear and richly deserved," Carrocci said. "He has been a great friend to Newman and to Catholic higher education over many years. His contributions, business acumen, and efforts to strengthen the university financially, academically, and spiritually have literally changed the face of Newman University – for the better!"
The Cardinal Newman Banquet will be Feb. 26, 2011 in the Dugan-Gorges Conference Center on the Newman campus. Details on the event will be communicated through mailings and on the Newman website, www.newmanu.edu.
Tags:
Alumni Awards
,
Benedict XVI
,
Board of Trustees
,
Cardinal Newman Banquet and Awards Ceremony
,
Cardinal Newman Mass
,
Cardinal Newman Medal
,
Catholic Church
,
Dugan Library and Campus Center
,
Dugan-Gorges Conference Center
,
Gerber Institute for Catholic Studies
,
High Tea
,
J.E. and L.E. Mabee Foundation
,
John Henry Cardinal Newman
,
John Marstall
,
Mass
,
Newman Associate Board of Directors
,
Noreen M. Carrocci
,
Serra Club of Wichita-Downtown
,
Wichita Serra Club