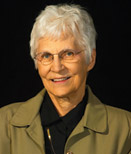 A large group of Newman University staff, alumni, supporters and friends gathered Feb. 25 on the Newman campus to honor former dean of the Newman School of Nursing and Allied Health Mary "Joan" Felts, R.N., Ph.D. with the Cardinal Newman Medal.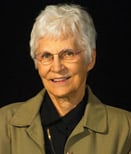 Felts received the medal at the annual Cardinal Newman and Alumni Awards Banquet, the culminating event in a week of festivities honoring the life and teachings of Blessed John Henry Cardinal Newman. The medal – the highest honor bestowed by the Newman Board of Trustees – is conferred upon those who demonstrate in their daily life an appreciation of the spirit and ideals of Cardinal Newman and who have been instrumental in the growth and development of the university.
Felts was cited for her work in the nursing program and her continuous contributions to the university. Felts joined Newman in 1979 as an assistant professor of nursing. She was the original chair of the Associate of Science in Nursing Division and later was named dean of the Newman School of Nursing and Allied Health, a position she held until her retirement in 2007. Felts played a crucial role in developing the Newman Nursing Program and helped it grow in numbers, stature, and respect among medical professionals. Under her leadership and vision, Newman has become one of the largest providers of health care education in the area.
Among other honors, Felts was listed in Who's Who in the Midwest, was twice appointed to and served as president of the Kansas State Board of Nursing, and was designated Professor Emerita in Nursing by Newman University. Felts and her husband Frank have continued to contribute to Newman, primarily through student scholarships. In 1983, they established the David J. Felts Memorial Endowed Scholarship in honor of their son, who developed an undiagnosed debilitating condition and died at age 20.
The banquet also featured the presentation of the annual Alumni Awards. This year's recipients were Clare Vanderpool, who received the Leon A. McNeill Distinguished Alumna in the Arts and Humanities Award; John R. Pyles, M.D., who received the Beata Netemeyer Service Award; Ami Angell, Ph.D., LLM, who received the Spirit of Acuto Transformational Leadership Award; and Dorothy Vossen Adams, Mary Green Shults, and Mary Agnes Brady Morley, who received the St. Maria De Mattias Award.
Read more about the banquet and see photos here.
.
.